Own Goal: Who's really paying the price for South Africa's shiny new 2010 World Cup stadia?
Text by Tim Abrahams
London, United Kingdom
All sporting eyes are on South Africa as the World Cup kicks off. But what kind of architectural legacy will the event leave behind and, perhaps more importantly, what will be its economic one?
It was perhaps unfortunate for FIFA and the South African Football Association that Warner Brothers chose 2009 to release a film about the Rugby World Cup of 1995. 'Invictus', directed by Clint Eastwood and released at the end of last year, tells the story of how an international sporting competition brought together a racially divided South Africa. In the film, which stars Morgan Freeman as Nelson Mandela and a beefed-up Matt Damon as François Pienaar, the nation's rugby team, otherwise known as the Springboks, go from being a second-rate squad that represents a narrow racial elite to winning the tournament and becoming a symbol of a new united South Africa.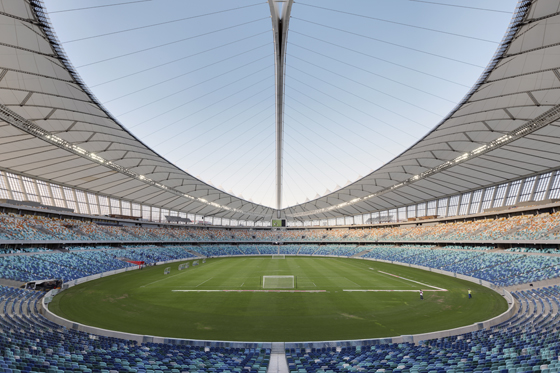 The Moses Mabhida Stadium, Durban; photo Marcus Bredt
In reality, of course, that famous victory provided just a welcome respite from the country's problems in the immediate post-Apartheid era, but at least it provided that. On the eve of South Africa's hosting of the football World Cup, the film gives South Africans an unfortunate point of comparison; before the festivities have even started, they are looking back to the rugby tournament with fondness. The Rugby World Cup cost little and brought the nation a much needed fillip. The South African side, featuring a solitary black player, the seasoned Chester Williams, had just enough forward muscle and guts to grind out a victory against a more talented New Zealand side.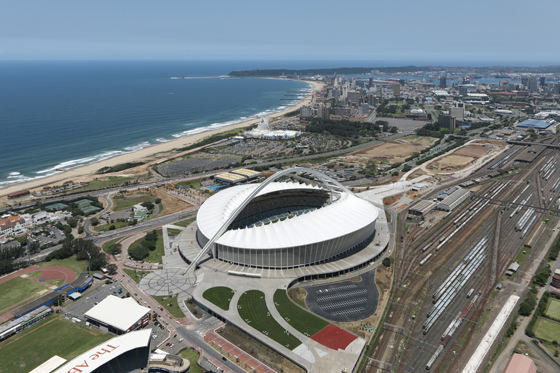 The Moses Mabhida Stadium, Durban; photo Marcus Bredt
Winning is such an important factor in bringing public opinion behind a national tournament, but it would take a miracle for the South Africans to win the soccer World Cup. The stark facts are impossible to ignore. Six years ago, experts estimated that the World Cup stadia would cost 2.3 billion Rand ($300 million), a ridiculously small figure, which makes London's underestimate for the 2012 Olympic Games seem almost honest. The final cost is likely to be ten times higher, thanks in part to cost increases, but also, it is alleged, to political corruption. The World Cup will cost 100 billion Rand (around $13 billion), an astonishing sum for a country where most people live in poverty.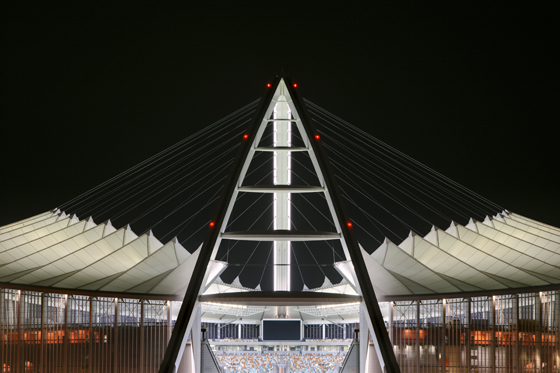 The Moses Mabhida Stadium, Durban; photo Marcus Bredt
Christopher Merrett, the left-wing South African historian, has described the hosting of the Cup as "an act of national prostitution", whose only legacy will be increased hardship for the country's underclass and a series of stadia, most of which will probably never be used again after the event. He calculated that only 50,000 jobs and growth of 0.94 per cent of gross domestic product were going to result from this unprecedented investment. "FIFA… has hired South Africa as a theatre in which to stage a highly lucrative media event and depart with the profit," he wrote recently, and with reason.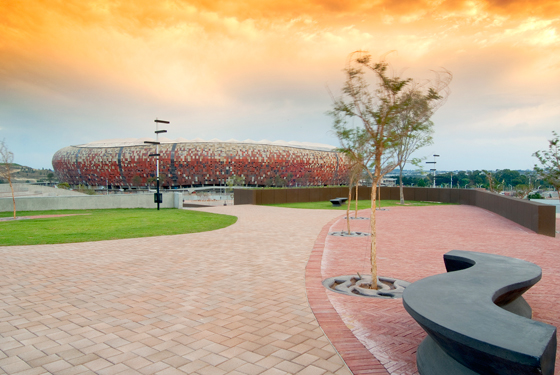 Soccer City, Johannesburg; architects: Populus and Boogertman Urban Edge + Partners
There is no doubt that $1.2 billion – the total cost for all the stadia – is an obscene figure for a country that suffers from basic health and education problems to spend on sports facilities for a single event. The Nelspruit Stadium cost $137 million alone and, located on the border of the Kruger National Park in the north-east of the country, has come to symbolise the worst excesses of this financial splurge and the simultaneous reduction of basic needs for an impoverished area. According to the New York Times, two schools that sat on the land were bulldozed in 2007, and the students were transferred to hot and airless prefabricated classrooms. Lassy Chiwayo, Nelspruit's mayor, who was installed as an emergency caretaker in late 2008, told the newspaper: "No point in trying to hide it, there was a total collapse of good governance, primarily around the World Cup." Moreover, the New York Times reporter heard evidence that senior figures in a crooked land deal were assassinated.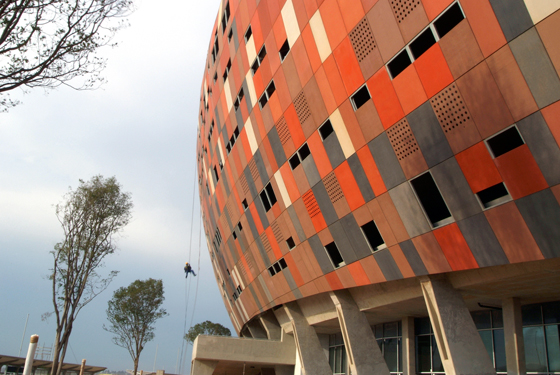 Soccer City, Johannesburg; architects: Populus and Boogertman Urban Edge + Partners
The astonishing architectural ambition of the stadium-building project seems to be matched by the lack of opportunity provided to native South Africans. Even before the German architects GMP (von Gerkan, Marg and Partners) completed Olympic Stadium redevelopment in Berlin in time for the World Cup in Germany in 2006, they had opened an office in South Africa. This was done with a view to gaining work for the next tournament in 2010 and it paid off for them. GMP has made successful contributions to three different projects: the Cape Town, Durban and Port Elizabeth Stadia. They worked in a different capacity in three different consortia, however, acting as consultants and partnering with South African architects.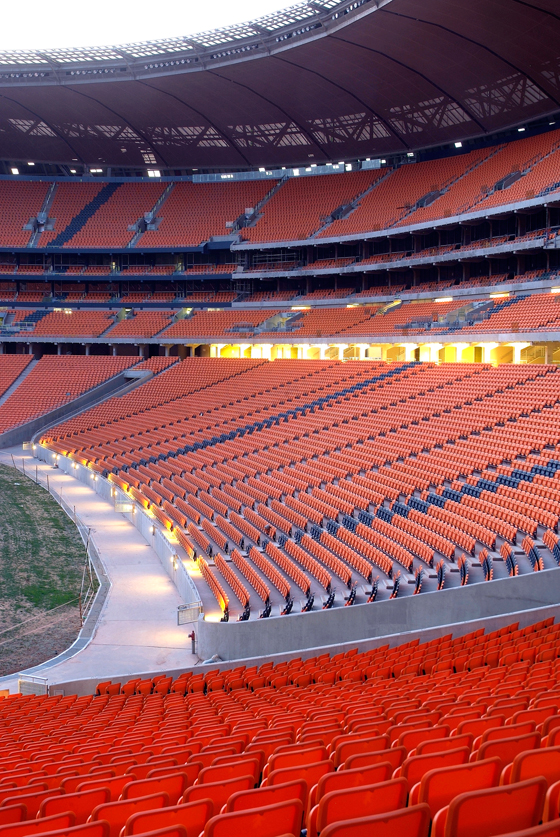 Soccer City, Johannesburg; architects: Populus and Boogertman Urban Edge + Partners
The Cape Town Stadium was designed by the German practice in association with two local firms: Louis Karol Architecture and Point Architects. Joint contractors Murray & Roberts and WBHO completed the structure in 33 months at a cost of $600 million. For the Moses Mabhida Stadium in Durban, the project group consisted of a total of 32 South African architectural firms with GMP as consultant architects. The construction of the 70,000-seater stadium cost $450 million. They were also involved in the five-tier Nelson Mandela Bay Stadium, which was built overlooking the North End Lake, in the heart of Port Elizabeth, which cost $270 million to construct. All three of them are stunning pieces of architecture, which, together with Soccer City in Johannesburg (and it must be added Nelspruit), provide perhaps the best architectural achievements of any World Cup ever, even if the latter project is destined to lie unused on the cusp of a nature reserve.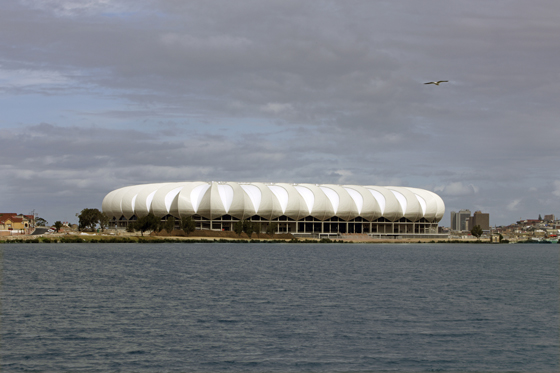 Nelson Mandela Bay Stadium, Port Elizabeth; photo Marcus Bredt
It is unlikely that South Africa can raise itself economically to find some use for its various new stadia. We must bear in mind, however, that this is a country that turns weaknesses into assets. One of the country's problems is its lack of homogeneity. It has 11 official languages: English, Afrikaans, Ndebele, Northern Sotho, Southern Sotho, Swazi, Tswana, Tsonga, Venda, Xhosa and Zulu. Even amongst the whites there are historical divisions between the Afrikaners and the English-speaking whites. But through this diversity also comes their strength. Through this lack of linguistic or racial cohesion comes their self-proclaimed image (for all its contradictions) – the Rainbow Nation.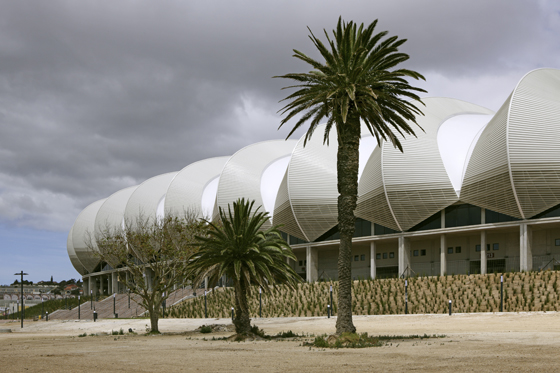 Nelson Mandela Bay Stadium, Port Elizabeth; photo Marcus Bredt
There are those who choose to look on the World Cup with a kind of willful optimism. South African journalist Rian Malan, writing in the Daily Telegraph, noted though that improvements had been made in the nation's capital Johannesburg, particularly in terms of transport infrastructure. New buses have been introduced and the city's highway system has been extensively reworked. According to FIFA, the South African government has spent more on transport than on sports facilities. $1.8 billion has been spent on transport infrastructure within the country as a whole and $450 million on ports of entry. FIFA insists that the benefit to South Africa is greater than the aforementioned estimates by Christopher Merrett. According to research by the international accounting and consultancy firm Grant Thornton, the 2010 FIFA World Cup will contribute 55.7 billion Rand ($7.2 billion) to the South African economy and actually provide over 400,000 jobs.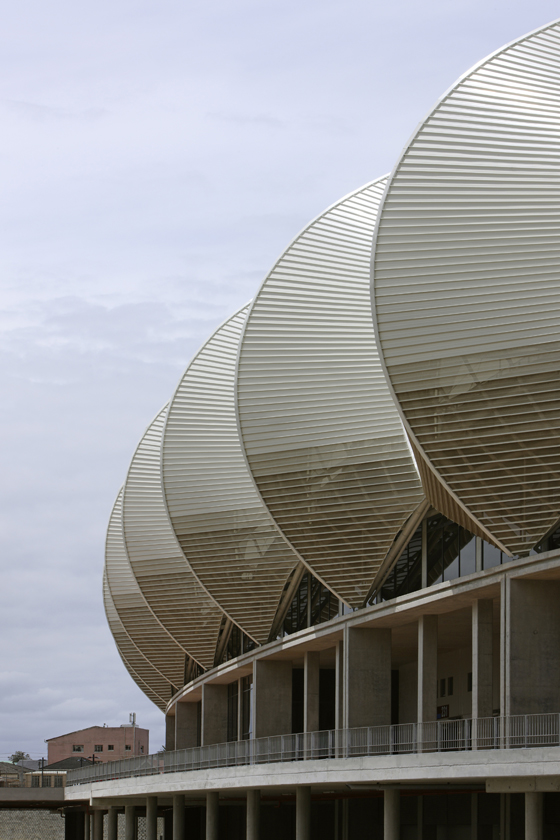 Nelson Mandela Bay Stadium, Port Elizabeth; photo Marcus Bredt
Malan has also noted that at a recent rugby match held in the Orlando Stadium in Soweto, the racial tensions that threatened to escalate following the murder of white supremacist Eugene Terreblanche were totally absent. Afrikaners may traditionally be rugby fans rather than football fans, but they are first and foremost sports nuts. If they make it to the quarter-finals from a difficult opening group, South Africa's footballers may yet provide some kind of cohesive focus for the country, and one set in the context of truly global competition, rather than in rugby's limited scope as an international sport. "World Cup advocates have been saying that the tournament could alter Africa's destiny, boosting confidence and reshaping our image in the eyes of foreigners who believe the continent is beyond hope," writes Malan. "Such utterances sounded fatuous to me, but I'm not sure any more."