Celebrating a Scandinavian icon: 100 years Finn Juhl
Text by Susanne Fritz
Switzerland
07.03.12
On 30 January 2012, the internationally recognised Danish furniture designer and architect Finn Juhl who died in 1989 would have turned 100.Events all over the world – from Tokyo via Cologne to Milan as well as in his native Copenhagen – celebrate his lifetime achievement.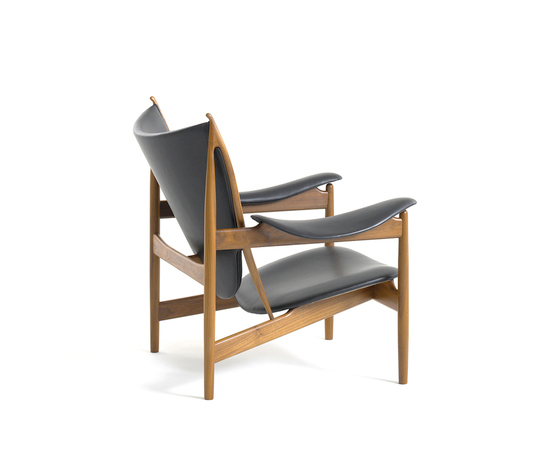 Chieftain Chair by Onecollection, designed by Finn Juhl 1949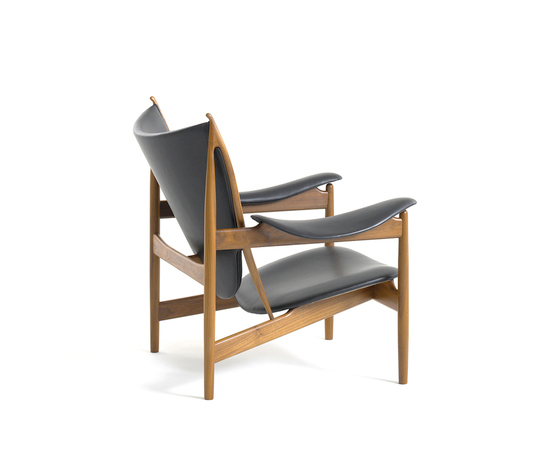 Chieftain Chair by Onecollection, designed by Finn Juhl 1949
×
After graduating from the School of Architecture at the Royal Danish Academy of Fine Arts, Finn Juhl started his career as an architect at the renowned office of his former professor Wilhelm Lauritzen.
At the same time, he designed furniture for his own apartment that he had made by cabinetmaker Niels Vodder.
Juhl presented some of his designs at the Cabinetmakers' Guild exhibition at the Royal Danish Academy of Fine Arts. Being an architect, he had a different approach than cabinetmakers – he was more open and unconventional in his approach. His organic and sculptural idiom attracted much attention. In 1937 Finn Juhl and cabinetmaker Niels Vodder started a successful collaboration which was to continue until 1959 and whose success was based among others on Vodder's understanding and artful implementation of Juhl's designs that were pieces of art as opposed to mass-produced articles. Together they developed new techniques for the creation of furniture using teak – a material not previously employed in interior design: as a result of intense forest clearing on the Philippines due to the Pacific War, teak was available at a very low price on the world market.
In Denmark, Finn Juhl became known above all for his furniture of this time which had a profound influence on style, such as the Poet Sofa of 1941 and the Chieftain Chair of 1949.
Together with the later founder of the renowned Danish furniture maker France & Daverkosen, Juhl developed upholstered chairs and armchairs. C.W.F. France spent several years in a concentration camp of the German NS regime. Confident that he was going to survive, he thought about new business fields for his mattress firm Lama and came up with the idea of a modern upholstered chair with separate seat cushions. However, first furniture requiring separate seat cushions needed to be designed.
France survived and implemented his plan. He contacted the best furniture designers as he wanted to develop a high-quality product. Together with cabinet maker Daverkosen, he founded France & Daverkosen; later he operated independently with his own furniture company, known as France & Son. His vision was a success – it was the beginning of an era during which modern Scandinavian design conquered the world. In addition to his collaboration with Finn Juhl, he also worked with other design icons such as Peter Hvidt & Orla Mølgaard Nielsen.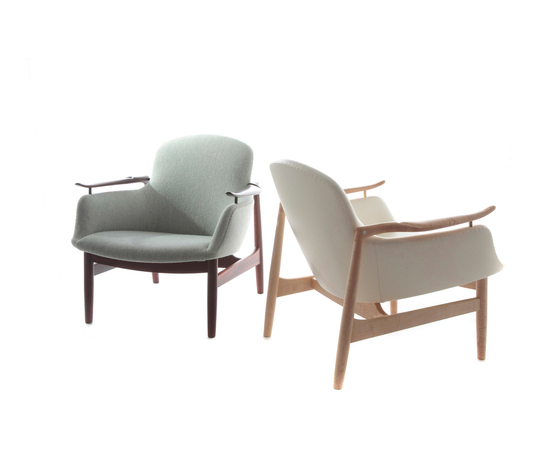 Easychair FJ 01 by Kitani, designed by Finn Juhl 1953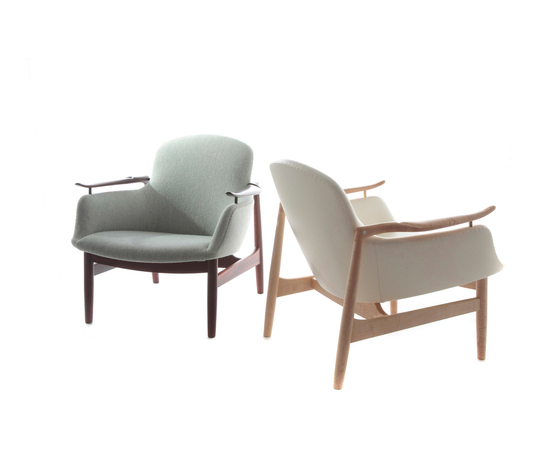 Easychair FJ 01 by Kitani, designed by Finn Juhl 1953
×
Finn Juhl's later home was, of course, also furnished with creations of his own design. Juhl perceived furniture as part of the spatial effect forming a unified whole with art and space installations. This holistic design which also provides insights into the Scandinavian home decor of the 50s and 60s was integrated into the adjoining Ordrupgaard museum forming a permanent exhibition. A few years ago, much of the interior of the house was stolen. Fortunately the burglars were unable to transport everything and left behind among other things a table in the garden. Until today, everything has disappeared without a trace.
Juhl also founded his own school which greatly influenced a generation of interior designers. Juhl's students mostly turned into fervent supporters and passionate ambassadors of his style. Their teacher, too, showed this passion and unwillingness to compromise when implementing his ideas. Finn Juhl, for example, paid part of the furnishing for the Danish embassy himself, as the budget was to be cut and he did not approve of the cheaper chairs on the terrace.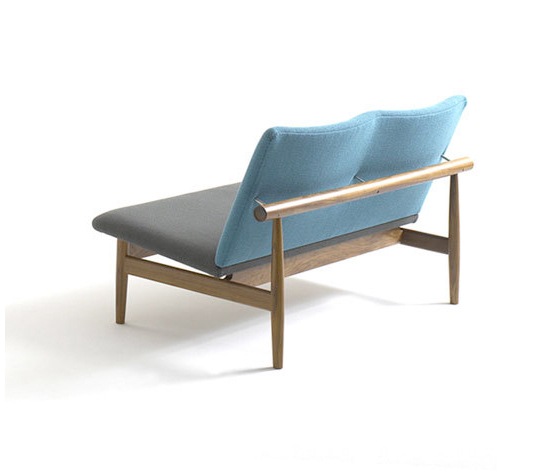 Sofa Model 137 by Onecollection, designed by Finn Juhl 1953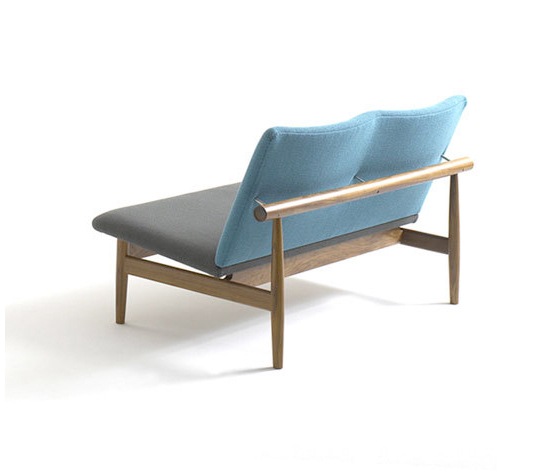 Sofa Model 137 by Onecollection, designed by Finn Juhl 1953
×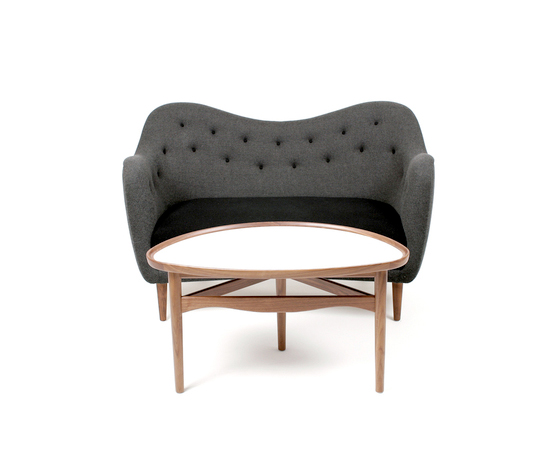 Eye table and Sofa Model 4600 by Onecollection, designed by Finn Juhl 1953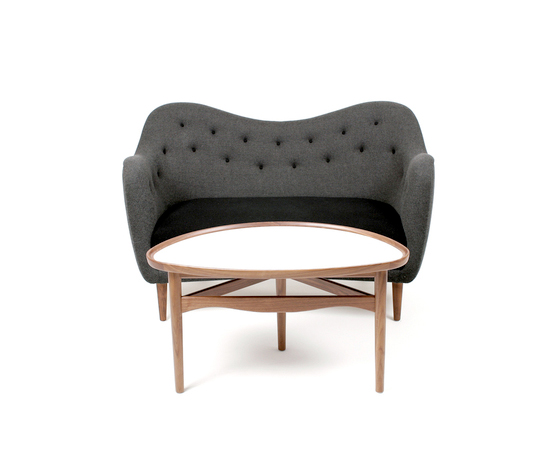 Eye table and Sofa Model 4600 by Onecollection, designed by Finn Juhl 1953
×
The assignment for the design of the interior of the UN headquarters in New York City marked the breakthrough for his furniture in the US:
He met Edgar Kaufmann, then director of the New York Museum of Modern Art, who made Finn Juhl known through publications and exhibitions. As a result, Juhl's furniture was manufactured in volume. Today, a Danish company holds the license:
after being commissioned by Juhl's widow Hanne Wilhelm Hansen with the sofa of an exhibition, the founders of onecollection, Henrik Sørensen and Ivan Hansen were given all production rights in 2001. With great knowledge and passion they were able to relaunch production of the collection even during a time of economic crisis. Onecollection organized several international exhibitions for the Finn Juhl Centennial.
Even in distant Japan, Finn Juhl is held in very high esteem. The Scandinavian craftsmanship with its elaborate design details, the skillful use of the inherent properties of the teak wood preferred by Juhl, and the minimalist, yet soft sculptural idiom which contrasts with the harder shapes and strong geometry of Japanese architecture appeal very strongly to the esthetic perception of the Japanese.
Toshio Mitsufuji, in the 60s professor of architecture at the Showa Women's University, expresses this as follows:
"Putting together the chair (by Finn Juhl) (...) I had a chance to gain a clear understanding of details.(...) It made me want to learn more. I felt great admiration for those countries and their furniture designers who were making earnest efforts to find out how modern life should be lived and who were producing designs of true beauty."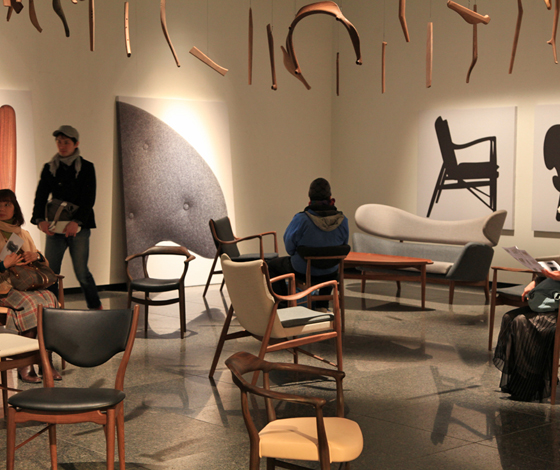 Finn Juhl exhibition in the Park Tower Gallery in Tokyo 2012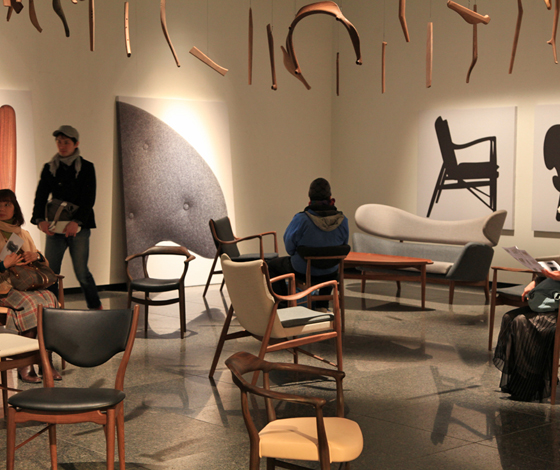 Finn Juhl exhibition in the Park Tower Gallery in Tokyo 2012
×
The extent to which the admiration for Finn Juhl forms a strong bond between his followers and surpasses all other interests is underlined by a fact that is highly unusual in the furniture business: The Japanese company Kitani produces Juhl's furniture in Japan with the unspoken consent of onecollection, the official Danish license holder, while other companies nearly ruin each other in long-lasting license disputes.
For the Juhl anniversary, the director of Kitani, Kiyofumi Tanaka, even constructed an exact copy of Juhl's original house in a small Japanese village – with the consent of the Wilhelm Hansen foundation.