Ventura Lambrate 2017 Edition
Text by VENTURA PROJECTS
Utrecht, Netherlands
09.03.17
Announcing the 2017 Ventura Lambrate themes: Social design and cultural heritage
Design processes are in essence social – an aspect that demonstrates the designer's role and responsibility in society. Every year Ventura Lambrate reveals the importance of collaboration and social change in design. You will find mixed collectives, international academies and a range of different backgrounds all uniting to address social issues. In the 2017 edition we have a total of 36 nationalities and 20 academies.

Designers need to tackle the question of how their roots and national heritage influence their work. With their projects, they strive to prevent this important cultural knowledge from vanishing. In addition to this search for legacy, there is a great awareness that we are confronted with growing social issues and that we need to find solutions for ways of preserving our surroundings and living together in more effective ways. The theme of togetherness appears in several exhibitions, whether this involves seeking answers to major social problems or finding micro domestic solutions.
Contributing to social change

The 'REDO Super Supermarket' of Design School Kolding from Denmark aims to generate ideas for sustainable solutions. As they explain: REDO is about People, Planet, Profit and Play. We RE-bottle and REcan products and RE-interpret them inside a supermarket setting. The displayed products seem familiar at first, but are actually production remnants reinvented as art pieces. The project is part of a wider programme of the school and is intended to inspire and challenge the role of design, art and media from the perspective of sustainability.
REDO Super Supermarket of Design School Kolding, photo by Design School Kolding
REDO Super Supermarket of Design School Kolding, photo by Design School Kolding
×
Luis Vega is concerned with the rapid changes in the manufacturing practices in his homeland Mexico. Current cultural, technological and political tendencies are having an effect on traditional manufacturing and creating a growing gap between the crafts and the production industries. By linking craftspeople who master traditional pottery and wood-joinery techniques with small manufacturing industries, those worlds are reunited again. The result is a collection of tableware, showcasing a conversation between Mexico's traditional and contemporary design.
The harsh conditions in which homeless people live is the starting point for the exhibition by the Sheltersuit Foundation. Initiator and fashion designer Bas Timmer was faced with this urgent issue when the homeless father of two of his friends froze to death in the streets. To make life on the streets more bearable, Timmers has created 'Sheltersuit', a water repellent and windproof jacket that can be transformed into a full protective body suit. This project takes its social responsibility even further by getting its materials from donations by European companies and by involving Syrian refugees in the production process.

The foundation will continue the project another step by organizing an event during the Salone del Mobile for homeless people in Milan, supported by local organisations. They will give away Sheltersuits, among other items, to create awareness of this growing issue and to gain a foothold around Europe to further combat the problem.
The exhibition by Subalterno1 design gallery describes the complex relationship of mankind with nature and artefacts through a series of conceptual works. With a highly aesthetic range of objects, the studio will display a conversation between human activities and the surrounding habitat.


What is means to be…

With a fascination for history, aesthetics and cultural heritage, Nynke Koster investigates the possibilities of incorporating architectural elements into new works. For 'Elements of Time' she used ornaments found on classic historic buildings in Holland, took casts of these objects and translated them into rubber stools. 'For the first time you can sit on a Baroque ceiling or touch a cassette from Neoclassicism,' Nynke Koster says.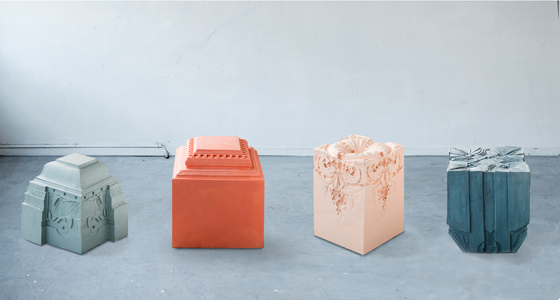 Elements of Time, Nynke Koster, photo by David in den Bosch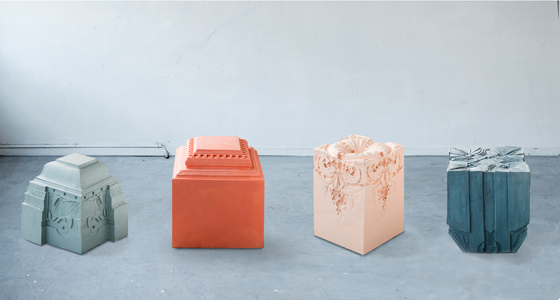 Elements of Time, Nynke Koster, photo by David in den Bosch
×
OFF Portugal is a collective of young and independent Portuguese designers who play with the concept of national heritage. With their pieces, this collective aims to reinvent the dormant but historically rich production of glassworks in the city of Marinha Grande. Although it has centuries of tradition in this field the industry is now changing, resulting in a loss of accumulated know-how. The Portuguese designers took part in a workshop residency and adapted the old glass-making techniques into new designs.
Family, food and friends are at the heart of the Italian way of life and are an inspiration for the Copenhagenbased company Casa Christina ApS. On one hand the table 'La Grande Mamma' (part of LA FAMIGLIA FURNITURE), which offers space to 22 sitting people, taps into the Italian idiom of a large, lively family. On the other hand the company reflects its Nordic heritage by using wooden materials like smoked oak, strained oak and wenge.
Seeking togetherness

The Danish/Estonian design studio Laurits Prasnicki has investigated the domestic wishes of the modern citizen. Questions like: What function does a living room have nowadays? What is an ideal atmosphere for social interaction? and How can a place of togetherness be created? formed the starting point of their design process. The answers to these questions are translated into a rug that, in its colour, patterns, material and shape, is modelled to satisfy these identified domestic desires.

Daniel van Dijck is known for seeking the limits of design by working with unusual materials and processes. He has created surprising tableware items in which he combines edibles with metal, porcelain and glass. During Ventura Lambrate he will add another layer to his collections by altering the way they are exhibited. Abandoning the purely visual experience of a museum presentation, he invites visitors to grab product samples and to use the products by eating food from them. By questioning how we consume food and by involving the public, visitors become part of the design process.
The food concept master Jasper Udink ten Cate, exhibiting under the name Creative Chef, will create an art piece together with the Ventura Lambrate visitors. While you eat, drink and relax at his table, an overhead camera will capture the dynamics that take place. Visitors can see themselves on a live video screen and are part of a performance that will continuously evolve throughout the duration of the fair.
Ventura Lambrate 2017 will also present other projects centred around social design and cultural heritage including: Salem van der Swaagh, Sae Honda, Via design, Mayra Sérgio, Perúu design collective and Rick Rossenham.


Getting the full Ventura experience

Ventura Lambrate:
Via Ventura 15, 20134 Milano, Italy
4-9 April 2017

Ventura Lambrate - General opening hours
10:00-20:00 Tuesday 4 April – Saturday 8 April
10:00-18:00 Sunday 9 April

Ventura Lambrate - Open Evening
20:00-22:00 Wednesday 5 April

Ventura Centrale:
Via Ferrante Aporti 9, 20125, Milano, Italy
4-9 April 2017

Ventura Centrale - General opening hours
10:00-20:00 Tuesday 4 April – Saturday 8 April
10:00-18:00 Sunday 9 April