Ventura Future Presents: The Future Landscape of Design
Text by VENTURA PROJECTS
Utrecht, Netherlands
20.03.18
MILAN – Ventura Future is the latest event by Organisation in Design and will take place during Milan Design Week (17-22 April, 2018) in three exceptional locations in the Loreto district in Central Milan, only two metro stops from Ventura Centrale and a five minute walk from Bar Basso. This first edition of Ventura Future shows its visitors how designers are taking the lead in shaping the future.
The fact that our world is changing rapidly, and that we find ourselves facing environmental, social, political and technical challenges, should come as no surprise. We have hit exciting times in design history, wherein the world is increasingly embracing the ability of designers to think outside of conventional structures and produce radical solutions. Distinctions between the traditional disciplines are becoming less clear, demonstrating that cross- practice between designers, technologists, engineers and analytics is shaping better outcomes. From big data to complex networks, from resource management to health care issues - Ventura Future presents...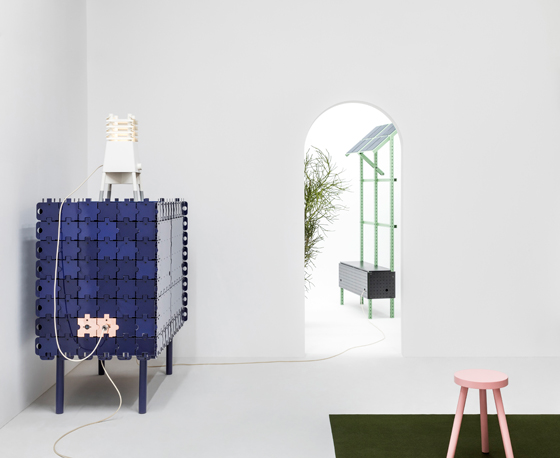 'PATCH' by François Chambard/UM project (photo credits: Francis Dzikowski/Otto)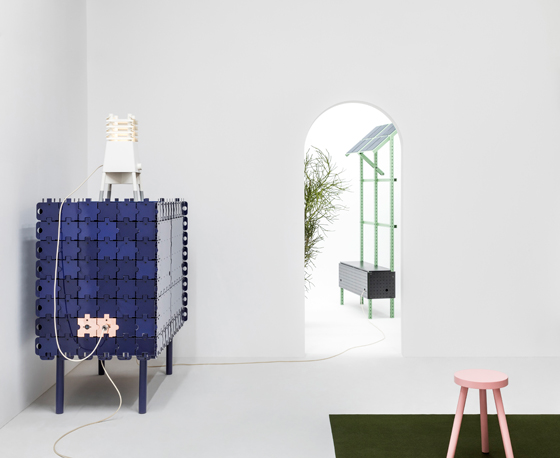 'PATCH' by François Chambard/UM project (photo credits: Francis Dzikowski/Otto)
×
Ventura Future | It's All in the Data

Complex networks of data are getting more and more intertwined in our daily lives. We often look at it with a legitimate concern and sense of alienation, but some Ventura Future's exhibitors are showing the upside of these technological advancements. One such exhibitor unfolding the transition towards a more connected world is the Brooklyn-based design studio UM Project. With their project 'PATCH' they are visualizing networks, embracing connectivity and imagining the future of smart homes and smart cities. "Networks are becoming as familiar and friendly as the furniture in our homes - some kind of silent partner, a welcome embrace, a reassuring blanket", they explain. Their project 'Conduct' is an interactive wall-covering product combining conductive wallpaper with functional devices.

Design Academy alumni Jelle Mastenbroek likes to explore the field of interactive technology with playful installations, which have won him a Milano Design Award in the past. Jelle Mastenbroek and Daniel de Bruin are connected through their engineer Bas Bakx for this year's Ventura Future exhibition. Together they will create a new interactive experience. The spectator is the centerpiece of the exhibition, and will be kept an eye on. The installation will track and react on your eye movements. Big Brother is still watching you.
What About the Resources?

In times with great technological advancement, we find ourselves faced with complex problems of material supplies and waste management. The preservation of resources seems a theme that should be addressed now more than ever. Within the framework of Ventura Future, many designers and studios aim to create awareness and mould solutions.

Also increasing awareness regarding our day-to-day plastic consumption, is The Rubdish project: a conceptual visualization of rubbish served back to you on a plate. It captures the transformation of waste into appetizing dishes. 'Rubdish' is a co- creation of designer and 'rubbish chef' Diederik Schneemann and food-, fashion- and interior photographer Aldwin van Krimpen.

Studio Plastique's project 'Common Sands' underlines a transition in human behaviour with regards to resources. "Since when have resources become so meaningless to us?", the Belgian studio wonders. And more importantly, how can we give back meaning, value and visibility to the resources and materials around us? The studio's collection of tableware is composed of sand, a material viewed as seemingly banal but is used everywhere around us – from our electronic devises, to our lighting systems and in our homes. Exposing the quality of this material is a way of opening our eyes to its significance.

Dutch collective The Materialists will show that paper is another material that we take for granted. "Paper carries our news, transfers our knowledge, confirms our identities, helps us write down our laws, whispers our words of love; we even trust it to clean our most intimate parts." Not only does society nowadays fail to appreciate paper enough, its recycling potential also tends to be overlooked. 'Paper Extended' will show experimental ways of reusing paper to its full potential.
Designing to Keep Healthy

In order to maintain a well functioning, affordable, humane health care system, we should consult the new generation, who have the incentive to tackle its problems with fresh and experimental ideas. For 'HH. A Dutch Design Vision about Health and Happiness', Ventura Future, with the support of the Dutch Embassy in Italy, selected seven designers that will present projects securing medical progress: Johan Viladrich, Nienke Helder, Gerjanne van Gink, Tamara Hoogeweegen, Alissa Rees, Rebekka Evita Strenk and Aurore Brard. This ranges from practical solutions for patients on a daily base to reflections on health, wellbeing and human life.

Noticing a lack in design tailored specificlly to the fastest growing age group – the elderly – Johan Viladrich went to the drawing table to design pragmatic solutions. A kitchen knife, a shoehorn and a walker are the result of an intense research into ergonomics, form and material. Nienke Helder offers an alternative view on the treatment of trauma-induced female sexual problems. 'Sexual Healing' is a set of sensory objects to be used outside the clinical environment.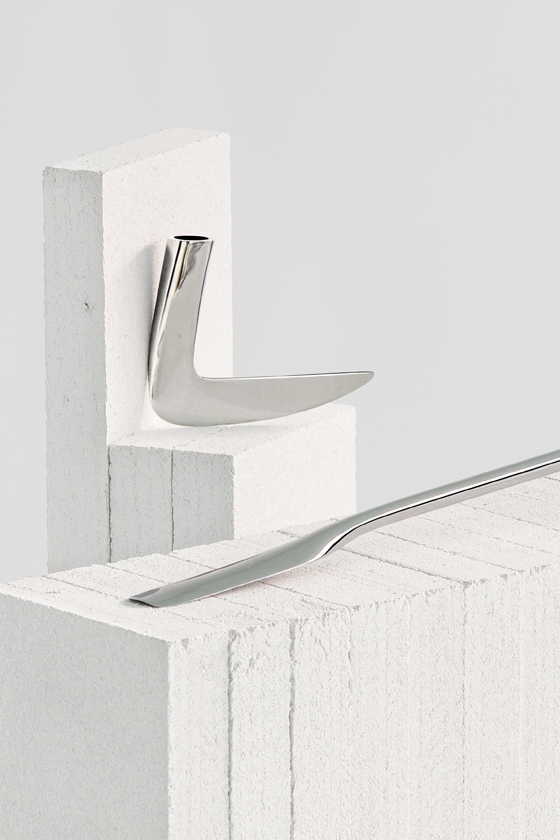 'Elder' by Johan Viladrich (photo credits: Johan Viladrich) and 'Sexual Healing' by Nienke Helder (photo credits: Nicole Marnati)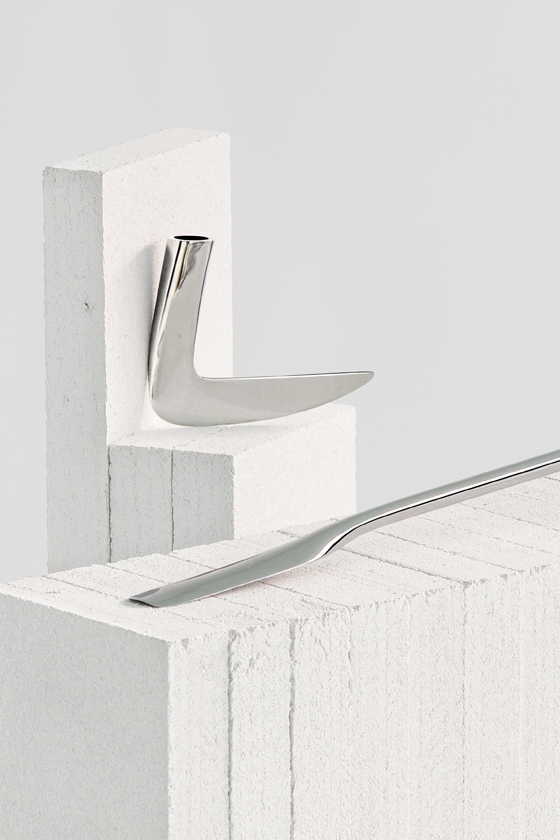 'Elder' by Johan Viladrich (photo credits: Johan Viladrich) and 'Sexual Healing' by Nienke Helder (photo credits: Nicole Marnati)
×
Technological progress also evokes questions. How far are we willing to go in order to create the healthiest babies? With new technologies it's becoming easier to genetically manipulate unborn babies. But to what extend? What if we can alter the colour of one's eyes, or start terminating pregnancies based on IQ? Tamara Hoogeweegen explores the discourse.
The FuturDome Prize

Issued by Isisiuf, the International Institute of Futurism Studies, FuturDome in collaboration with Ventura Projects will organise the first edition of FuturDome Prize during the 2018 design week. The FuturDome Prize, supported by Knauf-Aquapanel, is a worldwide contemporary disciplines prize to discover, recognize and give support to a future generation of creators. The Prize is a contribution to the open participation of younger authors in the dynamic cultural development of societies in global transition and is an open platform for artists, their artworks and society.

It is judged by a distinguished jury including: Marie Ange Brayer (chief curator Centre Pompidou Architecture and Design department), Paolo Ulian (designer), Luca Nichetto (Designer Nichetto Studio), and Irene Kronenberg and Alon Baranowitz (founders B+K Architecture). More names to be announced.

The Prize will be awarded on the 19th of April at the FuturDome building.
...

Ventura Future
1st edition - 17-22 April 2018

Via Paisiello, 6
Via Donatello, 36
Viale Abruzzi, 42
Milano
Italy