The 'avventura' continues: Presenting Ventura Lambrate & Ventura Centrale 2017 – 9 February 2017
Text by VENTURA PROJECTS
Utrecht, Netherlands
16.02.17
In the grand and freshly restored hall of the Milano Central Station, designers and press gathered today when Ventura Projects held a press conference to introduce their two projects for the Salone del Mobile 2017: the 8th edition of Ventura Lambrate and the newly launched Ventura Centrale. Maurizio Borletti (CEO of Grandi Stazioni Retail), Lee Broom (Creative Director of Lee Broom Ltd), Daniel González (Founder of Daniel González D.G. Clothes Projects), Kieren Jones (Course Leader at Central Saint Martins), Cristina Favini and Susanna Legrenzi (Logotel), Dario Stellon (Salviati), Francesco Mendini (Atelier Mendini) and Mariandrea Zambrano (Ecopixel) all revealed what can be expected at this year's editions.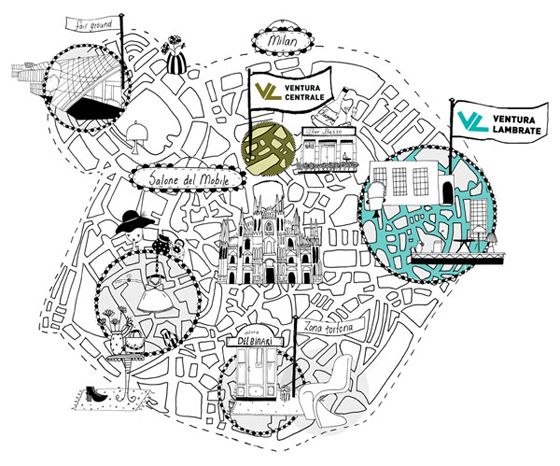 Map of Milan, Ventura Lambrate & Ventura Centrale, by Merel Boers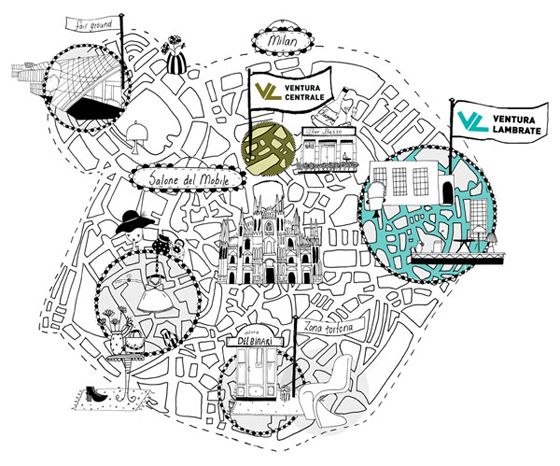 Map of Milan, Ventura Lambrate & Ventura Centrale, by Merel Boers
×
The undiscovered station vaults – Ventura Centrale

Imagine walking into the scenic, abandoned vaults of one of Italy's major train stations. The heritage status of the spaces and the endless possibilities dazzled us with excitement. This was the feeling that Margriet Vollenberg, director of Ventura Projects, experienced when first encountering the potential of these 'theatrical' spaces. Ventura Centrale was born and the newly found spaces were easily matched with the right exhibitors. Maurizio Borletti expresses the desire of Grandi Stazioni Retail to inject new life into these connected warehouses situated alongside the famous train station. With the initiative of presenting the site-specific design installations to the public, the vaults are coming back to life.

SALVIATI
The two installations of glass craftsmanship by Salviati (in collaboration with Luca Nichetto and Ben Gorham) will interact forcefully with the light in the station's old warehouses, forming a great example of the sought-after synergy. With 150 years' experience of glass making, this Italian company builds a bridge between traditional craftsmanship and the contemporary possibilities of glass.

LEE BROOM
The same harmony of space and work applies to the installation of Lee Broom: 'The derelict vault, illuminated solely by the light of the carousel, will be left untouched and in stark contrast to the purity and playful serenity of the installation,' says Broom, explaining how the space unites with what will be the biggest show he has created so far. Broom's installation, celebrating his 10-year anniversary, is a carousel presenting key products from his career re-imagined in a completelywhite colour palette.

DANIEL GONZÁLEZ
Daniel González, a regular member of the Ventura family, has seen Ventura Lambrate grow and Ventura Centrale arise. This year González takes his art-applied-to-fashion works to a new level, providing both Ventura Projects with a series of customised cotton shoppers, showing the different stages in the creative process of designers – from idea to prototype to product.
The first confirmed names of Ventura Centrale are; Lee Broom, MAARTEN BAAS by Lensvelt, Salviati in collaboration with Luca Nichetto and Ben Gorham and Baars & Bloemhoff.


Stepping out of the vaults and into the real world – Ventura Lambrate

While Ventura Centrale aims to complement its 'cribs' with spectacular installations, Ventura Lambrate is now, more than ever before, looking outward to see what design can do for our rapidly changing world. Whether it is to reflect on political issues, to address the risks and hopes of technological advancements or to find sustainable ways of preserving our planet, the Ventura Lambrate designers that spoke today clearly showed their intent to support global progress.

CENTRAL SAINT MARTINS
'Our current systems of dealing with changes seem outdated and unreliable, and as designers it is our responsibility to look beyond the conventional and probe, question how we can shape the future,' says Kieren Jones (Course Leader, MA Material Futures, Central Saint Martins), reflecting on the projects of Central Saint Martins' students. Whether it is the feasibility of harvesting Mars or the potential of engineering plasma, Central Saint Martins is again a great example of why Ventura Lambrate embraces the contribution of academies to its fairground.
LOGOTEL
Logotel, which never bounces back from mirroring global issues, will present a project that follows how technology and artificial intelligence molds human life, showcasing an elaborate research on the subject. The centerpiece by Maria Yablonina are two wall-climbing robots that interact together building a suspended structure.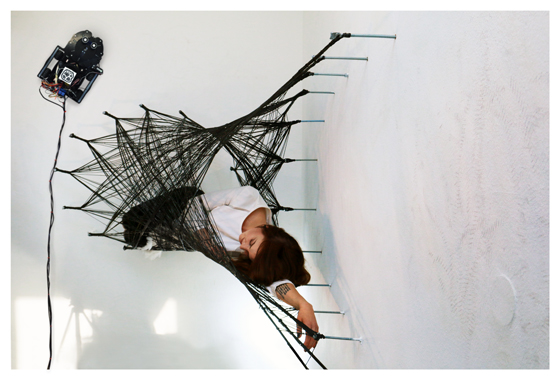 Logotel, "Mobile Robotic Fabrication System for Filament Structures" by Maria Yablonina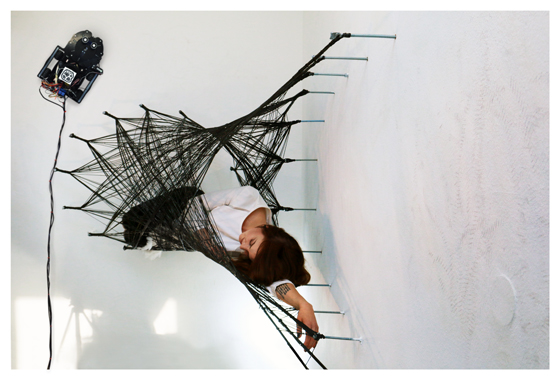 Logotel, "Mobile Robotic Fabrication System for Filament Structures" by Maria Yablonina
×
MENDINI for ECOPIXEL
Atelier Mendini embraces new technologies and with the ECOPIXEL project they show their desire to limit harm to our planet. Claudio Miliote and Jan Puylaert have created a recycling plastic that melts at 120°C and can be re-melted over and over again without losing its properties. The plastic, recognisable by its pixelated appearance, is a great example of an affordable and sustainable new material. An application of this material can be viewed in the form of the 'Alex' chair. The structure is created using a customised ECOPIXEL pattern with a specific colour choice, but randomly mixed by the production process. It shows the full potential of their "OPEN SKIN" mixture, an extra lightweight variant of their plastic.
Getting the full Ventura experience

Ventura Lambrate:
8th edition of Ventura Lambrate 2017
4-9 April 2017

Ventura Lambrate - General opening hours
10:00-20:00 Tuesday 4 April – Saturday 8 April 10:00-18:00 Sunday 9 April

Ventura Lambrate - Opening Evening
20:00-22:00 Wednesday 5 April

Ventura Centrale:
Via Ferrante Aporti 15, 20125, Milano, Italy 4-9 April 2017

Ventura Centrale - General opening hours
10:00-20:00 Tuesday 4 April – Saturday 8 April 10:00-18:00 Sunday 9 April

PRESS TOURS
Organisation in Design organises press tours for Ventura Lambrate & Ventura Centrale. If you are interested please send us an email to ventura@organisationindesign.com
The exact days and times will follow.