Text by Sleep
London, United Kingdom
With less than two months to go before Sleep, Europe's hotel design event, opens its doors at the Business Design Centre in London, anticipation is building.
Over recent years, the event has proved its ability for tapping into emerging hospitality design themes and exploring them in ways that combine the disruptive and the mainstream. 2017 promises to achieve this balancing act once again. The theme is "Loyalty: Lessons in Love", which will be explored through concept room installations, dissected in the Sleep Conference and has given pause for thought to a number of the exhibitors. In 2016, some 4,700 visitors attended the event from across Europe, the States and further afield. This year, with the exhibition at capacity, conference speakers at the top of their game and designer participants who command headlines, the expectation is for an even buzzier and more insightful experience.
Sleep Walking: The Exhibition
The year's Exhibition is more international than ever before, with companies coming from across Europe and the USA, as well as the UK, to showcase their collections. The concept of loyalty is reflected in this mix with a third of exhibitors weighing in as Sleep veterans, including such familiar names as Chelsom, Hamilton Conte, Kohler, Perrin & Rowe, Style Library, Phillip Jeffries, GROHE and Fabbian. "Loyalty is about participation," says Ettore Fabbian. "The more we participate in something, the higher is our engagement, interaction and understanding. The experience of taking part ties us intimately to that place, moment or experience, and it starts to take on a special meaning for us".

Among Sleep's 2017 newcomers are Ercol, Ligne Roset, Artemide, Sans Souci and THG Paris, and such is the status of Sleep that many companies, both the old-hands and the debutants, choose to launch their new collections there. This year, for example, expect to find the first-ever carpet collection by Kelly Hoppen MBE, designed and manufactured in collaboration with Brintons, two new spectacular technology-enabled glass lighting fixtures from Sans Souci and new indoor and outdoor furniture from Serralunga, including the Cassero Collection designed by Patricia Urquiola.
Engaging Spaces
Introduced last year with great success, Spaces will encompass an imaginative collection of 19 showcases created by leading suppliers, including Bang & Olufsen, Bushboard, Crosswater, Fabio Alemanno, Roca UK and 10Deka. The stands offer design inspiration for indoor and outdoor environments by allowing visitors to experience collections in specially created hotel settings.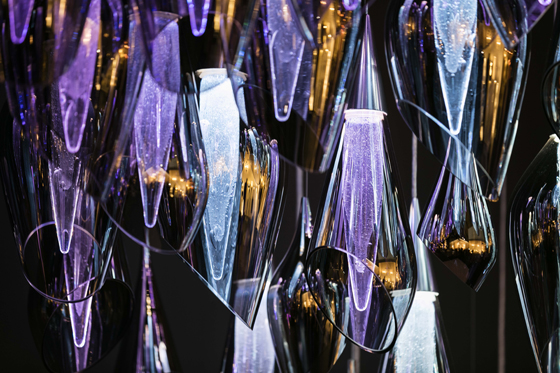 Sans Souci will launch Aurora at Sleep - designed by Katarina Kotulacova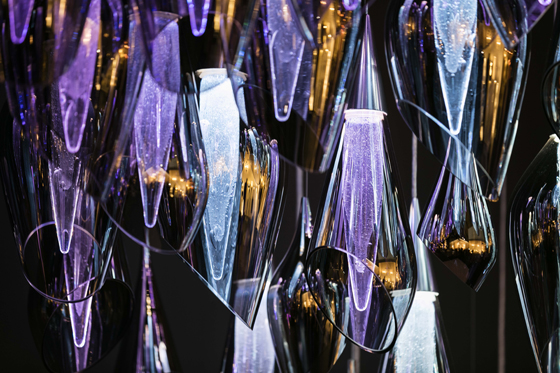 Sans Souci will launch Aurora at Sleep - designed by Katarina Kotulacova
×
Sleep Talking: The Conference
The free-to-attend conference will include panel discussions, roundtable conversations and rare opportunities to hear from some of the industry's most influential designers. The opening keynote will be from Tristan Auer, whose work includes Hôtel de Crillion and Hôtel Les Bains, both in Paris. He describes his aim as being to create spaces for fabulous moments: "I see my role as similar to a tailor's but instead of couture, I design spaces to help people feel beautiful," he says. "For me, the client relationship is key and it has to be one of shared trust, respect and passion. I'm happy to start a project from a place of discomfort, challenged by my client's ideas or uncertain how to distil place and building into the interiors. This is what takes my work in new directions. What I've learnt is that the more I design, the less I know. It really is the best job in the world!"

Panel topics include a look at F&B trends, the hotel development horizon, hotel brand identity and "post cool" hotels.

James Soane of Project Orange, who will be one of the speakers on the post cool panel, elucidates: "By definition what is cool now will not be cool for much longer. While it can lead to fun concepts, there is a bigger question at stake: can we continue to operate in this style-led throwaway economy? Looking at a world where resources are becoming scarcer and the climate getting more unpredictable, there needs to be a better appreciation for making ethical choices".

Slow design is also on the Conference menu with a discussion between Ilse Crawford of Studio Ilse, Quentin Dante from Studio Q in Bangkok, and Motti Essakow, founder of Rhythms by Design, UK. He argues that slow design is about balancing fast and slow rhythms of producing, designing and innovating for a better way of life.

"Slow design means stripping design back to its essence by re-focusing on craftsmanship and timeless designs, providing a structure for storytelling and generating engagement. It's the ultimate expression of authentic substance and quality," says Motti. "A designer's job is no longer about creating physically appealing products or catering to utilitarian and conformist aspects of design. Instead, it's about finding ways to create and offer meaningful connection to places, spaces, products and experiences for the consumer."
Sleep Set Inspiration
The Sleep Set translates the year's theme into physical form with leading design companies creating concept installations that range through the deeply allusive and deconstructed to the immaculately detailed and essentially hotel-ready rooms. Structured as a competition while approached as a collaborative exploration, the Sleep Sets this year reflect global reach and cross-disciplinary experience with the four participants bringing a spectrum of cultural, geographic and industry perspectives to the mix. They are: Stonehill & Taylor, the hospitality-focused architecture and design studio from New York City; London-based MKV Design; Il Prisma, with studios across Italy and in London; and 1508 London. The winner will be announced at lunchtime on Day Two.
Raising the Bar
Sleep is also going to be introducing the Moscow-based Design & Architecture Studio, SundukovySisters. They will be bringing their particular brand of bold and idiosyncratic design to the pop-up Sleeper Bar, following in the wake of several award-winning Sleeper Bars conceived for the event in past years.
For more information and complimentary registration, visit