Alone Time: furniture design goes all private
Text by Simon Keane-Cowell
Zürich, Switzerland
The last few years have seen a number of furniture designers explore ways of defining privacy through form. What's going on? Are we really going all shy and retiring?
Maybe it's the times we're living in. Financial gloom. Crazy weather. Blackberries. Could it be that we're just not feeling as sociable as we once were, and instead crave more of a solitary existence? If a recent design trend for furniture that affords its users a kind of visual privacy is anything to go by, screening them off in part from the world around them, then you might agree that we just want to get away from it all. Everything's become, well, a bit hectic.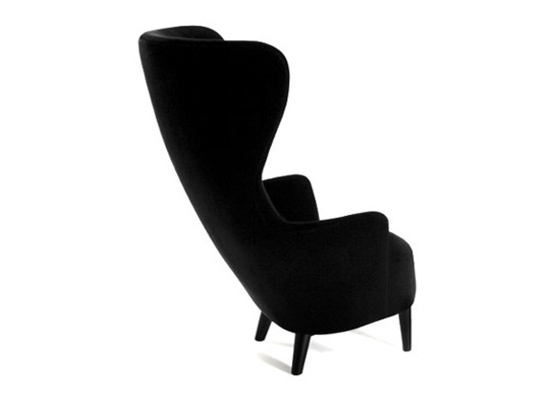 'Wingback Chair', Tom Dixon for George Smith, 2008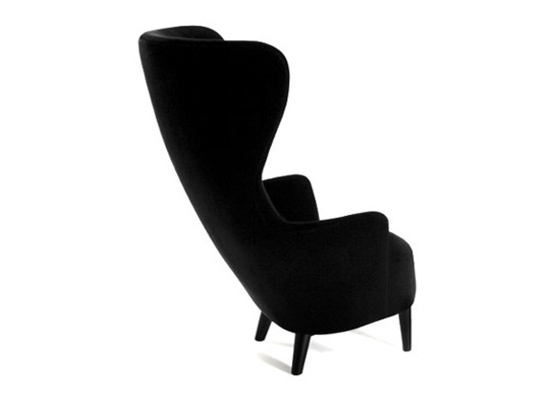 'Wingback Chair', Tom Dixon for George Smith, 2008
×
The concept of privacy is a relatively recent one. It's generally agreed that the 17th century saw the advent in Europe of an architectural discourse of the defined private sphere. As Jürgen Habermas, the German philosopher and sociologist, suggests, 'the privatization of life can be observed in the change of architecture'. Servants became physically separated from masters, as new spaces, such as back stairs, were designed, their aim to create a new kind of private existence.

There are always exceptions to the rule, of course. Remember that the Palace of Versailles, commissioned by Louis XIV, was always open to the public; the French monarch's supreme power was expressed through spectacular architecture and design, and actively required lesser mortals to come and witness it in order for king's near deity to be 'read' and understood.

A chair type that comes with a degree of privacy built in and which has seen a revival of late is the wingback armchair. A number of designers have reinterpreted this classic piece, which features wings that rise up from the arms and join the chair's back a 90-degree or wider angle. The original rationale for these side elements was to keep out the draught (think old country houses), as well as to shield ladies' faces, and their make-up, from the excessive heat of a roaring fire. A further function they perform, of course, is to allow the sitter a certain amount of privacy.
It's no wonder that it's UK designers in particular who've reworked the wingback, given its special place in British design history. Both 'PARCS Wing Chair' by PearsonLloyd for Bene (2009, part of the Wing Series) and Hush by Naughtone (2009) provide a very contemporary, rectilinear take on the chair's archetypal form. The elongated side elements on both chairs function, like blinkers, to concentrate the user by limiting their field of vision. They also serve, of course, to hide the user's face, to a certain extent. In the case of 'Hush', the idea of withdrawl into a private realm is expressed by the piece's very name.
Tom Dixon's literally named 'Wingback Chair' (2008), manufactured by George Smith, operates simultaneously as homage and parody to the traditional style. Displaying elegant curves and rich upholstery, it declares itself quite clearly to be a descendant of the original furniture type. At the same time, it subverts this through its outrageously high back, which distorts the proportions of the piece. The ideas of cosy and comic are cleverly held in tension.
It isn't only the dear wingback that designers have focused on recently for their experiments with creating privacy through form. Turkish design duo Seyhan Ozdemir and Sefer Caglar, who together form Autobahn, have created a chair whose form envelopes its user. Launched in 2009 by De La Espada and called 'Nest' (again, the clue is in the name), the piece is made of traditional wood. From behind, the narrow gaps between the struts give a tantilising, but only partial, glimpse of the person sitting in the chair. Similar in form, but different in material expression is Jaime Hayon's 'Showtime Hooded Chair' for Bd Barcelona (2006). Here, gloss-lacquered single-mold polyethylene and leather upholstery, are used to articulate an exaggerated form. Like Dixon's chair, traditional chair proportions are challenged as the sitter finds themself enclosed within a soaring, oversized canopy.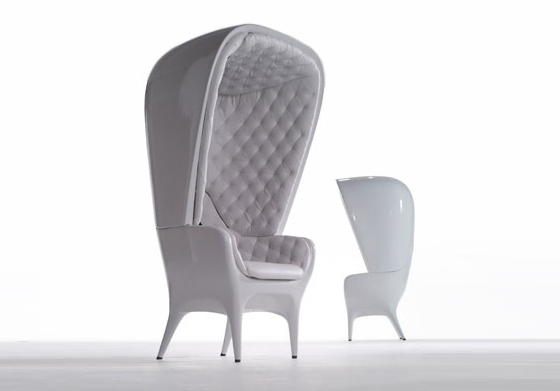 'Showtime Hooded Chair', Jaime Hayon for Bd Barcelona, 2006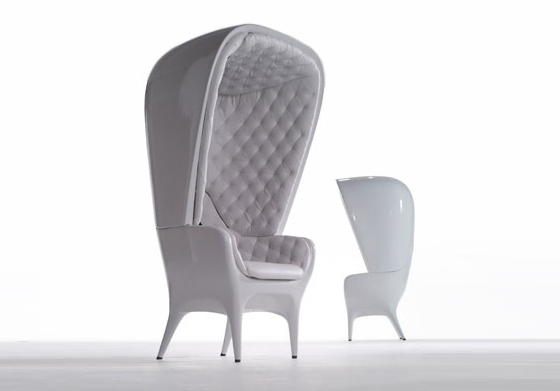 'Showtime Hooded Chair', Jaime Hayon for Bd Barcelona, 2006
×
Sofas, too, have received the private treatment of late. Robert Bronwasser's 'BRICKS Sofa' for Palau (2009), part of the modular BRICKS system, creates a semi-private environment for its users, with its high back and sides. A piece such as this renegotiates interior architectural space, setting up a room within a room, as it were. Ronan and Erwan Bouroullec's 'Alcove Sofa' from 2006 for Vitra demonstrates this idea quite clearly. Once again evoking the concept of withdrawl and protection through its name, the design's strict angles create a visual screening-off of its users, particularly when two of the sofas are positioned facing each other. There is, quite clearly, a distinct set of benefits for contract use here. Furniture designs like these create private spaces within public ones, offering not only visual privacy, but also enhancing acoustics.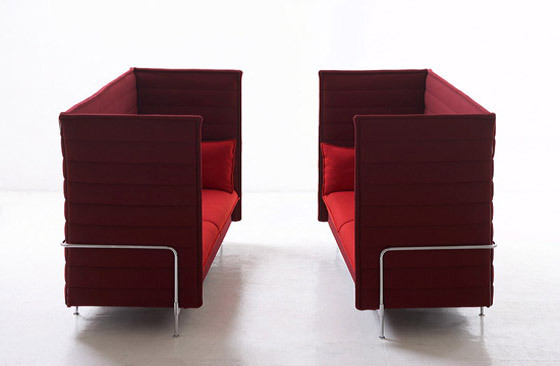 'Alcove Sofa', Ronan and Erwan Bouroullec for Vitra, 2006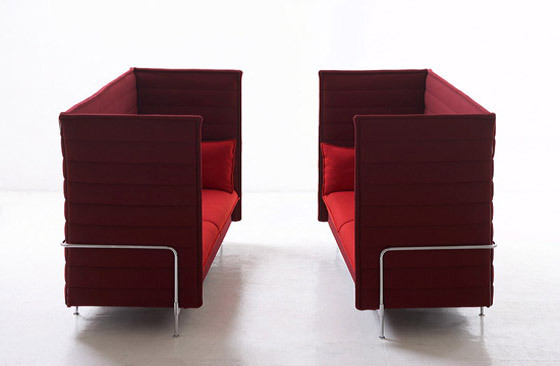 'Alcove Sofa', Ronan and Erwan Bouroullec for Vitra, 2006
×
The 'Duo Sofa' (2009), designed by Norway Says, Andreas Engesvik and Hallgeir Homstvedt and manufactured by LK Hjelle, hedges its bets. While appearing at first glance to possess the proportions of a standard (so to speak) sofa, it features side and back panels that, once unzipped, can be folded out and upwards to create a double-height 'screen' that embraces its sitters. Up or down. You decide.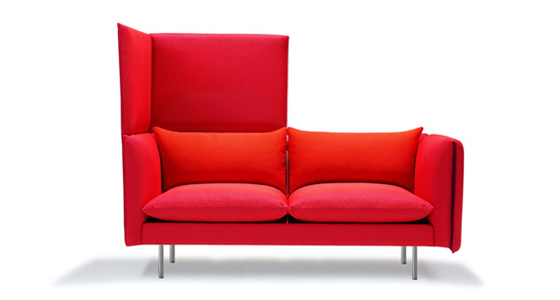 'Duo Sofa', Norway Says, Andreas Engesvik and Hallgeir Homstvedt for LK Hjelle, 2009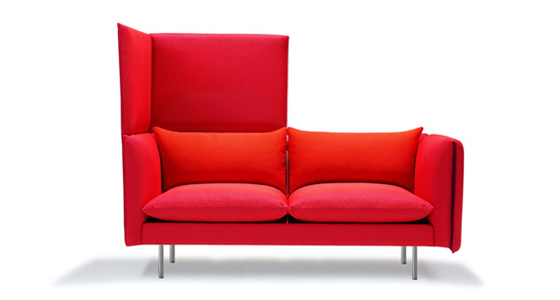 'Duo Sofa', Norway Says, Andreas Engesvik and Hallgeir Homstvedt for LK Hjelle, 2009
×
But it's not only seating that's been used as a testing ground for new privacy-generating forms in furniture. Back in 2000, the Bouroullec brothers were already looking at how to create free-standing, enclosed spaces within larger interior spaces with their experimental sleeping box 'Lit Clos'. The scale of the piece, which sits somewhere between bed and bedroom, is large, creating a truly architectural intervention. More recently, Copenhagen-based design pair GamFratesi have designed a desk that emphatically articulates the desire for withdrawl from the wider world. Primal almost in form, with its suggestion of a return to cave-dwelling, the desk features a overarching, fabric-covered screen, which cocks a snook at the open-plan office environment. The acoustic benefits of the design are clear. Whether the cave-desk design aids the user's concentration, however, is up for debate.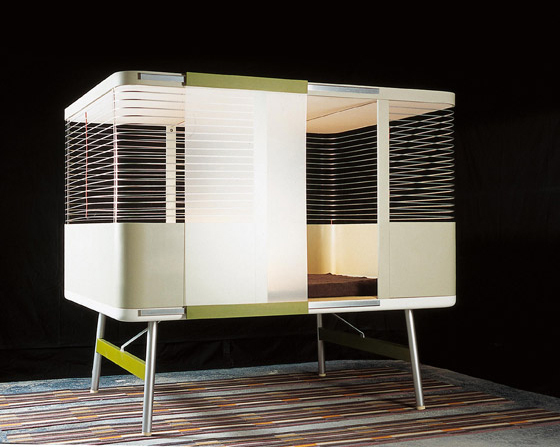 'Lit Clos', Ronan and Erwan Bouroullec, 2000; copyright Morgane Le Gall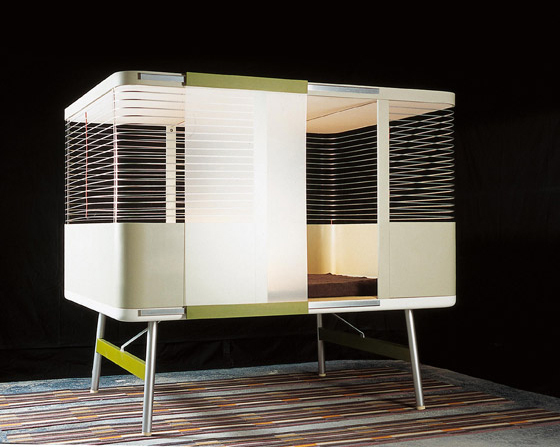 'Lit Clos', Ronan and Erwan Bouroullec, 2000; copyright Morgane Le Gall
×
And then there's extreme privacy. For when it just get's all too much. Philippe Malouin presented a concept at Milan in 2009 called 'Tent Sofa', which, as the name suggests, combines two product-types in one. Created for Italian manufacturer Campeggi, the sofa-bed's arms can be unfolded to form walls and even a pitched roof over the mattress. The military green of the upholstery underpins the camping aesthetic. This is the outdoors indoors.
But for true isolation take a seat in Stefan Borselius's 'Peekaboo' chair for Blå Station (2005). This very geometric iteration of the wingback chair (which is at the same time cantilevered) takes privacy seriously. It comes with the option of a Plexiglas-and-moulded-felt visor, which looks like some kind of virtual-reality headset, concealing the sitter's face. If it's solitude you want, nothing says 'leave me alone' quite so clearly and stylishly as a chair with a built-in mask. Just make sure you know what you're saying.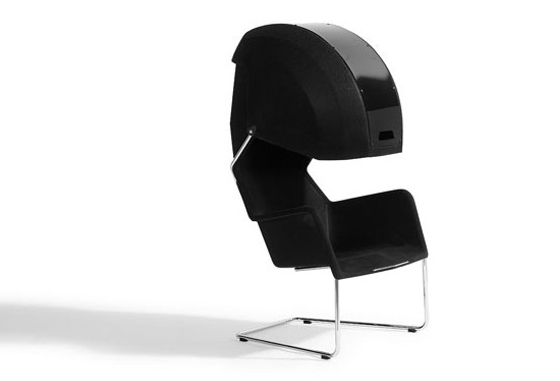 'Peekaboo', Stefan Borselius for Blå Station, 2005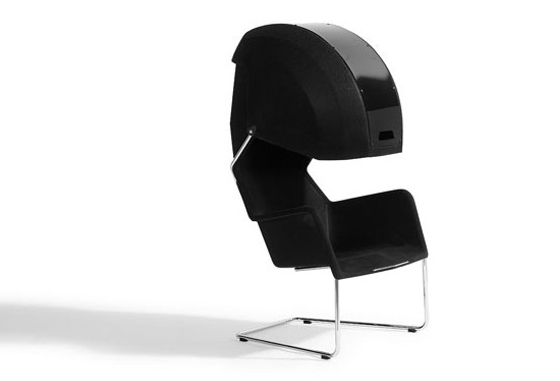 'Peekaboo', Stefan Borselius for Blå Station, 2005
×