Architonic Concept Space III, designed by Oskar Zieta and the CAAD Faculty at ETH Zurich
With Concept Space III Architonic is for the third time now providing a forum for the architectural realisation of innovative technology. As a successor to LAVA and Gramazio & Kohler, the Zurich architect, process designer and furniture producer Oskar Zieta is now continuing the series of Architonic Concept Spaces. The premiere of Concept Space III will be at this year's imm cologne, followed by a tour through the main trade shows in 2010.
In our 'Making Of' we would like to provide you with a behind-the-scenes look at the complex development of Concept Space III.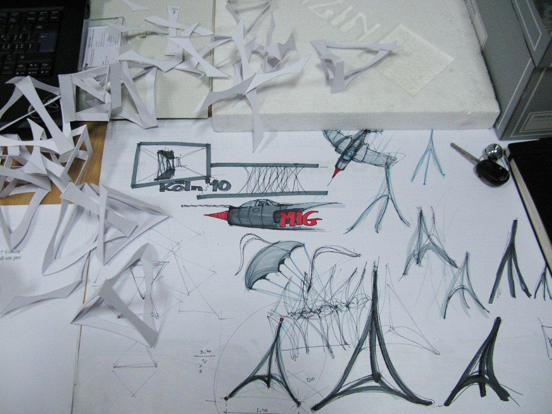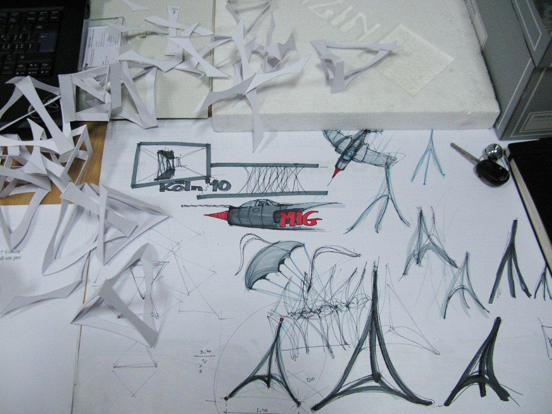 Sketches
×
With his charming, inflatable stool made of sheet steel Oskar Zieta didn't only impress the international design scene – his little 'Plopp' would also bring him well-earned recognition for his many years of research work at the CAAD faculty of ETH Zurich under Professor Hovestadt. Here the Polish designer collaborated with his colleague Philipp Dohmen in the development of the so-called FiDU (Freie InnenDruck Umformung) technology – a process in which precision-cut sections of sheet steel with welded contours are inflated at high pressure into complex shapes. 2D is converted into 3D. However, what 'Plopp' demonstrates on a small scale has the potential for larger dimensions.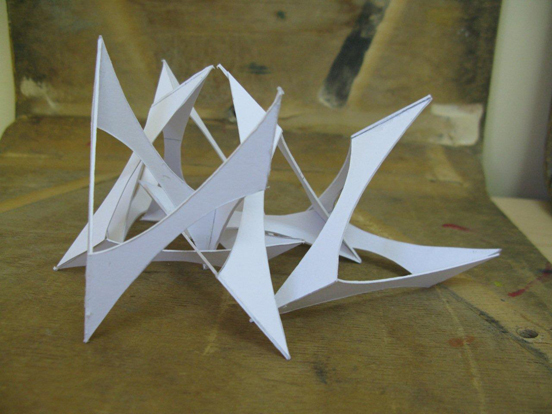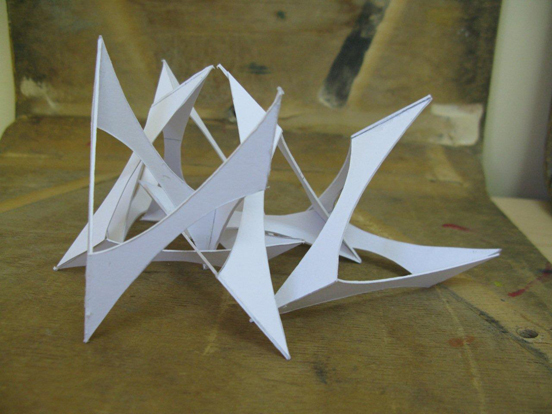 Paper models
×
The long-term aim is to use FiDU elements in architecture, for example in flexible structural systems or facade sections, because in addition to their excellent static properties – inflating the sheet steel sections provides statically optimised forms – FiDU is in many respects an especially economical process. In contrast to injection moulding, hydroforming or extrusion, all of which require elaborate and costly machines and moulds, all that FiDU needs is a die plate and a robot welder. The two-dimensional sections are easy to transport and can then be inflated on site.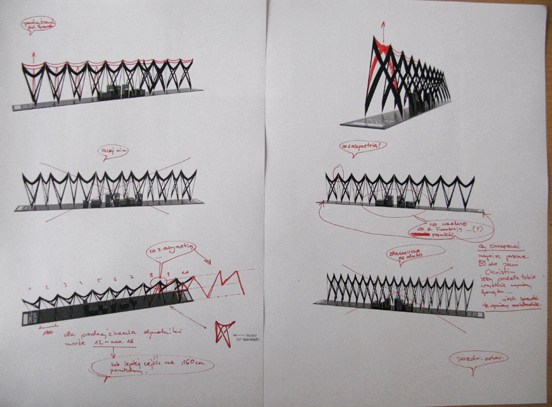 Drafts of the Architonic Concept Space III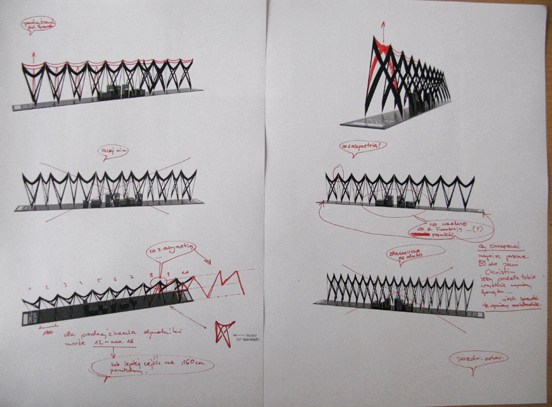 Drafts of the Architonic Concept Space III
×
This year's Architonic Concept Space III provides Oskar Zieta and his team with a platform for implementing an architectural project with this new technology for the first time. "We now have the opportunity to demonstrate our research results and to acquire the kind of experience which only a full-scale project can offer", says Mr Zieta.
The modular structural system, which consists of a number of identical and stackable geometrical spatial structures, is made up of inflated sections welded together robotically. A well-balanced equilibrium of traction and pressure forces gives the structures maximum stability. By arranging them symmetrically a space is created with a design that features prominent joints and relatively narrow rods, somewhat reminiscent of the structure of a bone, and with a static principle that invites a number of comparisons.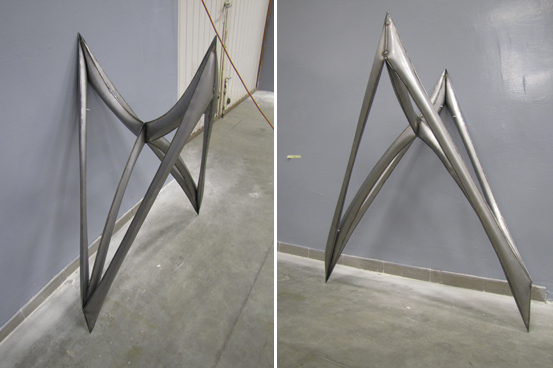 Blown up sheet metal models in smaller scale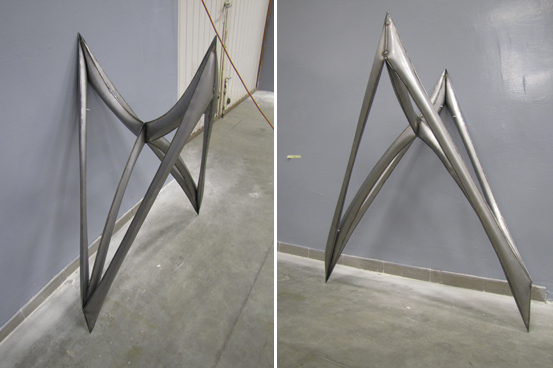 Blown up sheet metal models in smaller scale
×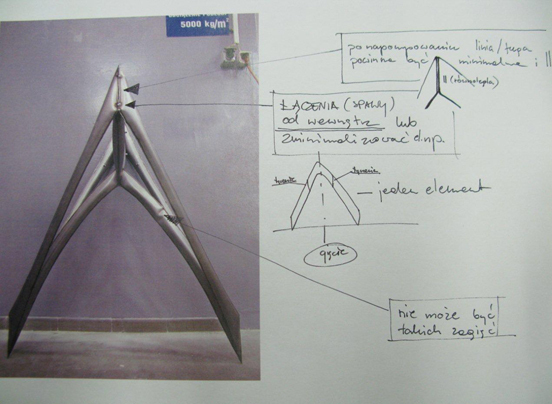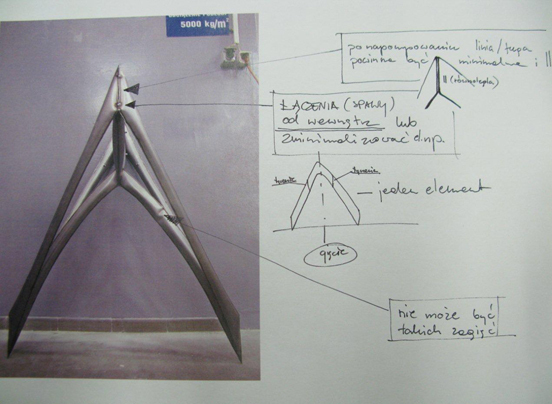 Notes for the production
×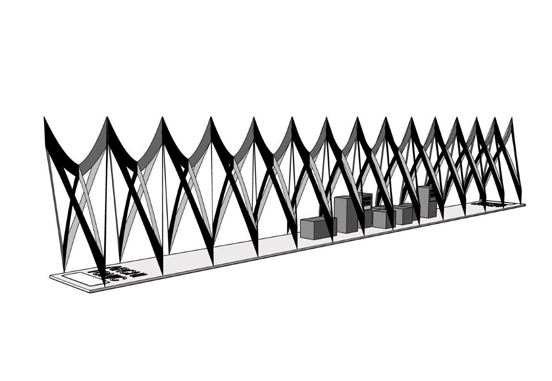 Draft for the imm cologne 2010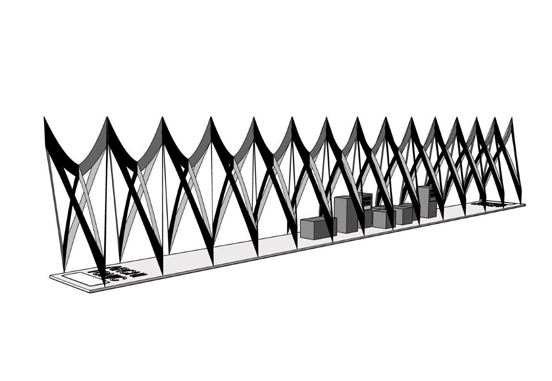 Draft for the imm cologne 2010
×
"Naturally we also wanted to design an eye-catcher – the purely functional trade fair stand is well past its sell-by date. But in spite of everything the extrovert appearance is above all the result of careful calculations. A fair stand has to be flexible, light and stable, and these specifications lead you very quickly to the triangle, the basic shape with the greatest static stability", explains Oskar Zieta.

Thanks to our partner and sponsor Andreas Messerli Kommunikation im Raum (project management, exhibition building and logistics) for assembling the Architonic Concept Space III.