Light + Building 2016: Touched by light
Text by Light + Building
Frankfurt am Main, Germany
19.01.16
Light + Building is the world's biggest platform for lighting and building-services technology with around 2,500 exhibitors. From 13 to 18 March, around 1,650 manufacturers from the lighting sector will present their products at the fair. The spectrum ranges from designer luminaires in styles from modern to classic, via technical lighting and lamps of all types for all applications, to a huge selection of lighting components and accessories.
With well thought-out and networked lighting control systems, it is not only possible to illuminate rooms perfectly but also to exploit various aspects, such as luminous colour and dimming to the full. Human centric lighting, i.e., the impact of light on our productivity and feeling of well-being, is a ground-breaking trend theme, which is becoming increasingly important for planning new buildings and making lighting a part of architecture. The trend in public-space planning is towards a multifarious and individual use of forms in lighting design. In the case of urban lighting, the result is not only maximum efficiency but also savings in costs.
With light, we associate warmth, security, a homely feeling, community and life. Debates around new technology and sustainability are sensitising planners, designers and users to the appropriate uses of artificial light. When it comes to project planning, the distribution, output and colour of light, as well as issues of energy efficiency are essential aspects to consider. However, the following questions must be addressed first: What is the actual purpose of the lighting? How does the light get its form or, to put it another way, how does its form affect the lighting? Light is not visible; light makes other things visible. A room without openings or sources of artificial light is quite simply dark. So it is all about making the environment visible, enabling us to see things. Light is the basis for visual perception. Light creates hierarchies, distinguishes the important from the unimportant, divides the space into zones and/or focuses attention and serves as a natural clock for us human beings. The biological and emotional effect of light is of great importance, particularly in today's supersaturated multi-media world.
Architectural lighting: light makes things visible and provides accents
As far as architectural lighting is concerned, the actual light source is receding further and further into the background. Thanks to tiny LEDs and planar OLEDs, lighting design has changed dramatically in the last few years. The LED itself is a point source, which, depending on the reflector and lens technology, can also be used to create a planar, antiglare light source. Organic LEDs, because of their low light output, short lifespan and high costs in comparison to LEDs, are not yet used on a large scale. The expected hype around this technology has not yet materialised, at least not yet. OLEDs, as planar light sources, will complement LEDs but in no way replace them. Good quality of illumination is achieved primarily through the combination of planar and point sources. Extremely diffuse light can seem boring and tiring. Through the miniaturisation of the light source, designers and lighting manufacturers have endless possibilities to mould the light into the desired form. Or vice versa: to integrate the light into a desired form. Whether the light becomes a feature in itself, or remains a subtle spatial experience created by the lighting – the possibilities are endless.
From accent lighting to daylight solutions and planar light
With the ability to dim lights and change the colour temperature, all possible shades can be reproduced to create exactly the desired mood lighting. Shifting lighting scenarios, which users can adjust themselves, are right on trend. Whether through gesture control, App or professional lighting control – lighting has arrived in the digital age. Smart, wireless lighting systems can be controlled via tablets and smartphones and offer the user simple solutions. Complex light management systems must, however, be planned and installed by experts. Alongside the individual lighting concept, the basis for a long-lasting lighting solution is, above all, the quality of the light sources used, the materials and the electronics, as well as their service life.
Light + Building showcases a multitude of lighting solutions and trends
Trade visitors to Light + Building will learn where it now makes sense to put which light with what sort of control mechanism. A variety of lectures and events on the theme of lighting and building technology will provide insights into current trends. Exhibitors will also demonstrate, with their product innovations, how to walk the tightrope between creative lighting solutions and energy-efficient projects. Energy efficiency does not stand in the way of such creative solutions, as energy bills for lighting have radically changed for the better. Because LED technology has had an extremely positive impact on reducing energy consumption.
Human-centric lighting: putting people first
At a time, when the majority of people spend the greater part of the day in enclosed spaces, the challenge for the lighting industry is to develop lighting solutions which, as well as simply enabling people to see properly, and to do it with maximum energy efficiency, also involves a third dimension: human beings and their biological need for light. This approach, which is called 'human-centric lighting" covers lighting systems that are created to parallel the natural progression of daylight and thus the original biological rhythms of human beings. They regulate the day-night rhythm, determine the secretion of various hormones and impact directly on our ability to concentrate and to work, on our mood and even on our capacity for bodily healing.
Until a third photoreceptor was discovered in the eye in 2002, only two kinds of receptor were recognised: cones for colour vision and the more light-sensitive rods, which enable us to see at low lighting levels. The third kind of photoreceptor involves special ganglion cells in the retina, whose function is not to help us see. They contain the light-sensitive pigment melanopsin and react very sensitively to the blue elements of the light spectrum. These photoreceptors have a direct line to the brain; they are linked, via the retinohypothalamic tract, directly to the so-called 'master clock' – the suprachiasmatic nucleus (SNC) – which acts as a kind of director, coordinating the many different internal body clocks with the hormone-producing pineal gland and the hypothalamus. This is undoubtedly the most important control centre for the vegetative nervous system. This direct link makes absolutely clear just how much human beings are influenced by light.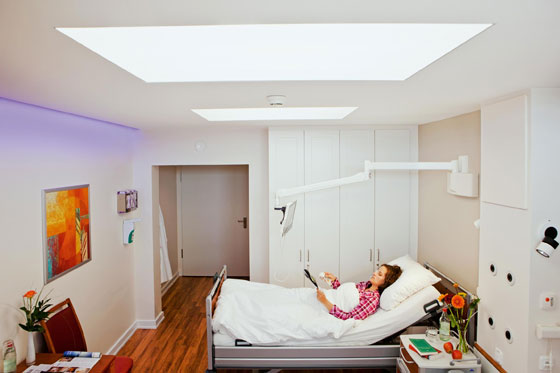 Human centric lighting plays an important role in health care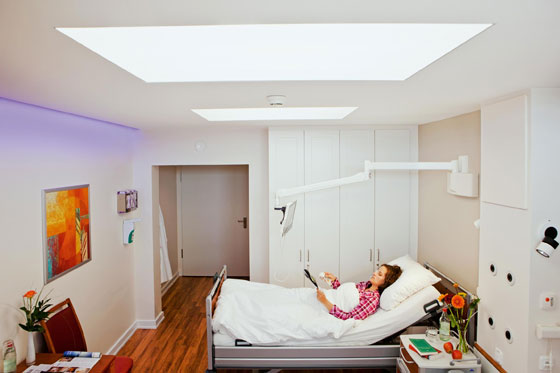 Human centric lighting plays an important role in health care
×
The circadian rhythm
Human-centric lighting covers the development and realisation of lighting, which has a biological impact and which puts the human being at the centre of concern. A crucial factor in all this is the so-called 'circadian rhythm': this refers to the rhythm which has a time-scale of 24 hours, the 'inner clock', so to speak, which governs the functioning of both body and mind. This rhythm takes its cue from daylight and controls the human being's periods of sleep and waking. During the course of a single day, the body goes through many different additional phases of performance highs and lows, changing moods and needs, all of which can be attributed to various hormone secretions. And daylight is, as it were, the 'impulse generator' for this.

Human-centric lighting is concerned with the possibility of 'circadian lighting', a lighting concept that, as far as possible, imitates daylight. This is an extremely difficult task, since daylight is not only determined by brightness, but also by the dynamics, progression and colour of the light. It is only in the last few years that it has become technically possible to implement a lighting scheme in interior spaces that has a biological effect. Various studies have demonstrated its effectiveness; staff in offices perform better and show greater concentration levels, there is an increased general sense of well-being and an improvement in motivation. In schools, students' concentration can be boosted with the right lighting, in hospitals anxiety can be reduced and people helped to recuperate. Care homes record improvements in concentration amongst dementia patients and a better day-night rhythm.
Human-centric lighting in the health service
Lighting in hospitals must meet a wide variety of requirements: for medical examinations the recommended level of lighting is around 1000 lux. In the wards, a mere 100 lux are adequate. In the operating theatre, illumination levels of 2000 lux are required, whilst minimally invasive surgery can be performed under lower lighting levels, so that the contrasts on the monitor are more visible. These values refer to the purely functional visual tasks that are essential for the normal work of the hospital. Human-centric lighting pursues approaches to illumination that go well beyond these functional visual activities.

Thus, for example, a lack of daylight can lead to shifts in the day-night rhythms of bedridden patients. Biologically effective lighting can often prevent the consequent sleeplessness or night-time restlessness. For medical examinations, a warm light has a calming effect, so that anxiety can be reduced simply with mood lighting and the sterile hospital atmosphere recedes into the background. It is, however, not only the patients, but the hospital staff, too, that can benefit from the greater sense of well-being in the workplace that human-centric lighting brings.  Nursing staff on night duty in particular benefit from high levels of illumination, which inhibit melatonin production and thus act to ensure greater ability to stay awake and to concentrate.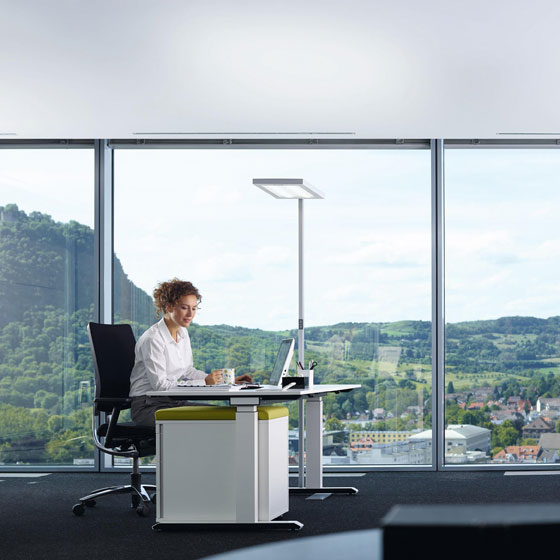 Office workplaces with specifically coordinated lighting improve people's concentration and efficiency.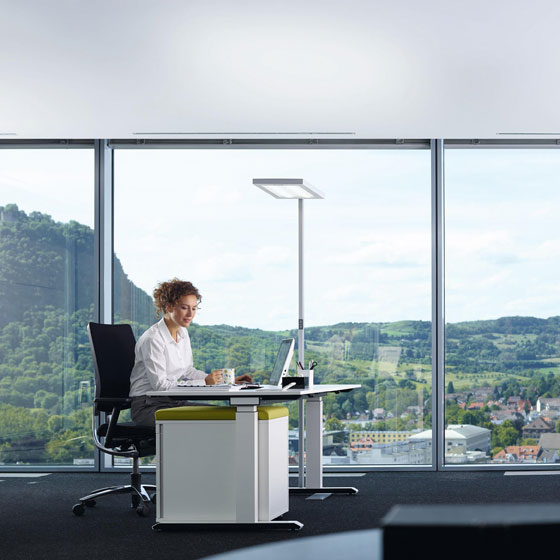 Office workplaces with specifically coordinated lighting improve people's concentration and efficiency.
×
Human-centric lighting in office buildings
The situation is similar, if with rather different requirements, in offices. Studies show that staff, who are provided with biologically effective lighting, feel better in themselves and can concentrate better. It is the job of human-centric lighting to imitate natural daylight as nearly as possible in interior spaces. Since most office buildings have access to daylight, this can be measured using sensors and artificial illumination switched on and off deliberately to fit in with the same rhythm. At the same time, the brightness, as well as the colour temperature, which shifts during the course of the day from cold to warm, is also a consideration and must be reproduced. The light distribution also plays a major part in illumination that impacts biologically. This is where the third type of photoreceptors again come into play; since they are situated in the lower part of the retina, light should enter the eye as evenly as possible from the front and from above, as it does from the sky in daylight. For offices, this means that walls and ceilings must be evenly lit. As well as the biological effects, this kind of indirect lighting also enhances the perception of space and is generally more pleasing to human beings than direct focused light.
Future potential for biologically effective lighting
In view of the fact that biological and psychological discoveries go hand in hand with technological progress, the whole issue of human-centric lighting is set to become more and more important in the future. Biologically effective illumination can improve communication, boost concentration and help speed up convalescence. It improves one's sense of well-being, which, in turn, boosts creativity, the ability to perform well and even a willingness to buy. Lighting that has been adapted to human beings and their biological needs is also something we shall doubtless hear more of in the future; we are, as yet, still only at the beginning.
Light + Building presents solutions for human-centric lighting
Light + Building 2016 will hold a mirror up to this ground-breaking future market, showcasing its recent developments and new products. National and international manufacturers will exhibit their innovations relating to human-centric lighting and its applications in the most diverse everyday areas. There are, these days, for example, lamps equipped with both warm white (3000 K) and also cold white (6500 K) LEDs. This set-up, in combination with a white / white control, enables individual choice of the colour mix. By changing the intensity of the light and the colour temperature, the changes in daylight during the course of the day can be imitated. And it is LED technology coupled with digital control that have made this possible. As well as the products and solutions offered by the exhibitors, Light + Building will be putting human-centric lighting at the focus in the complementary programme, too. The speakers will provide information, in their talks, on the latest developments, will report on best-practice examples and discuss the effects that light has on human beings. And the special display 'Digital Building', too, will demonstrate how human-centric lighting can be installed in offices and integrated into the building services technology.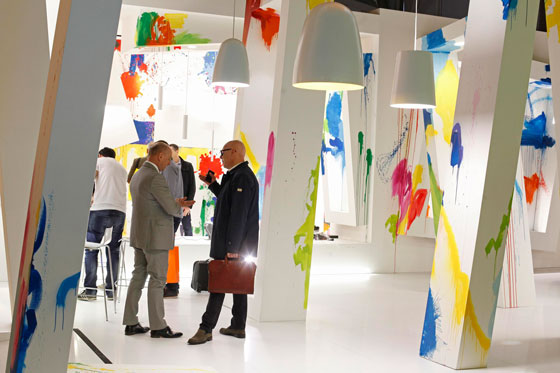 Modern lighting and lighting systems in the age of human centric lighting – also one of the main themes at Light + Building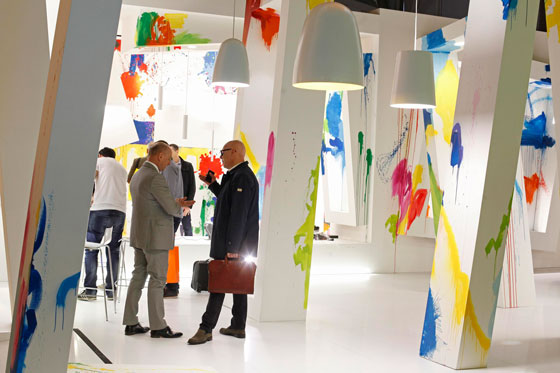 Modern lighting and lighting systems in the age of human centric lighting – also one of the main themes at Light + Building
×