The world of Madelon Vriesendorp in the Swiss Architecture Museum
The »Empire State Building» and the «Chrysler Building» lie on the bed in highly suggestive positions. In a different painting the airship promoting a brand of rubber hangs limply like a condom over the edge of the bed. In a third scene the architects are trying to escape from the metropolis of New York, with the counter-current driving them irresistibly back to the city.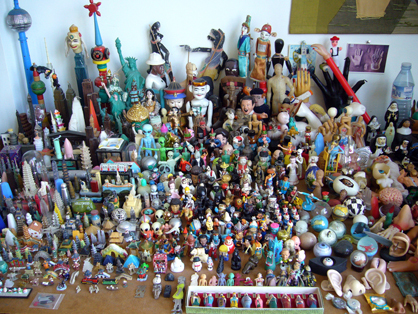 souvenir showcase by Madelon Vriesendorp. Photo: Shumon Basar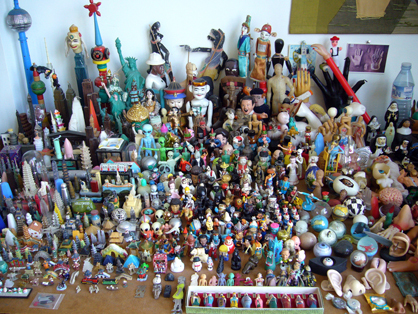 souvenir showcase by Madelon Vriesendorp. Photo: Shumon Basar
×
Among architects these pictures are as well known as Le Corbusier's glasses. According to the Financial Times, «for urban architecture they are more significant than Piranesi or the film 'Metropolis'». The FT is talking about illustrations which Madelon Vriesendorp's husband Rem Koolhaas used in 1978 for his «Delirious New York« manifesto and which almost overnight made him the guru of contemporary big-city architecture.

All these works were created in the days of student unrest and are now on view in a major exhibition at the Swiss Architecture Museum (SAM) in Basle. The aquarelles, gouaches and drawings are the creations of Madelon Vriesendorp. The modest petite Dutch artist lives in London, where she is known as «Maddie». When asked by her contemporaries why she didn't get involved in the student revolt of the times her response is non-committal but indicates that within the context of art »La rivoluzione siamo noi!«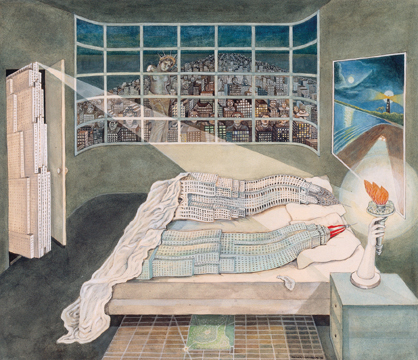 Flagrant Delit Version 1. 1975. Courtesey Frac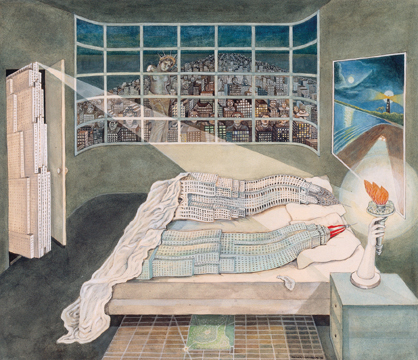 Flagrant Delit Version 1. 1975. Courtesey Frac
×
«These works weren't created to commission!», she comments smiling, almost hesitantly in Basle. They «were created as the result of an in-depth analysis of the possibilities provided by architecture» and accordingly mark the moment when the rigid corset of modernism seemed to be entirely exhausted».

Madelon Vriesendorp's original works have for over forty years been the preoccupation of the New York gallery owner Max Protech and are today to be found in the collections of the Guggenheim Museum in New York as well as architecture museums in Germany (Frankfurt) and Canada (Montreal).
However, if the Basle exhibition offered only the familiar pictures it would perhaps be a little boring, but there's a lot more on show. For example, Madelon Vriesendorp has collected souvenirs from all over the world to form a glass cabinet portrait of Manhattan. This has been transferred from her apartment to the exhibition and both Italian and Chinese residents of the city will recognise «Little Italy» and «Chinatown» in it. She juggles between the banality of «Trivial Pursuit» and the psychoanalytical motifs of Sigmund Freund, making this pictorial world at all times reflections of her 'ego'.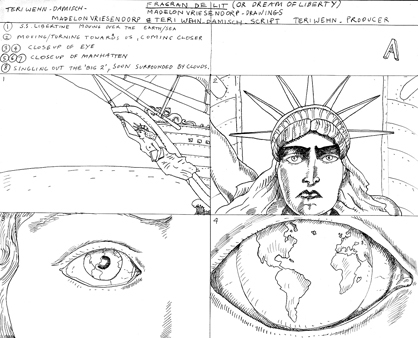 Flagrant Delit Animation Skketch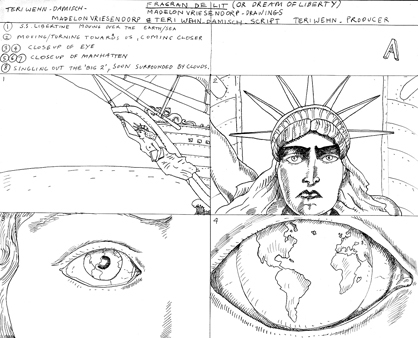 Flagrant Delit Animation Skketch
×
It is precisely these different levels which Madelon Vriesendorp allows to flow into her work which make the exhibition an outstanding event. This is what makes architecture both exciting and enjoyable! And in spite of this, for Hans-Ulrich Obrist, the Swiss organiser of the exhibition, the Dutch artist is a genius who is inexplicably for the most part unknown to the wider public.

«A Life without Objects» is the title of one of her paintings, involving a dedication to her Italian architectural colleague Adolfo Natalini (Superstudio) and, as Madelon Vriesendorp candidly admits to architonic, expressing «a longing which will never leave me in my collector's mania!»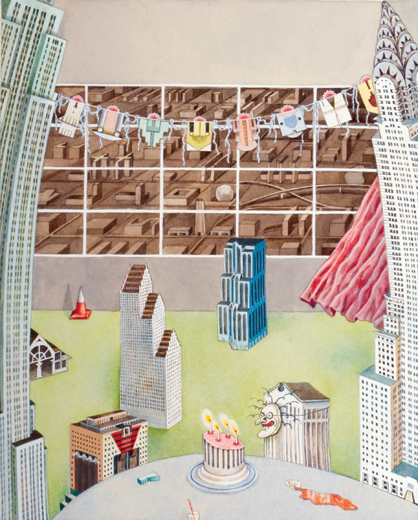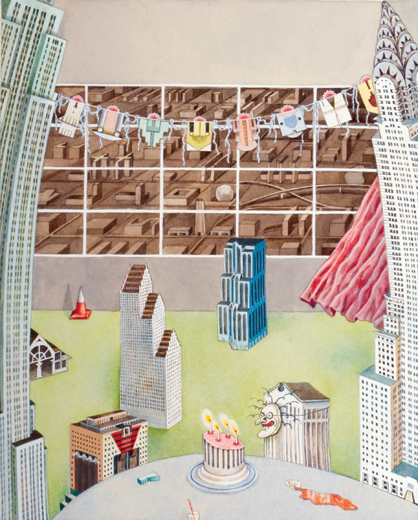 10 Ans Après l'Amour
×
At the press conference in Basle she describes the painting mentioned above on current and counter-current (10 Ans Après l'Amour) as paradigmatic for the development of modern architecture, which may well once more confirm the saying »Honi soit, qui mal y pense«, and by no means in Switzerland alone! Does the adoptive resident of London see things like this herself? »Why don't you write your report and add one more misunderstanding to all the others?« And when she asks this question her smile leaves no doubt that the spirit of mischief still drives her today.

until 22.03.2009