Text by Frame Publishers
Netherlands
With a new research-based strategy, interior workspace brand Kinnarps reckons it has seen the shape of things to come in our work lives.
Brand/range/design director Elisabeth Slunge and marketing director Paulina Lundström are two women recently appointed to the hitherto all-male board of interior workspace brand Kinnarps – which in itself suggests something of a fresh and contemporary approach from the classic Swedish company. This spring, there's more evidence of an evolution, in the shape of a new research report on current trends in work and the workplace, conducted by Kinnarps in collaboration with Stockholm-based future strategist Kairos Future. As Slunge and Lundström told Frame, the report underlines an important transition for the company, towards a research-based strategy.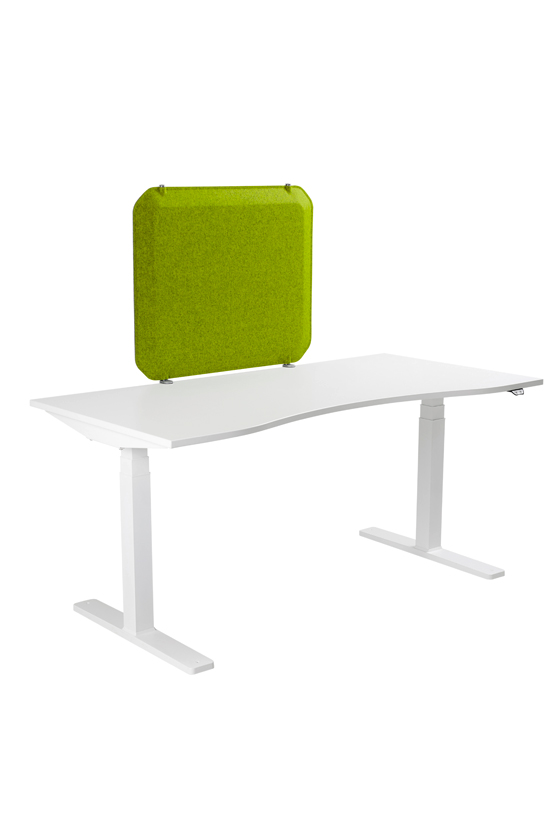 Launched this year, Kinnarps' Prim screen is a functional acoustic partition which can be used spatially in creative ways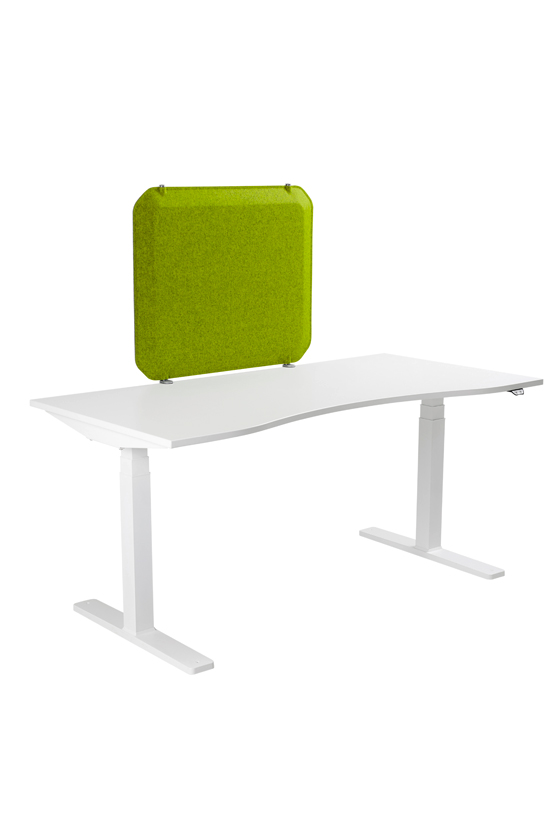 Launched this year, Kinnarps' Prim screen is a functional acoustic partition which can be used spatially in creative ways
×
This seems like a pivotal moment for Kinnarps.
Elisabeth Slunge (ES): It is – we're new on the board, we have a great new CEO [Per-Arne Andersson] and the board is formulating a new strategy. It's a research-based strategy, hence our new trend report on the main factors that are going to change the way we work. We're making major investments in R&D, marketing and communications. This year we're launching new products with new functions. We have big plans.
Why research?
ES: It adds value to the company – it gives us a direction and a base for approaching the market, for creating a mix of products for the future. So it helps us to understand the needs of the market and to stay ahead of them. Things are changing, and you have to evaluate them really fast.
The company's been doing well all these years. Why change now?
ES: We're seeing a shift from surface design to design thinking, and a transition towards a thought economy. This development means that businesses need new ideas and concepts. Companies have to create an environment where people can be both creative and critical.
Paulina Lundström (PL): We're a great brand with a great heritage, and in the past we just haven't communicated that enough, so that's something we definitely want to develop. But we want to let people, our ambassadors, speak for us, rather than just telling an impersonal story.
What did making the trend report entail?
PL: It took more than a year to complete the research. We looked at our eight biggest markets and conducted workshops with management teams in those places. We worked with Kairos Future, the Swedish future strategist, and we did internal and external interviews. Our findings are backed up by outside research, too. Studies from the USA show that a better-designed work environment makes people more productive. Research done by a Swedish institute shows that 94 per cent of office workers think it's important to have a good work environment. Another Swedish agency showed that lower stress levels mean increased productivity and fewer sick days. Well-designed products and spaces really do help. Our report reflects these things and focuses on eight key areas.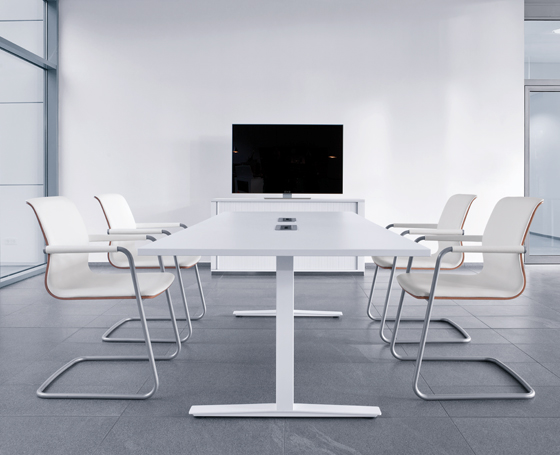 Multicom, a table designed for video-conferencing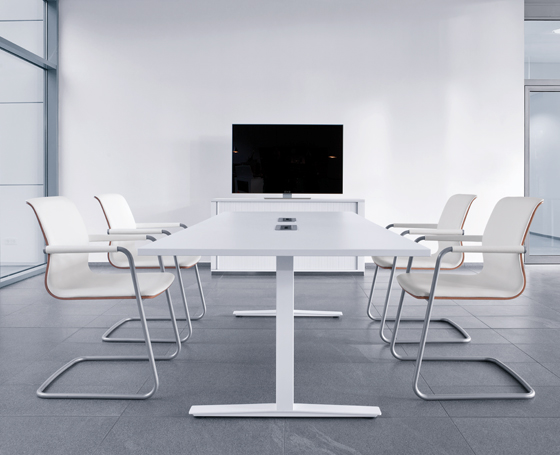 Multicom, a table designed for video-conferencing
×
How do the new products you showed in Stockholm illustrate the kinds of trends you identify in the report?
ES: Trixagon is a series of furniture for more relaxed working – stools for lounging, tables for informal gatherings. There's a growing need in the office for more flexibility, for easy movement from a desk to a conference table, and so on. We've pared down the pieces in our professional and functional Series[P] and added colours, giving users more options. Prim screen was received very positively because it's functional – acoustic partitions are increasingly important in open-plan offices – and it can be used spatially in creative ways, as a room divider, for example.
Then there's Multicom, a table for video-conferencing, a piece of furniture designed to accommodate a lot of technology. Video-conferencing is only going to increase due to environmental and financial reasons, and the trend towards home working. With this new design, you can actually see more people around the table.
What do the products have in common?
PL: They are all-inclusive, by which we mean that they are adaptable to individual use by a wide variety of people and can accommodate current and future technology. The workplace is ageing, so future products will have to work as well for 70-somethings as for 20-somethings, for example.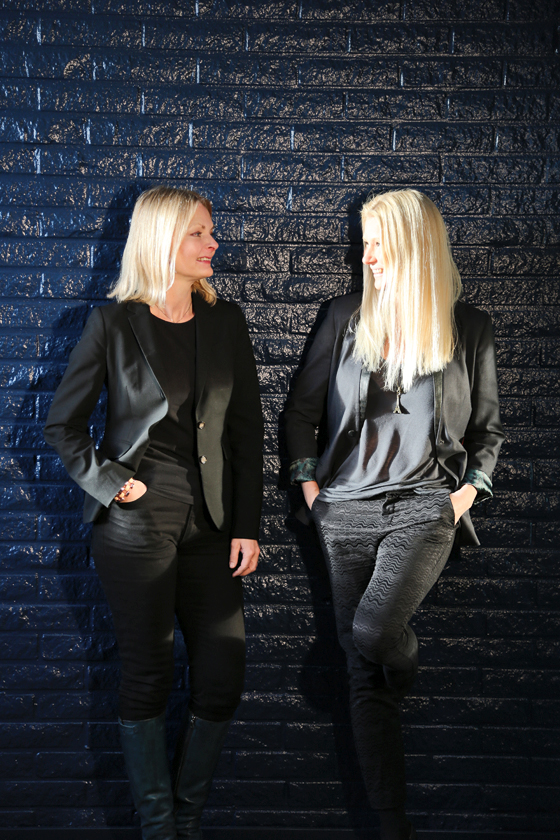 Kinnarps' brand/range/design director Elisabeth Slunge (left) and marketing director Paulina Lundström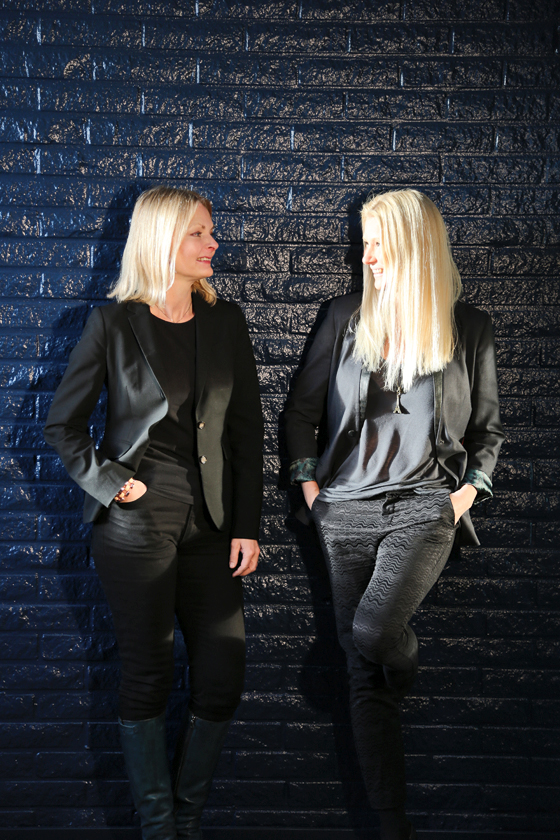 Kinnarps' brand/range/design director Elisabeth Slunge (left) and marketing director Paulina Lundström
×
What do you bring to the company as women on the board?
PL: Kinnarps has had women on the board in the past, however, just a year and a half ago, our board was all male. Now that Elisabeth and I are on the board, there can be real changes. We bring creativity, because we're from a different background and we have our own ideas. There are too few women in the business, and I'm also talking about design itself. If you look at our end users in offices, they are mainly women. But the majority of designers are still men.
You're a Swedish company – do you have global ambitions?
ES: Today we are doing business in 40 countries, with the focus very much on Europe – especially Germany, Norway and Sweden. Some of our customers now have branches in the Middle East, and we've followed them there. The office market is challenging in Europe, but there are opportunities – smart investments at a time like this help save costs incurred by stress and sick leave.
PL: We recently read that we have the highest turnover in Europe in our sector, but we're proud to still be a family company. We want to be as big as our clients. But we want to do it with people as our focus and without compromising our brand qualities. We have plans to do some exciting design collaborations in the near future – it's all under wraps right now, but let's just say we've had some exciting meetings.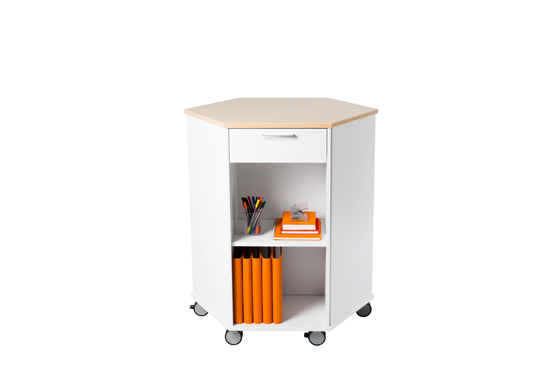 Above and below: Trixagon is a series of furniture for more relaxed working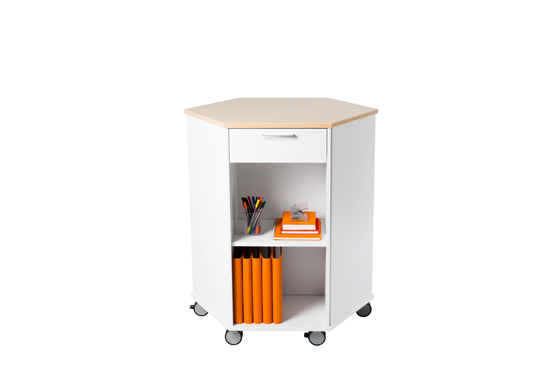 Above and below: Trixagon is a series of furniture for more relaxed working
×
8 Ways to Work for the Future
The Kinnarps Trend Report, released this spring, identifies these trends:
1. From end-of-line to Cradle to Cradle
We are becoming increasingly aware of our surroundings, and a sustainable approach to values such as the environment, society and the economy is becoming more important. The 3Ps – planet, people and profit – need to be integrated into our companies and organizations and will be crucial to attracting employees in future. We no longer talk about the end of a life cycle but are concerned about what happens long after we've left the scene.
2. From desk-bound to wireless
In the current knowledge society, nine-to-five jobs are becoming ever scarcer. Work is finding its way into all parts of our lives and all hours of the day. Our mobile phones and tablets, with their multipurpose applications, are today's Swiss army knives. To manage employees at a distance is becoming more important now that mobile work has become a way of life. Companies must adapt.
3. From a bronze to a silver society
We both want and need to work to older ages, so the work environment must be adapted to attract both young and old. This means utilizing the skills possessed by all generations and getting people of all ages to work together. The point is to motivate everyone.
4. From surface design to design thinking
Absence from work caused by ill health is a growing problem. More and more people are falling sick due to stress and other factors. Designing work environments with health and wellbeing in mind will play a significant role in the future. If we feel well, we work well, and the result is increased productivity.
5. From hard cash to soft values
Soft values – such as appreciation, commitment and the opportunity to make an impact – are contributing more and more to our satisfaction at work. Pay is less important. A company's values are equally crucial to jobseekers. It's also obvious that individuals value things differently. In the future, companies must devote more time to finding out what motivates each individual.
6. From solitude to multitude
People in our society are becoming more and more isolated, and work is the place where we are most likely to interact and cooperate with others. Broadly, the office is changing from being a place for tasks to being a site for projects, where knowledge is the most important resource. Individual workplace tasks are declining in favour of more cooperation.
7. From concentration to distraction
Many people today choose to work from home or from somewhere other than the office to avoid distractions. In brief, we can say that less distraction leads to higher motivation. It will be crucial to design future work environments that permit intense concentration and subsequently raise levels of productivity. Keep in mind that an open-plan solution is not suitable for all tasks or for everyone.
8. From workstation to free-wheeling environment
New technology, new values and new demands on creativity and efficiency mean that employees are abandoning fixed workplaces. We work in many different ways and spend less and less time at our desks. The solution is specific workplaces for specific tasks, as well as smaller and more efficient office areas – all aimed at increased productivity and creativity.
Kinnarps
Website kinnarps.com
Location HQ in Kinnarp, Sweden; six production plants in Sweden, two in Germany
Established 1942 by Jarl and Evy Andersson
Number of employees About 2700
Distribution Currently in 40 countries
Market sector Interior workspace solutions for offices and public environments
Turnover SEK4.2 billion (2010/11)