Leading high-range lighting company Estiluz pioneers innovation in its sector. This time, the renowned international brand has developed an augmented reality app using existing technology, available to all, which makes for easier decisions when it comes to decorating your home.
But, what is augmented reality? Unlike virtual reality which consists of replacing everything we can see with a parallel, digital world, augmented reality inserts digital items into reality, mixing them together and positioning them as though they were real. In other words, it creates a fictitious part of existing reality. It's what it says it is… it augments reality.
Augmented reality started with PC webcams, which gave rather inferior results. However, today's mobile devices (iPads, smartphones…) have led to a significant change which makes augmented reality easy to experience from users' own point of view, wherever they are.
In addition, until a few years ago the technology required was limited to high-tech professional sectors, whereas nowadays everyone can have it. The interior design sector is very interested in what these fields have to offer consumers who are increasingly au fait with the use of programmes and apps. Likewise, given we have so little time free available to visit showrooms that interaction through the web 2.0 and smart devices has become essential. So what could be better than an app that shows you the product at home before you buy... and with no travel involved?
The truth is that shopping for interior design products has always required plenty of imagination with regard to an the item you are looking at in a store is going to look when you get it home and your decision whether or not to buy it. However, augmented reality shows you exactly how it will fit into the intended spot, without needing to buy first or go and pick it up, which makes shopping a lot easier. Estiluz has always been open to technology and realised that augmented reality would be a way of saving costs and distribution time for itself and its customers, which is why it decided to develop its own iPad and iPhone app, which will soon be available for Android.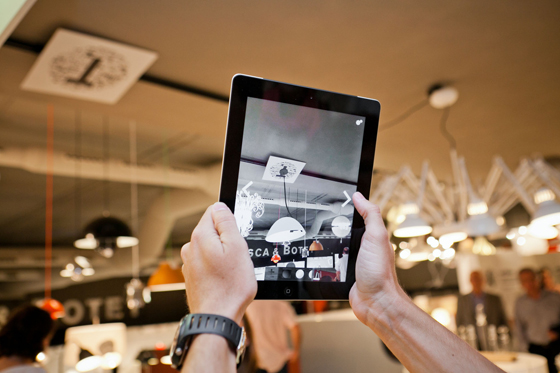 Group of consumers using the Estiluz App during the presentation event in Barcelona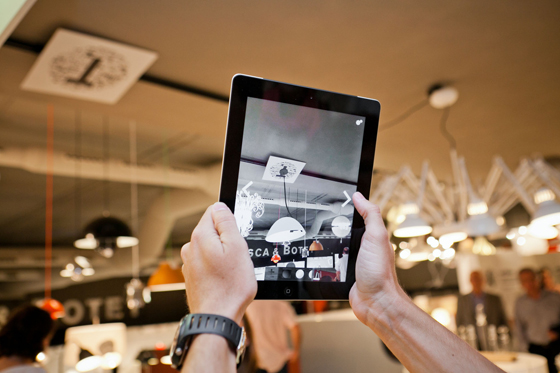 Group of consumers using the Estiluz App during the presentation event in Barcelona
×
Estiluz's app has been available in the AppStore since 1 May 2012, and has been helping people to choose the right lamps for their rooms ever since. Shoppers use the app to pick a model, position the cursor where they want to put the lamp and in just a second, thanks to 3D technology, they can see what the final result will be with the life sized lamp in place … and there's no need to travel. They can also choose between different finishes and sizes.
Looking to the future, Estiluz will continue to invest in innovation and the use of new technologies in all its processes to help improve people's quality of life and inspire experiences.