BRAND NEW WORLD MILANO 2015 
@ DUŠAN powered by Laufen
Text by BRAND NEW WORLD
Switzerland
31.03.15
BRAND NEW WORLD, produced by Vesna and Jovan Jelovac, forecasters of design future, shows "DESIGN 2.0" powered by LAUFEN, in what is arguably one of the most elegant showrooms in Milan - DUŠAN. The exhibition will be part of the Milan Fourisalone, from 14 - 19 April 2015.
BRAND NEW WORLD presents some of the most exiting design works of 2015, bringing together key international studios who epitomize the new concept of Designers - Makers - Entrepreneurs, rethinking the entire business and creative model, unthinkable of only a few years ago.
The stellar line-up includes DANTE - GOODS AND BADS, STUDIO DRIFT, TOM STRALA, STUDIO APPETIT, ADRIEN ROVERO, BURO BELEN, REINIER BOSCH and CAROLINA WILCKE, and ILAN GARIBI FOR GAL GAON COLLECTION. An exquisite opening vernissage will feature a musical score by the German DJ Wunderkinds – Kill The Tills - powered by ARCHITONIC.
Discover the fabulous design of DANTE - GOODS AND BADS, straight from the duo's enchanted castle in Bavaria, who create objects, products and editions with qualities above and beyond the substantial: sparkling emotions, habits, memories, tastes, aversions, the good, the bad, never the ugly.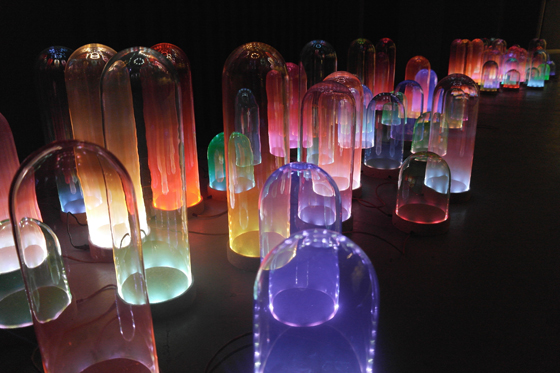 Studio Drift Nola for Buthiq31, photo: Studio Drift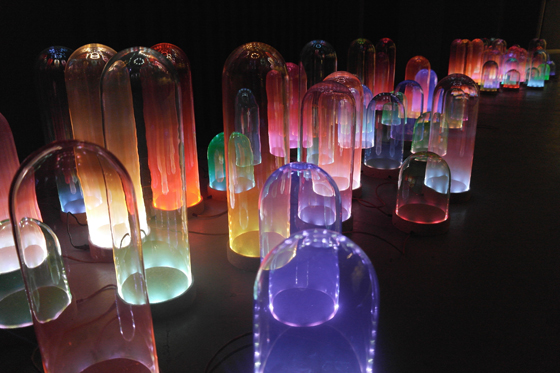 Studio Drift Nola for Buthiq31, photo: Studio Drift
×
Experience the dazzling Dutch STUDIO DRIFT's site-specific installations and interactive sculptures, created by experimenting with existing and new relationships between nature, technology and mankind. Their oeuvre includes work that reacts directly to human behaviour, questioning it at the same time.
Discover TOM STRALA's profound exhibition "Materialized Intelligence". The design pioneer from Zürich questions established values and nurtures new ones. Tom shows us that art does not need any complex problem solving. We need passion. We need desire. No well-tempered Everything and Nothing. We need intensity, and this cannot be found in a compromise.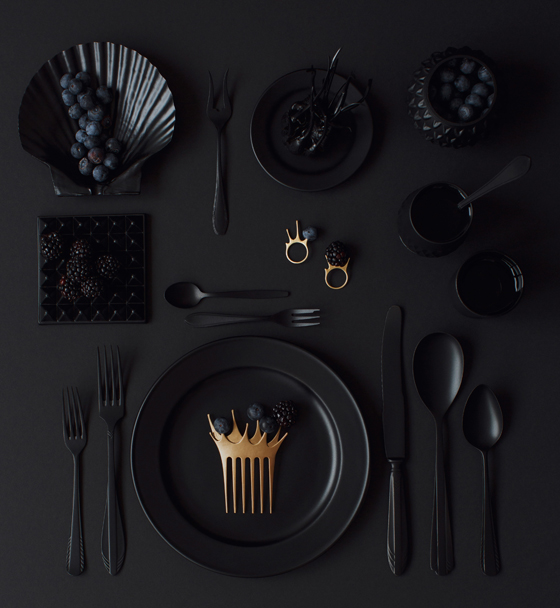 Studio Appetit Things of Edible Beauty, photo: Studio Appetit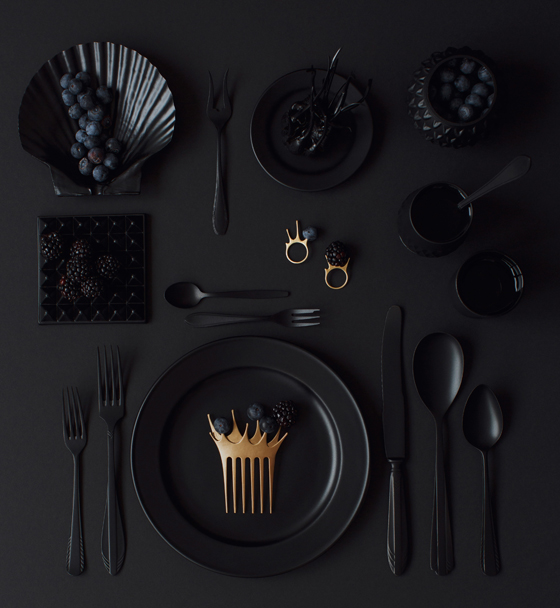 Studio Appetit Things of Edible Beauty, photo: Studio Appetit
×
Sample STUDIO APPETIT's sensual delicacies…Through interactive research and culinary investigation, this Dutch avant-garde studio's output is an exploration of our wildest and most extreme edible desires, not only creating new products, but a brand new world of ideas, methods, ideals and concepts.
Explore ADRIEN ROVERO colourful objects inspired by highly inventive designs, as uncluttered as they are effective, and comprising a formal vocabulary built up out of assemblage, repurposing and shifting around shapes, materials, references and purposes, from Lausanne to the world.
The Dutch BURO BELÉN will introduce you to their subtle and unique design made from unbelievably rarefied materials. They invite you to investigate the almost forgotten intuitive, emotional and physical aspects of design, resulting in products and visions that show seemingly impossible applications of materials and colours, reevaluating conventional techniques.
Discover REINIER BOSCH and CAROLINA WILCKE's unique combination of technology and philosophy. The duo from Amsterdam will share their design findings gathered from living among monks in the Himalayas, as well as developing an integrated façade concept, which gains energy through the newest organic solar cells – creating enough sustainable energy in cities to be (almost) energy neutral.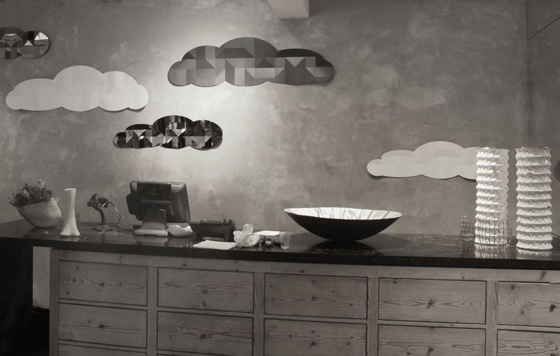 Ilan Garibi Metal Origami Clouds - Garibi for Talents Design, photo: Talents Design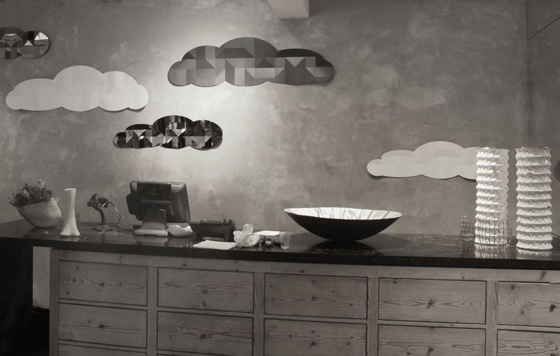 Ilan Garibi Metal Origami Clouds - Garibi for Talents Design, photo: Talents Design
×
And don't miss ILAN GARIBI FOR GAL GAON COLLECTION – Garibi transforms the Japanese art of paper folding by using stainless steel in his collection for Tel Aviv's hottest design enterprise - Talents Design. Invoking all the usual elements of origami save for one important factor – the paper – Garibi creates delicate architectural sculptures out of a single sheet of stainless steel.
Brand New World's curator, Jovan Jelovac, said: "We are very excited to recreate the idea of a classical author's salon at Dušan's so fashionable showroom, with works and the spirit matching his own terribly high couture propositions. After all, the name is Saloni, not another Design Week, and the city is none less than Milano, so we are speaking of rarefied class, deeply rooted in both cutting edge avant-garde, as well as laser sharp craftsmanship. The location is smack in the middle of town, in one of the legendary Gio Ponti buildings, on the border of Brera and the new up- and coming San Gregorio area, which our friends from Wallpaper, Droog Design and Kvadrat, among others, have so beautifully opened for international design now. Congratulations!"
Visit Dušan's exclusive Milanese palazzo showroom, attend daily surprising design food tastings by Studio Appetit, enjoy the company of likeminded design connoisseurs at our Saturday and Sunday exclusive brunches by Studio Appetit, and rub shoulders with the world's goods and bads in design at our super-exclusive opening vernissage. Please find the full program at:
We look forward to your presence at the venue.
About the curators

FROM ZÜRICH WITH LOVE
Under the BRAND NEW WORLD mark Vesna and Jovan Jelovac create platforms and frameworks all over the world: Milan, London, Miami, Ibiza, Basel, Paris, Istanbul, Moscow... with a permanent design gallery in Zürich, Switzerland...

STORYTELLING
Erase the border between exhibition, conference, website, print etc. Concentrate on one benefit only: The experience of the audience. BNW is THE place where global audiences will find out about "Design 2.0".

COLLABORATE
All projects are produced in partnership with local experts - leaders in design promotion and presentation, as well as "Leading Creative Minds of the 21st Century". BNW has so far worked with over 500 leading global design and creative industries' opinion makers and brands in its 10-year history. As you read this, ideas and connections forged at BNW are blossoming around the world.
Date and time
14 – 19 April 2015

General opening hours for Brand New World Milano 2015 @ Dušan
Tuesday, 14 April – Sunday, 19 April: 11:00 – 19:00
Press Preview on Monday, 13 April: 11:00 – 19:00 by invitation or press pass only
Opening party on Tuesday, 14 April: 20:00 – 22.00 by invitation only
Brunch on Saturday, 18 April and Sunday, 19 April from 12:00 onwards by invitation only

Location
Dušan Showroom
San Gregorio, Via Zarotto 1
Milan, Italy