Contemporary Slovak architecture has multiple layers of values and generations. In spite of the many annual prizes and awards, there are only a few exceptional architectural works.
After 1989, Slovak architecture went through a difficult and multifaceted process of self-recovery. Private architectural studios started to emerge after the dissolution of the state controlled and financed design institutions. These new platforms enabled to reconstitute an independent creative profession of architect, often substituted by a project manager in the past. The rebirth of the professional status of an architect at the job market acknowledged by the newly established Chamber of Architects is one of the differentiation sources of creative attitudes and opinions. The second source of such variety is without any doubt a wide range of choice in education.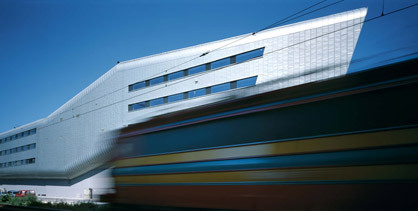 The world of Slovak architecture is also an irretrievable and definite photographic record of this world.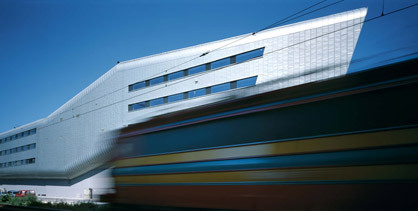 The world of Slovak architecture is also an irretrievable and definite photographic record of this world.
×
Until 1989 there were only two forms of education for future architects: Universities of Technology and Academies of Fine Arts. However, both were under state control. After 1989 several schools of architecture were established in big cities of Slovakia: in Bratislava, Košice and partially in Nitra. All of them had independent accredited programmes guaranteed by the distinguished figures of Slovak architecture. The third factor which enabled a better differentiation was the freedom of movement, cross-border contacts and the entry of Slovak architecture into the European and world architecture scene. Before 1989, state simply dictated the offi cial East-block style, called Socialist Realism. Only occasionally architects were able or indeed capable of rejecting this line, namely in the sixties. It was only after 1989 that annual exhibitions, the so called Salons of Architects opened their doors to a larger number of designers with different personal styles, which were not only allowed in by returning to pre-war architecture or clear connections with the leading personalities at schools, but to those who were fuelled by personal experience, working alongside globally renowned architects exhibiting, lecturing or publishing their work also in Slovakia. And of course, galleries, research institutes and specialised magazines played a vital role in this process of diversification. Since 1989, many monographs as well as more synthetic books of Slovak and 20th century world architecture were published and many solo and joint exhibitions which even toured Europe have been conceived. These were particularly important for criticism, open refl ection, generation platforms and rethinking of initiatives by various authors. Last, but certainly not least is the impact of public discussion on further development of architecture. By this we do not merely mean architectural competitions or the struggle for big projects between the state investors, private sector and architects. Inevitably, the evaluation of environmental impact and the participation of a wide public also become more and more obvious. Despite a certain level of conservatism of the public on the one hand and visionary ideas on the other, one still cannot underestimate social and political influences on architecture.

All the above mentioned factors contributed to a great variety of the Slovak architectural scene and it is difficult to describe it through superficial or individual characteristics of styles. Attempts to find basic contradictions between 'late modernists', 'post modernists' or 'new modernists', or even between 'new functionalists' and 'organics' have no value in describing the status of contemporary Slovak architecture.

Contemporary Slovak architecture has multiple layers of values and generations. In anonymous and commercial developments we can also see architectural mediocrity of the mainstream and kitsch. In spite of the many annual prizes and awards, there are only a few exceptional architectural works.
Even today, the so called third generation of 20th century Slovak architects is prolific. Among these are big names such as Ivan MatuSik and Stefan Svetko. Although they do not create big projects any more, their family and urban houses as well as housing estates are still sources of inspiration. The key projects after 1989 were gradually taken over by the fourth generation of architects, represented by established names such as Ján Bahna, Martin Kusy junior, Pavel Panák but also Branislav Somora or Fedor Minárik. Their names are attached to new dominant church architecture and important reconstruction and refurbishing. A part of the fi fth generation of Slovak architects started in the studios of these personalities. However, they are becoming independent. Within this group we can identify the greatest typological variety of architecture work and at the same time the reconsideration of the architectural movement mainly in the Netherlands. Most of them, born around 1966, had an ambition to form a new generation platform, but their efforts were diluted in a number of unrelated projects: from family houses, multi-functional complexes, monuments, to sports centres and shopping malls. The influence of this generation on public buildings and the development of public space is particularly interesting. Between the fourth and the fifth generation of architects we can distinguish such names as Lubomir Závodny, Juraj Polyak, Juraj Koban, Martin Kvasnica, Márius Žitnansky, Dusan Vostenák and Imro Vasko. The fifth generation is connected with Juraj Sujan, Peter Moravcik and particularly with Ján Studeny, Boris Hrbán, Lubo Ondrejka, Ika Eristavi, Andrea Klimková and Kalin Cakov and Emil Makara. The sixth generation of architects is slowly establishing itself. It started to emerge in several big exhibitions and competitions. This last generation can be characterised by an effort to fi nd a dialogue with big investors, which in many cases ends up in gestures of compromise, but at the same time it shows up in smaller projects or in interventions in reconstructions and extensions. Given limits, however, test their creative potential. In this group of architects we can fi nd MatúS Vallo, Oliver Sádovsky or Benjamin Brádnansky and Vit Halada.

On the one hand the visitors to this exhibition are confronted with a limited selection of architecture, without architectural models, drawings and computer visualizations. This exhibition does not present processes of architectural thinking, but its results. It does not record events, but completed buildings. On the other hand, however, this limitation is uniquely enriching. The viewers have an opportunity to live through the 'record' of contemporary Slovak architecture of the second half of the 20th century and the first decade of the new millennium through distinctive views and atmosphere created by one of the best photographers of Slovak architecture Lubomir Stacho. This original creator, who divides his production between conceptual photography and architecture photography, offers a unique entry into contemporary Slovak architecture to everybody who expresses a genuine interest.