An interview with Belgian designer Alain Gilles
With his playful design Alain Gilles creates entire worlds which are conspicuous for their colour. As the product of a conscious exploration of the possible multiple personalities of an individual object, Gilles has now created a piece of furniture which is designed along strict but at the same time geometrically free lines. The concepts of movement and durability are integrated into the design process of the 'Big Table', which was created for Bonaldo and presented at Salone del Mobile 2009. The result is a fusion of function and sculpture.

Born in Brussels in 1970, Alain Gilles studied political science and marketing management and worked in finance before dedicating himself to the study of product design. In 2007 Gilles established his own studio.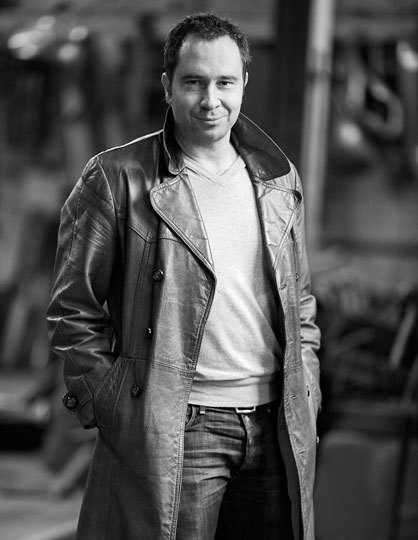 The Belgian designer Alain Gilles. Photo: Serge Anton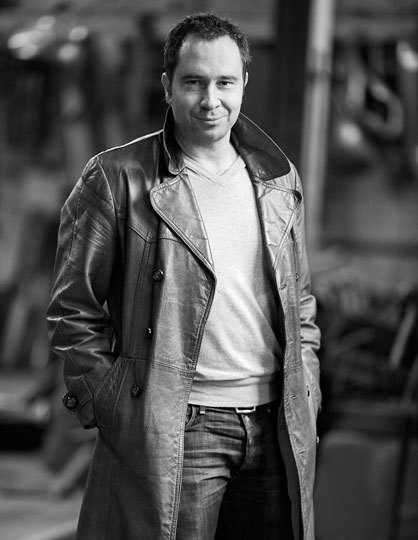 The Belgian designer Alain Gilles. Photo: Serge Anton
×
Alain, thank you for making this interview possible. How are you enjoying the fair Salone del Mobile 2009 so far?I am fine, even though the Milan fair is a very intense moment… a lot of people to meet, a lot of parties to go to. So as the days pass by I am sleeping less and less and getting more and more tired… but it is nevertheless a thrilling moment for me.

In the past you worked in the financial sector. What brought you to the design field? On the design market there are parallels to the art boom, in particular limited editions are purchased as a financial investment. What have you experienced as an observer of the design and financial world?
What brought me to the design field is the fact that I always wanted to create things: furniture, art pieces, settings... One day, thanks to my wife I decided that I had to live my own life, create my own reality and not just be part of the big international financial system.

It is a well know fact that traders sometimes invest in art pieces. In a way they do it for fun. On the art market they sometimes decide to invest in new up-and–coming artists, but they also invest in well-known but slightly forgotten dead artists. They acquire a lot of pieces at a very low price and offer museums the possibility to hold an exhibition for that given artist… little by little raising the value of the pieces they have collected… to eventually sell the pieces at a substantial profit. As the links between art and a certain design become ever greater, the same mechanisms are now used in the design world.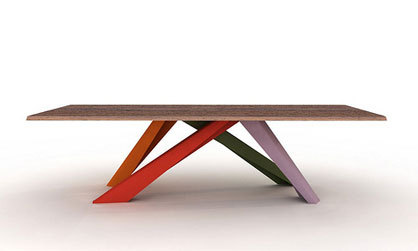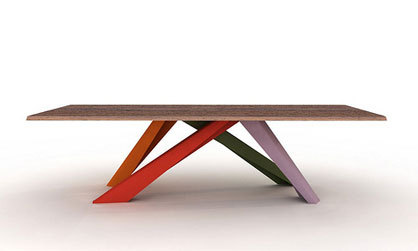 Big Table for Bonaldo
×
Do you see any parallels to your work today? To what extent can you use your knowledge of finance in the world of design?
There are parallels between all types of work: the capacity to explain your work; the importance of having a good network; the need to motivate people. But then again, being a designer and working in the financial world are two very different types of work. What helps me the most is that I have lived several lives, and have had the chance to meet very different types of people. I learn a lot from these experiences.
I studied political sciences where they teach you the tools to understand the world: sociology, psychology, history, law. Working for J.P. Morgan, you understand the necessity of providing a good service and of making a profit.
I then studied Industrial Design in France for two and a half years. There I got to understand and appreciate students who where ten years younger than me…. People that have not been confronted by the market yet and believe in their dreams.

Even before qualifying as an industrial designer at the ISD in France you worked as an assistant to Xavier Lust and were engaged by Quinze & Milan, where you worked as a designer, developer and project manager. What challenges did you face when you established your own studio two years ago in order to accommodate all your interests in product and furniture design as well as art direction and interior design?
I indeed had the chance to work with two of the best know Belgian designers. Two very different personalities that are very often described as being opposites on the design scene. I worked with Xavier Lust for six months after having studied design for only a year. And was hired by Quinze and Milan six months before graduating. Both were very different but very enriching experiences.

I opened my studio a good year and a half ago. When you decide to set up your own studio and offer your own personal creations to editors, you know you have to be a little crazy. But I didn't change my life to just design products for others. I also want to turn my dreams into a reality.

So far I have been extremely lucky. Participating in the launch of "Qui est Paul?", a new French collection, has been very exciting and challenging. After having been launched a year ago in Milan, it is nice to see that it is successful and getting a great public response. The collection is now more than twice as large as it was last year.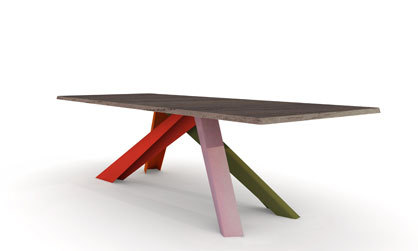 Materials: wood and metal. Sizes: 300 x 100 x 74cm or 250 x 100 x 74cm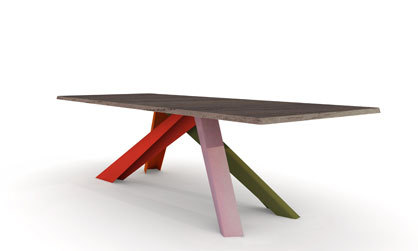 Materials: wood and metal. Sizes: 300 x 100 x 74cm or 250 x 100 x 74cm
×
Lamps, tables, objects for the garden, MP3 players; your product design covers a wide range. How do your ideas originate, how do you decide in favour of a specific project and set about implementing it?
My studio is still very young, but from the beginning I've worked on projects where people have come and asked me to work on certain types of product, but also on projects where I myself suggest new pieces to the editors, where I decide the type of product I want to work on.

With "Qui est Paul?" it was decided that a chair, an armchair, flowerpots, etc. would be needed to launch the collection. The technique to be used was also defined, since the editor is the producer and has the know-how and capacity to produce rotomolded pieces. Then I had a "carte blanche" as to the positioning of the brand, the style and logic of the products. Considering the importance of the investment in a mold, the positioning could only be the same one taken by companies such as Magis or Kartell. So the pieces are designed for a niche market, but nevertheless done in order to be accessible to a slightly wider audience in order to remain affordable, even though they are far from being cheap.

For other pieces that I have designed for Bonaldo or Urbastyle, these are a result of proposals that I have made to them. I then work on some very personal criteria in order to offer a new take on a certain type of product. Usually, in my head, I am working on several concepts, then one day I have to start working on one project rather than another. For Bonaldo I have designed two tables. And actually I never thought I could do something exciting with a table. It is that consideration plus the beginning of a concept flourishing in my head that led me to work on those projects. Just to see if I could end up with an exciting design.

Each leg has its own nature and personality, whereas size, colour and angle of vision play their part.

Each leg has its own nature and personality, whereas size, colour and angle of vision play their part.
×
What is your concept of design and what do you hope to achieve with your design work?
In my current creations, when possible I like to create objects that even though they can be more or less "industrially produced" they can appear to be different, depending on the angle you see them from. It is very much the case with the "Tectonic" tables (Bonaldo), but also with the "Big Table" (Bonaldo) and the "Metamorphosis" tables (Qui est Paul?) and the Rock Garden Modular Planters (Qui est Paul?). The appearance and visual weight of the objects will appear different, as if you had several slightly different objects.
I also like to give people the opportunity to take part in the design process and to create ever-changing designs through the repetition and juxtaposition of several modules. The end result can then become very graphic, as with the "Tectonic" tables or "Rock Garden" Modular Planters.
I often say that I work on "Simplexity". Simple objects, yet complex enough to make them fresh, interesting and unexpected.

Should design be universal in order to meet the demands of globalisation, or should it be local within a specific cultural context?
I believe that in essence designers, and certainly I as a designer, design for a "niche market" in the global market. If you design something different it only makes sense economically if the company has access to the global market, as is the case with Bonaldo for instance. Thanks to the internet, designs that might relate to specific cultures or contexts are offered and visible to everyone interested and receptive to the concept.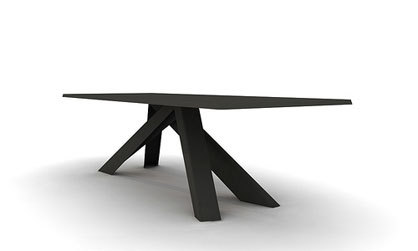 Also available in black with a suited, black lacquered table top.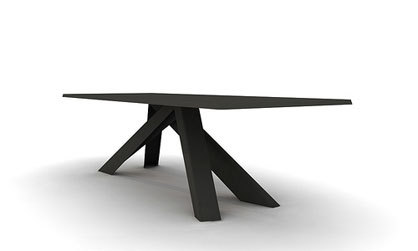 Also available in black with a suited, black lacquered table top.
×
It's your aim to let every object make a different statement, depending on how we look at it – your works are sculptural. Your 'Big Table' is being presented here at the 48th. Salone del Mobile for the first time. What story does it tell us? And who are the artists that interest and inspire you?
The idea behind the Big Table was really to create a piece that wasn't static, that in a way always appeared to be in movement. When possible, I like to design 'industrial' objects that can nevertheless become somewhat unique, as if they were not fully industrial products (and have to follow the logic of economies of scale, management of stock, etc….). The concept that a product could somewhat become unique, through an ever-changing perception of the product (as with the Big Table, or my new Metamorphosis table for "Qui est Paul?", or the change of the visual weight of the Tectonic tables for Bonaldo) or through the interaction of the user (when for instance, through the juxtaposition of several Rock Garden Planters, the end result is always different and slightly unexpected. The same logic can be found on the Tectonic tables, where the user is encourage to combine several tables together, with either a plain top or a wire top… )
This notion of the differentiation of a single product depending on the angle it is viewed from was further highlighted on the Big Foot Table by the use of strikingly different colors for each and every foot.
Through the materials used on the table it also shows a dialogue between a more masculine and cold side (the angled and cut legs, the use of metal for the legs) and a more feminine and warm side (the rounded wooden top, the colors used on the legs. Thus creating a general discussion within the piece itself.

I could not say that I have one strong influence, but I am generally interested by architecture and arts in general…. But also by the way people use or will use a design.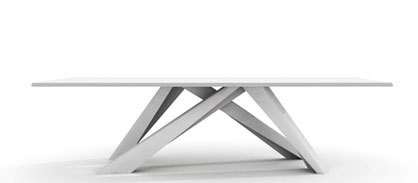 In the white version the formation of shades is emphasised.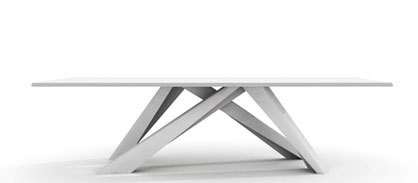 In the white version the formation of shades is emphasised.
×
Prices can be kept down by doing without a pressing mould when the table legs are manufactured. Each table leg is individually bent from metal. What can you tell us about the wooden table top and the effect which production methods have on the price?
If you look in detail, you can see that the table top is actually, within its simplicity, far from standard. Its sides are not straight but angled and also rounded. This makes it a lot more difficult to produce, more expensive too. But it is the type of details that as a designer I like to work on. It was designed in this way in order to follow the general movement of the table's legs, and not just be a standard top set on a non-standard foot base. So because of its unusual shape, the top as it is can currently only be produced in two standard sizes….

Thanks to the nature of the materials – warm wood and cold metal – the table has a classical element with a modern touch, without aiming at being fashionable. Is this your approach to sustainability?
This is indeed one approach to sustainability. Through the use of some very durable materials, wood and metal, I wanted to make sure that this table could be passed on from one generation down to the next…. And since I am not sure this would really happen anymore, that at least it could physically withstand the test of time and be sold onwards to other people for a time as long as possible.

The blue version, prototype 3: An experiment featuring a combination of graduated colour tones. This version is not in serial production.

The blue version, prototype 3: An experiment featuring a combination of graduated colour tones. This version is not in serial production.
×
Items of furniture are always seen in relationship to the surroundings in which they are placed. Your furniture makes a very prominent impression. In what sort of room do you see the 'Big Table'?
Well, I could image the table either placed in a very architectural and modernist/minimalistic surrounding, or used in a very raw space such as a loft, or eventually because contrasting setting are always interesting, in a very classical 19th or early 20th century mansion.

'Big Table' is the second object you have designed for Bonaldo. What will the cooperation look like in future?
So far, I am extremely happy with my collaboration with Bonaldo. They have been very open to the use of new colors and new materials that they were not using so far in their collection. With each project we learn to better understand and trust each other in order to go further and further with our experimentation. They have great know how, so this is extremely useful for me.
But only time will tell us were the collaboration leads us to…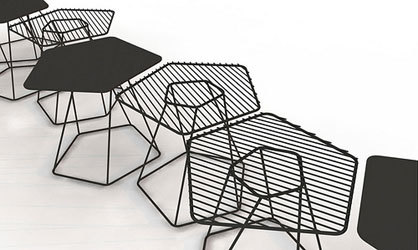 Tectonic Tables for Bonaldo 2008. Design: Alain Gilles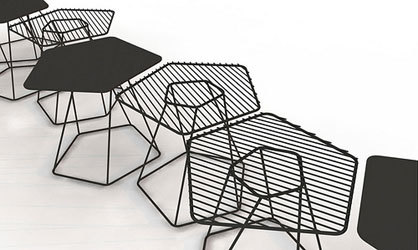 Tectonic Tables for Bonaldo 2008. Design: Alain Gilles
×
In view of the new distribution of power, is there a movement towards different values?
Well, thanks to the precepts of sustainability and the rising cost of energy, we will probably move away from this throw-away society. People will probably be more and more ready to invest in interesting and expensive furniture pieces that they can either keep longer or still maintain their value and can be sold on to someone else once someone feels like changing furniture. I believe this will be very favorable to more upscale brands, the so-called design furniture brands.

What suggestions or advice would you give to young designers in view of the new freedom?
In general, I would say, follow your own beliefs, that is the only way to be true to yourself. Follow your instincts… and be ready to fight hard to turn them into reality.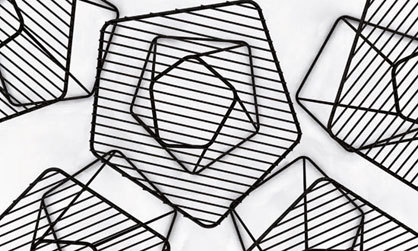 Tectonic Tables for Bonaldo 2008. Design: Alain Gilles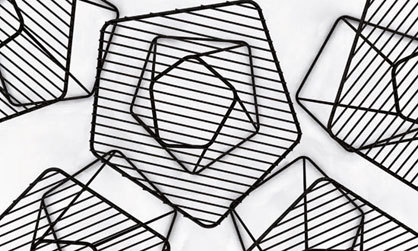 Tectonic Tables for Bonaldo 2008. Design: Alain Gilles
×