Following a competition in early 2010, architects and designers, Stiff & Trevillion were appointed to design and implement the new concept, catering specifically for the urban customer.

Costa had been performing very well but research revealed an opportunity for the brand to better meet the requirements of customers in large urban areas, who are surrounded by an eclectic choice. The aim with the new metropolitan stores was to strengthen the message around "coffee is king", making this a key point of the interiors and customer journey.

An individual look and feel for each of the sites using existing elements such as exposed brick walls and ceilings are coupled with concrete flooring and statement lighting to give a real utility feel. The powerful In-store graphics, photography and artwork 'hero-ing' the coffee bean and elements of its by-products have been beautifully selected, crafted and illustrated by Helen Senior Associates, who worked closely with Stiff & Trevillion on realising the project. Costa has two types of customer; the 'express' customer comes in for their takeaway coffee and bites, whilst the 'relax' customer dwells in store refreshing themselves' whilst reading a book, working on their laptop or meeting friends and colleagues.

The award winning Great Portland Street store is designed to be a hybrid experience for both of these customer types and as such has two distinct zones. The recent radical re-launch of Costa coffee's urban café has proved very successful for the chain, resulting in a move to expand the concept. The new 'metropolitan' Costa, as it is known, currently has three sites in London with another 10 or so earmarked for the coming year. A flagship opening is planned for Canary Wharf early March.
Design team:
Directors: Daniel Campbell, Mike Stiff
Project Architect: Tom Johnson
Project partners:
Contractors: Cordery
QS/PM: Cooper Poile
Artwork designers: Helen Senior Associates
Signage manufacturers: Bensons signs
Furniture manufacturers: Geometric Furniture
Refrigeration manufacturers: Counterline
Lighting suppliers: Atrium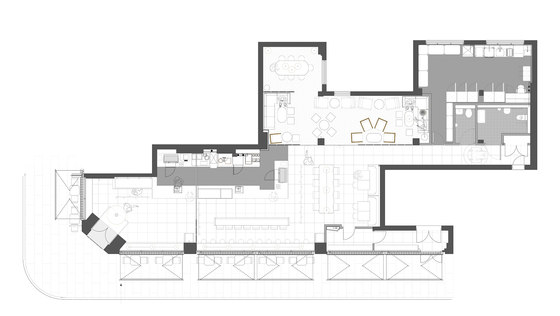 Floor plan: courtesy of Stiff + Trevillion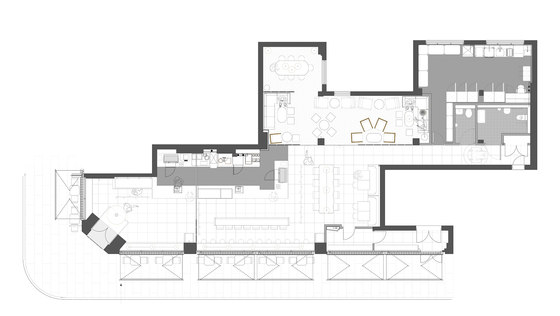 Floor plan: courtesy of Stiff + Trevillion
×