Special Newsletter MAISON&OBJET ASIA 2014
Dear Readers
After having established itself over the last couple of decades as almost synonymous with design in Paris, Maison&Objet is now expanding into Asia, setting up its stall in the design capital that is Singapore. The first Asian edition will take place this March and already features a promising programme. 
Here's what you'll find in our Maison&Objet Asia Special Newsletter:
Maison&Objet goes east: Welcome to Singapore!
They Are Coming to Singapore…
Talents at Their Peak: Kenneth Cobonpue
Rising Asian Talents
Maison&Objet Asia Presents the First 'Interior Design & Lifestyle Summit'
Singapore Architecture & Design Projects on Architonic
Get inspired!
Your Architonic Team
Zurich | Milan | Barcelona | Berlin | Cologne | Copenhagen | Stockholm | London | New York
Follow Architonic on:
Facebook | Twitter | Google+ | LinkedIn | Pinterest


MAISON&OBJET goes east: Welcome to Singapore!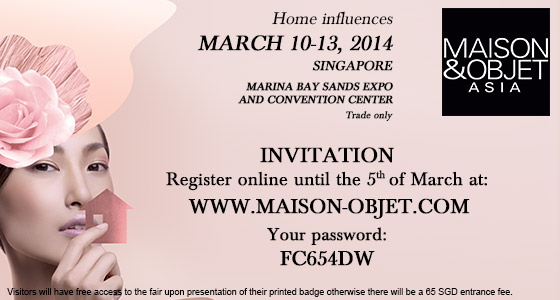 For the first time, MAISON&OBJET is exporting its expertise abroad with MAISON&OBJET ASIA to provide a new visibility to the brands and talents from around the world. The reference trade fair for home design trends is bringing its trademark to Singapore: the spirit of design and sophistication.
MAISON&OBJET ASIA's offer will focus on three atmospheres:
Luxury
An open door to a refined world where luxury brands offer you the best high quality decoration products.
Design
Innovation and experiments break traditional codes to give rise to constantly more daring designs.
Interior Decoration
Modern designs keep original concepts alive in varied and constantly inspiring styles. 
For its Asian debut MAISON&OBJET is honouring the world-famous designer Kenneth Cobonpue, awarded MAISON&OBJET ASIA's designer of the year title for 2014. Internationally recognized and awarded, his work will open the path to a new generation of designers in Southeast Asia, as illustrated by the six emerging talents presenting their work at MAISON&OBJET ASIA for the first time. Also join us for the Interior Design + Lifestyle Summit, which will be held throughout the show. Trendsetters, prominent architects, experts in lifestyle retail come together and share their state-of-the-art analysis of modern design to help improve forthcoming strategies and unveil future trends.
The essence of MAISON&OBJET is now at the heart of the Asian continent!
They Are Coming to Singapore…
ANGO – Mr Angus HUTCHESON, CEO
'We're really happy with the ongoing participation in Maison et Objet, Paris, and have every expectation that Maison et Objet, Singapore can become the foremost design show in Asia, so its natural we join the inaugural event in March. Great to hear that Architonic is the media partner for the show as well.'
BD BARCELONA – Mr Jordi ARNAU, CEO
'BD Barcelona Design is very proud of teaming with Maison&Objet for presenting our collections in their fairs in Paris and Singapore. The premium level of these fairs, combined with the importance and the good connections worldwide of the cities of Paris and Singapore, fits very well with our strategy of selecting to participate only the best fairs in the world. We have a large experience of exhibiting in Paris and our level of satisfaction is very high, both for the quality and quantity of the visitors, and we are sure that Singapore will also be a success.'
MisuraEmme, Gabriele CAPROTTI –Export Director
'MisuraEmme is going to present the new Atelier collection in the first edition of M&O Asia. In a display of 80 square meters you will find our concept and our Italian style introducing the Ermes armchair, the Gramercy table in glass and black oak finishing, the brand new bed Margaret and the sliding wardrobe Lexington.'
Talents at Their Peak: Kenneth Cobonpue
MAISON&OBJET ASIA will make its roaring debut with 'Designer of the Year' Kenneth Cobonpue presenting the works that won him international fame. He will also share his philosophy, experience and points of view, delivering a keynote speech as part of the first Interior Design & Lifestyle Summit. Echoing the 'Talents à la Carte' trademark of MAISON&OBJET PARIS, the Raising Asian Talents platform for emerging designers will introduce six new talents from the Asia-Pacific region.
2014 MAISON&OBJET ASIA Designer of the Year
Kenneth Cobonpue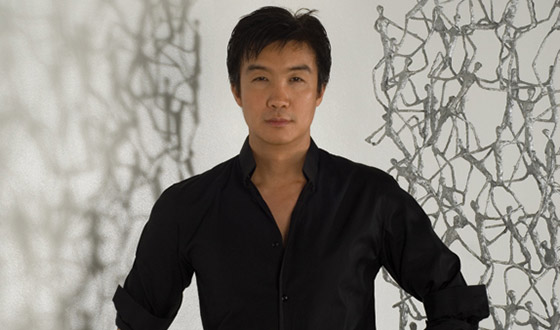 MAISON&OBJET ASIA Designer of the Year: Kenneth Cobonpue ; © KennethCobonpue
Kenneth Cobonpue achieved fame thanks to his masterful way of mixing nature, traditional crafts and innovative technologies. Born in the Philippines to a designer mother, already renowned for creating new techniques with rattan, Kenneth allowed his curiosity to sweep him away to New York, studying Industrial Design at Pratt Institute in 1987; he then worked in a leather and wood workshop in Italy, and finally went to Germany, where he completed his studies. After coming back home in 1996, he was willing to invent 'an alternative to the Western definition of modern design' using natural fibers.
And so did he start giving shape to his ideas, pairing locally sourced organic materials with innovative hand-made production techniques.
The rest, as they say, is history!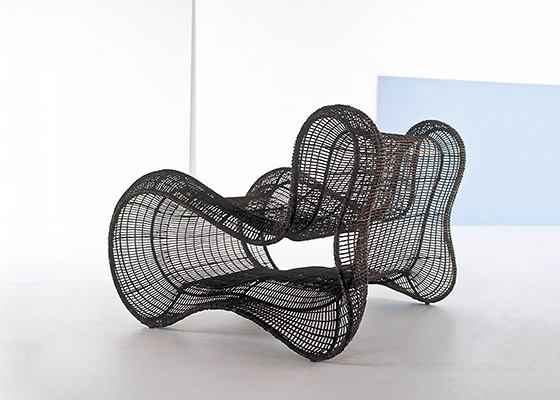 Pigalle by Kenneth Cobonpue; © KennethCobonpue
Coming from Indonesia, Thailand, Taiwan, The Phillipines, Hong Kong or Singapore, these six very promising young designers have been selected and given the opportunity to present their works in the 'Rising Asian Talents' section of the MAISON&OBJET ASIA tradeshow.
Melvin Ong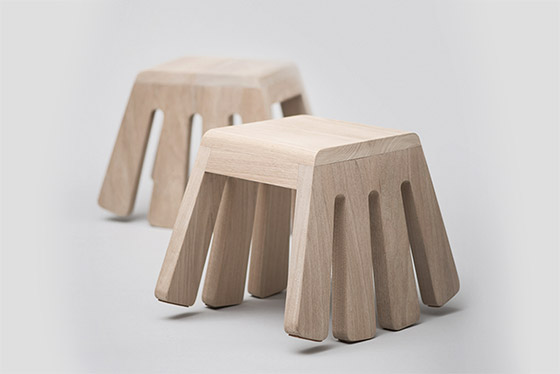 Itty-Bitty by Melvin Ong; © Jovian Lim Photography
Singapore-born Melvin Ong graduated (with honours) in product design from Central St. Martin's College of Art & Design, London, in 2010. Parallel to his collaborations with renowned designers and agencies, he exhibited his personal work in London and Milan. He chose Singapore to open his own studio, Desinere, launching his first collection in 2012 at Tokyo's Design Tide.
Denny R. Priyatna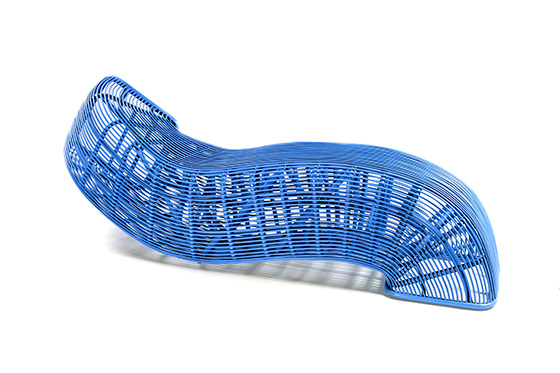 Pipe-Seat by Denny R. Priyatna; © Denny Rasyid and Junita Ratna Maryam
His pieces of furniture, lightings, tableware or bike designs won Denny R. Priyatna numerous accolades and awards in Indonesia, Korea, Japan, Singapore (two Singapore Furniture Design Awards in 2013) and even as far as Belgium. The Jakarta-based product designer studied product design at the Bandung Institute of Technology.
Lilianna Manahan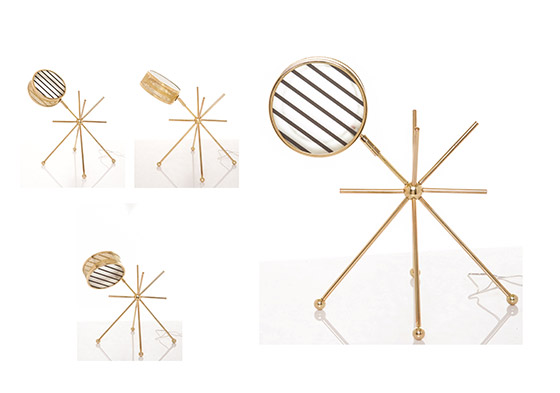 Asterisk by Lilianna Manahan; © Louie Aguinaldo
Central St. Martins and the University of the Philippines helped her realize a dream: Studio Magee opened its doors in Manila in 2011, mainly producing home accessories that Lilianna Manahan defines as a mix of 'industrial design, fantasy, sciences, history, fine craftsmanship and anything that teases one's imagination'.
Mike Mak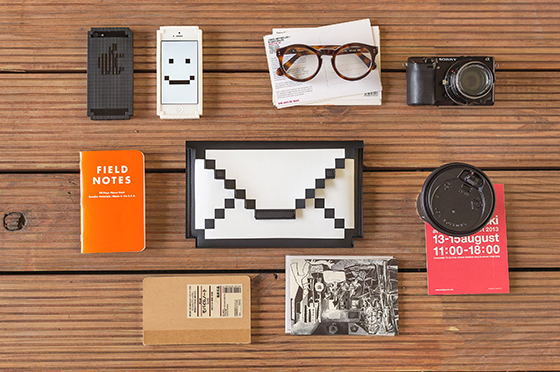 BIG BIG PIXEL by Mike Mak; © Mike Mak
Since graduating in 2007, his bold work has attracted attention from a growing audience. Hong Kong-based Mike Mak was invited to participate in the first Beijing International Design Triennial in 2011. At MAISON&OBJET ASIA in Singapore, the designer will showcase his 'Contemporary Chinese Design Series.'
Yu-Fen Lo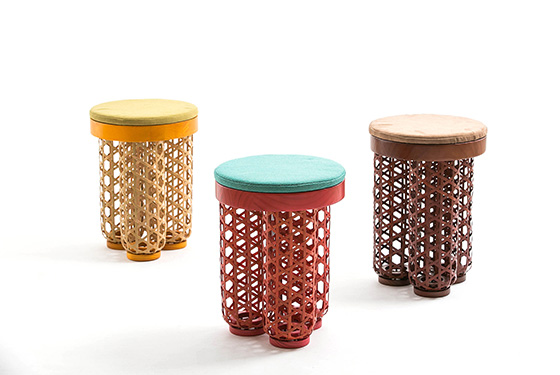 Tutu stool by Yu-Fen Lo; © Lo, Yu-Fen
Currently teaching at the Southern Taiwan University of Science and Technology, Yu-fen Lo has become a household name in design along with the brand she launched, Cuckoo, which was exhibited in Taiwan, Paris, Milan and London. Since 2012, Yu-fen Lo has been collaborating with the Taiwanese government to promote the local cultural and creative industry abroad.
Sittichai Ngamhongtong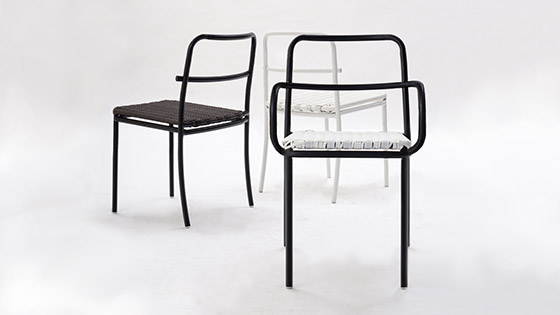 Crosson dining chair by Sittichai Ngamhongtong; © Mr. Sopon Srinutaphong
One of the four members of the +Sense design studio, who have been awarded several prizes in Thailand, Japan or Hong Kong, Sittichai Ngamhongtong defines himself as a 'Graphic, Industrial and Product Designer'. The Thailand-born designer graduated from King Mongkut's Institute of Technology in 2010.
MAISON&OBJET ASIA Presents the First 'Interior Design & Lifestyle Summit'
A series of conferences will provide the opportunity for visitors to analyse key market trends, presenting the most prestigious architectural projects and underlining the importance and connections between Eastern and Western lifestyles.
The program is structured around 20 conferences of 45 minutes, grouped into 5 main topics to be explored throughout the duration of the show.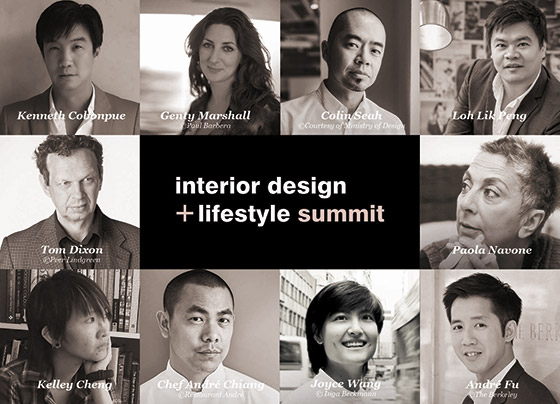 11.00 am – 11.45 am
Keynote Speech
Influential personalities belonging to the MAISON&OBJET sphere will share their vision, speak about their inspirations and latest projects...
12.00 pm – 12.45 pm
Trends & Inspiration Workshop
Reviewing the industry's newest developments and orientations, presented by trend forecasting agencies, and a detailed report about the main inspirations featured at MAISON&OBJET PARIS.
2.00 pm – 2.45 pm
Best of Interior Design
Both interior designer and client (hotel, restaurant, shop...) will present some of the most striking and exemplary achievements in Asian interior architecture.
3.00 pm – 3.45 pm
Best of Retail
Innovative concept stores, 'home' or 'lifestyle' sections in department stores... Trendy and atypical places presented by their founder, who will share the philosophy and originality inherent to each project. Visitors will also be able to listen to panel discussions and debates on the development of retail and e-commerce.
4.00 pm – 4.45 pm
Talks
Inducing debates, the 'Talks' lectures will include a business owner and a designer presenting the result of their partnership, a panel discussion to be conducted by professors from the most prominent design schools in Singapore and a gourmet focus.


Singaporean Architecture & Design Projects on Architonic
Wilkinson Eyre Architects


Copyright © 2014 Architonic AG, All rights reserved.

You are receiving this newsletter because you subscribed on www.architonic.com or granted permission at a fair or by e-mail. Sie erhalten diesen Newsletter, weil Sie ihn auf www.architonic.com abonniert haben, oder uns anderweitig hierzu Genehmigung erteilt haben.