Wellness: why is acoustic comfort so important to all of us
Scritto da Slalom
Arcore (MB), Italia
24.10.14
Headache? Poor concentration? Annoyance? Irritation? Communication problems? It's time to make your hearing feel important, Slalom design your silence. (Beatrice Fanchini)
The most spoken topic of the moment between us (architects)? Without doubt, Acoustics.
What's so new and interesting? For many years, we have been discussing about acoustic, but only in terms of isolation.
The focus has now moved to the interior of the space, to the acoustic comfort within the space.
Acoustic have been linked finally to men and not only to buildings anymore.

Looking to deepen the meaning of acoustic comfort, I have found a really interesting reality: Slalom.
Slalom is an innovative company, focused on the promotion of acoustic, in terms of knowledge and design.

What's important, according to firm's philosophy, is not only to offer performative products in term of soundabsorbancy, but also to study the space, the environment, the habits of people in order to guarantee the best indoor comfort. Products are not seen as objects but they are part of the space and are linked to the users.

Slalom represents a starting point; a company that invests on a new concept of indoor comfort, where the wellbeing is the focus.

Workshops, research with universities and meetings are held to create interest on the acoustic themes and to study new solutions and future scenery.

I found really illuminating one of their workshop, where the acoustic was analyzed as a physical factor of the space, such as lighting and temperature.
If I am cold, I can recognize it and put a sweater on; if the sun is too strong, I'll immediately wear my sunglasses.. what can I do for myself to improve my acoustic comfort?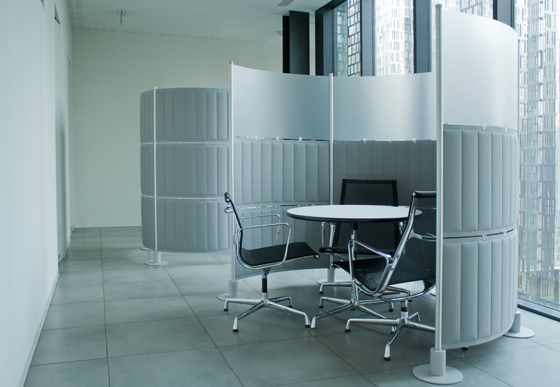 ECOflex: sound absorbent flexible panel, freestanding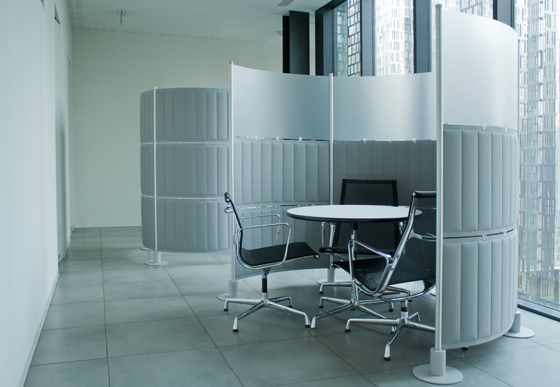 ECOflex: sound absorbent flexible panel, freestanding
×
Slalom offer a wide range of sound absorbent products design to meet different need for very various spaces: from office to restaurant, from meeting rooms to hospitals, from libraries to airports...to create a space that is open, friendly, pleasant and fluid.
This attention on the whole process is the strengths of Slalom.
Its range is rich of different colours, finishing and shape, but the technology uses for the 3D surfaces is for all the products derived from automotive world, that has a strong know-how and historic tradition in making high performance acoustic panels with reduced volume.
Beside this strong attention to technical details, Slalom philosophy is about the use of ecological, sustainable, renewable, green materials. That's an important point in the develope of new products and projects. The innovation of their study have been recently recognized also by Material Connexion.
As an architect, I am pleased the large choice of their range help me to find every time a different solution to win the comfort challenge an make my projects acoustically healthy.