CEO Michael Girsberger talks about how his family-run office-furniture company tries to stay on top, despite cutthroat competition.
Girsberger is a Swiss firm best known for its swivel chairs. In November, at Designers' Saturday in Langenthal, the company presented Diagon, an office chair with a distinctive backrest design. In today's competitive world, it's essential for Girsberger to specialize in chairs, but to stay on top in the office-furniture sector, where cutthroat competition reigns, CEO Michael Girsberger is focusing increasingly on the development of the company's three other divisions, perhaps less well known to the general public. 'Swiss and German wages are relatively high,' he says, 'so what we offer has to be exclusive.'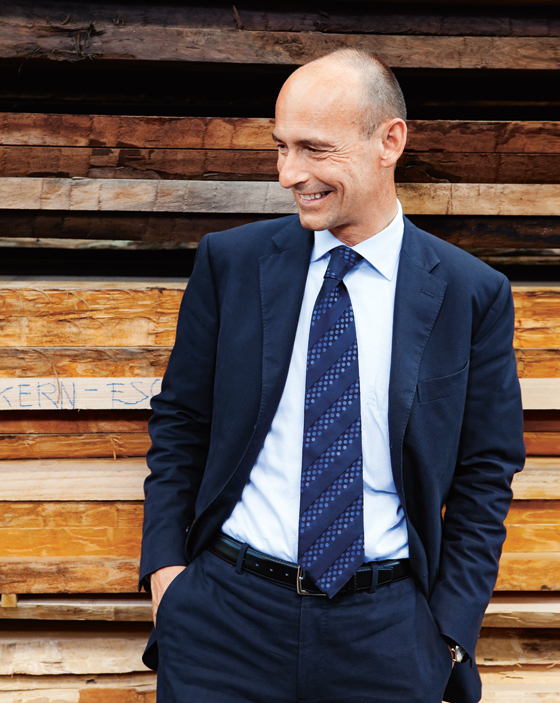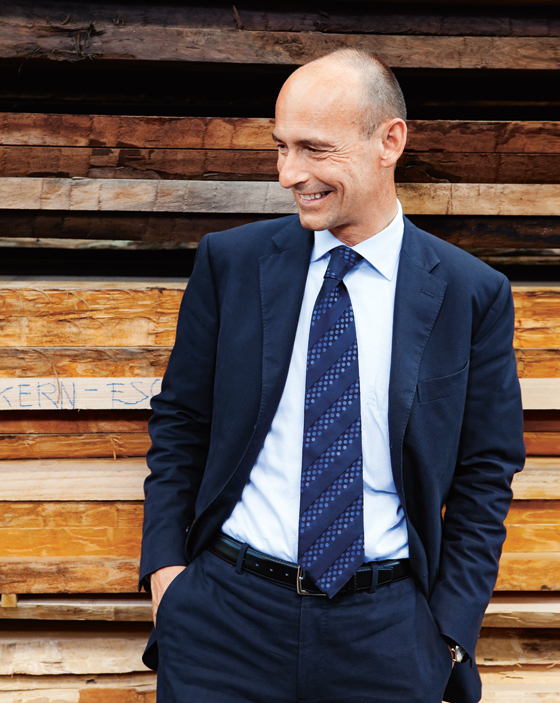 CEO Michael Girsberger
×
Office chairs still make up 75 per cent of Girsberger's total sales and will continue to spearhead the company's operations. 'Other manufacturers design complete projects that include items like desks and cabinets,' says Girsberger. 'We decided not to do that. We started as a manufacturer of chairs and have built up a mountain of expertise in that sector. As much as possible, we need to utilize and continue to develop the quality that comes from all that experience.'
One of Girsberger's bestselling products to date is Reflex, a chair that's popular in both the middle and high-end markets. The new Diagon chair was designed for the same target group. 'As a specialist in office chairs, we have to offer a complete range, including at least two money-making products in each market segment,' he says. 'Our business keeps growing, and we needed to come up with a new model. We wanted a chair that would be ergonomically correct and suitable for large organizations with diversified workforces.'
Although not a revolutionary chair with a brand-new patented technology, Diagon boasts a strong identity. 'In the case of Diagon, it's not so much about looks but about recognizability,' says Mathias Seiler, head of design and marketing. What Girsberger set out to do was to make a backrest with better support. The chair also had to be fully adjustable, but not at the expense of aesthetics. 'Designer Burkhard Vogtherr developed a backrest support that offers an ergonomic solution and has a distinctive look,' says Seiler. 'Diagon has a "memory effect" – the design sticks in your mind.'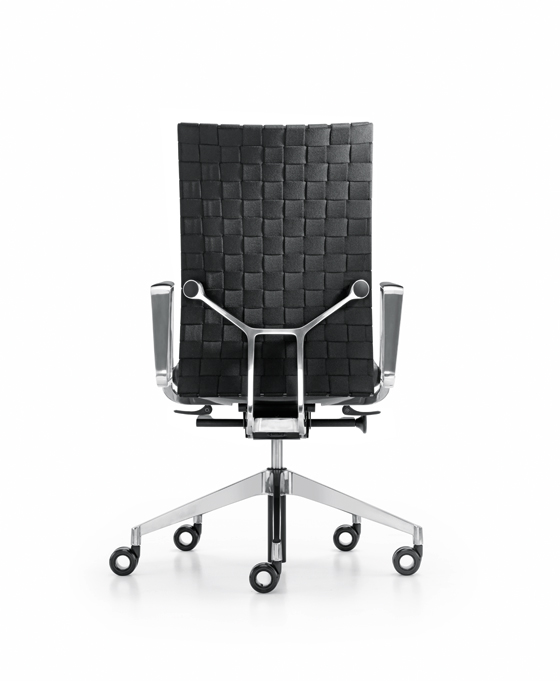 Diagon, a chair designed by Burkhard Vogtherr, is available in five models. Pictured here is Diagon medium, a swivel chair with a woven backrest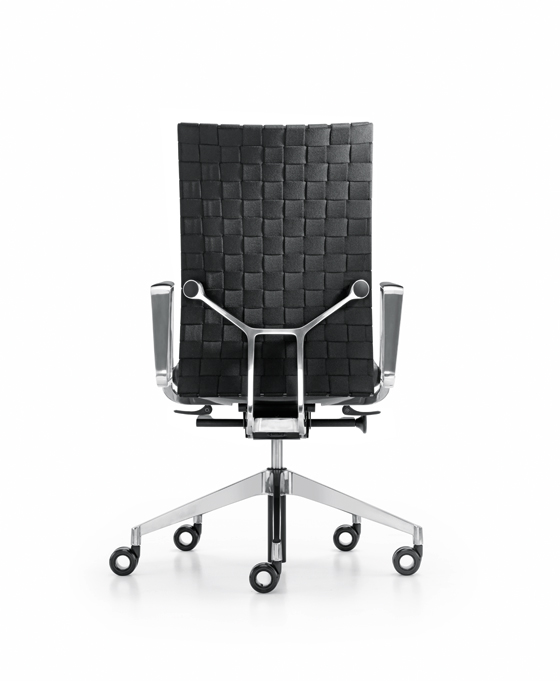 Diagon, a chair designed by Burkhard Vogtherr, is available in five models. Pictured here is Diagon medium, a swivel chair with a woven backrest
×
Girsberger wasn't always a manufacturer specializing in chairs. It all began in 1889, the year in which Johann Heinrich Girsberger founded his woodworking shop. Only in 1907 did he produce his first seating object: a wooden piano stool with a height-adjustable seat. As the firm grew – making products and setting up factories in Germany, Turkey and the United States – the workshop at company headquarters in Bützberg remained important to Girsberger's Home Division. This is the place where solid-wood dining tables and chairs are manufactured.
'In 2005 we made the crucial decision to strengthen this division and to start a third as well,' says Michael Girsberger, a fourth-generation member of the family-run business who has served as CEO since 1995. 'We were already making dining furniture for the high-end market segment [referring to tables that sell for, say, €3000 to €6000], but in 2005 we decided to make customized furniture as well.' At Girsberger, an architect or private client can select the type of wood he wants for a table, indicate his preference for a knotty or less knotty look, and even influence the design. Companies can also order customized pieces for their conference rooms, cafeterias or breakout areas.
'A place of business is, to an increasing degree, part of an organization's corporate branding,' says Girsberger. 'The design of public areas and conference rooms has to be unique, and this translates into a growing demand for project-specific furniture. New ways of working also play a part in the expanding need for specific furniture for alternative workplaces. We're able to satisfy this demand, because rather than relocating our production to China, we make almost everything ourselves. This is a niche market in which competition is not excessively strong.'
In 2006 the company set up its Service & Remanufacturing Division, which began as a workshop for the repair of old Girsberger chairs. In the meantime, however, it continues to grow and is breathing new life into countless numbers of chairs and other pieces of furniture, 90 per cent of which were originally manufactured by other brands. 'Providing customer service is becoming more and more important in a market under economic pressure,' says Girsberger. 'We see this division as another source of profit and as a contribution to sustainability.'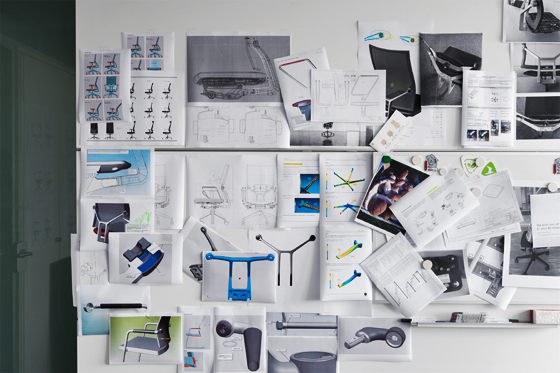 Sketches on the wall represent some of the detailed studies that went into the Diagon chair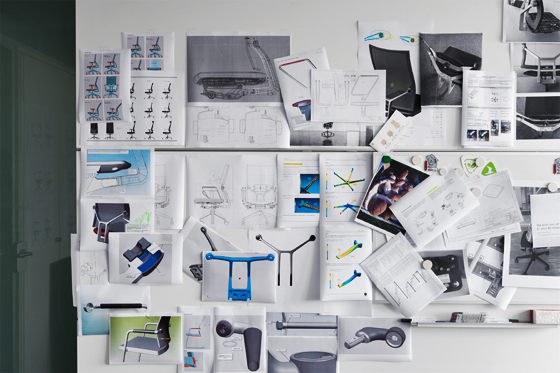 Sketches on the wall represent some of the detailed studies that went into the Diagon chair
×
Proof of how harsh competition can be in the office-furniture sector came when Girsberger was forced to close its factory in the United States in 2012. 'American giants like Steelcase and Herman Miller outsource their production, putting pressure on prices,' he continues. 'They also have their own distribution networks, which are not easy for European companies to crack. The euro-dollar currency exchange doesn't help matters either. We just weren't turning a profit any more in the USA. A North-American corporation, Teknion, took over the factory, including personnel, so no jobs were lost in the process.'
Competition is getting stiffer in Switzerland, too. 'Quite a few local businesses have been taken over by big manufacturers,' says Girsberger, 'and there's been no increase in market volume – or in office space. Nowadays, you can count on some 20 companies competing for a tender instead of, say, four. Maintaining your specialization and strong points is the best way to remain a major player.'
This explains why Girsberger wants to strengthen its position in Europe rather than to penetrate new markets. Launching sales in new countries demands an enormous investment. 'We'd rather invest in tools for the manufacture of our own products and in our R&D department,' says Seiler. 'We have a staff of 20 working full time on developing new products and improving quality. Companies bigger than ours keep a close eye on what we're doing and see us as competition. As long as that doesn't change, we're not worried.'
Factor of Five
Burkhard Vogtherr designed the Diagon chair.
1. What is the essence of the Diagon chair?
Burkhard Vogtherr: On the back of the chair, directly behind the backrest itself, I positioned buffers – one left, one right. The Y-shaped construction absorbs the pressure applied by the user and directs it to the mechanism beneath the seat. The flexible backrest automatically accommodates every movement made.
2. Does Diagon build on earlier designs?
The form of the backrest can be compared to those of chairs I designed previously. I regularly use woven bands for seats and backrests, which I did here as well. Why should I abandon a good idea? Design is an ongoing process. I'm always building on ideas, some of which I've been thinking about for years.
3. Most of your designs are for chairs. Why do you find them so fascinating?
Actually, I'm fascinated by the challenge involved. I've always wanted to create seating comfort by using fewer resources. It's easy to create comfort if you use thick foam. The thinner it is, the more sophisticated you have to make the overall construction. I see my job as a never-ending process of improving chair design. I just can't stop.
4. Is there anything else you'd like to design?
Right now I'm working on the reconstruction of my house. It's an ancient barn – almost 300 years old. At first I asked a friend who's an architect to do the detail planning. But after a while I realized that I have to do it myself – ultimately, you see, I have my own vision of every detail.
5. In a nutshell, what's your idea of a good chair?
A chair should be functional and comfortable, and these qualities should be integrated into the basic design. Forget overstuffed padding and other user-unfriendly elements. A designer's work emerges from a concept. I'm not an artist.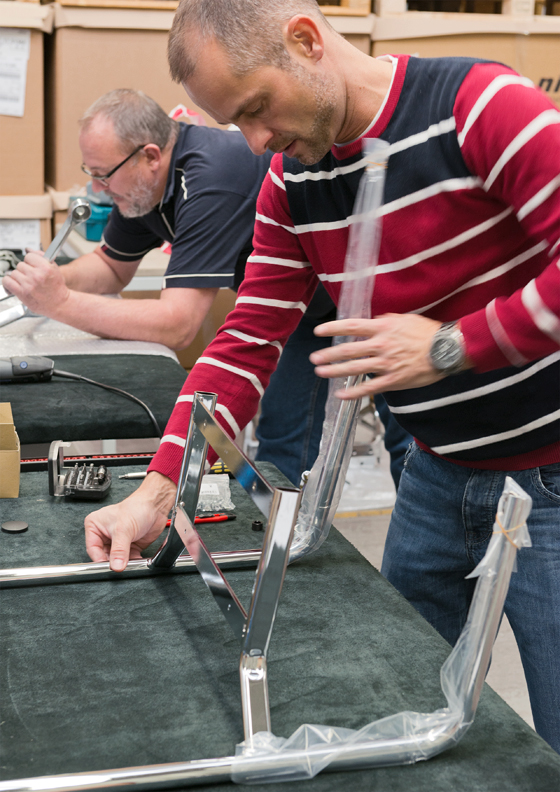 Factory workers mount the backrest support of the Diagon chair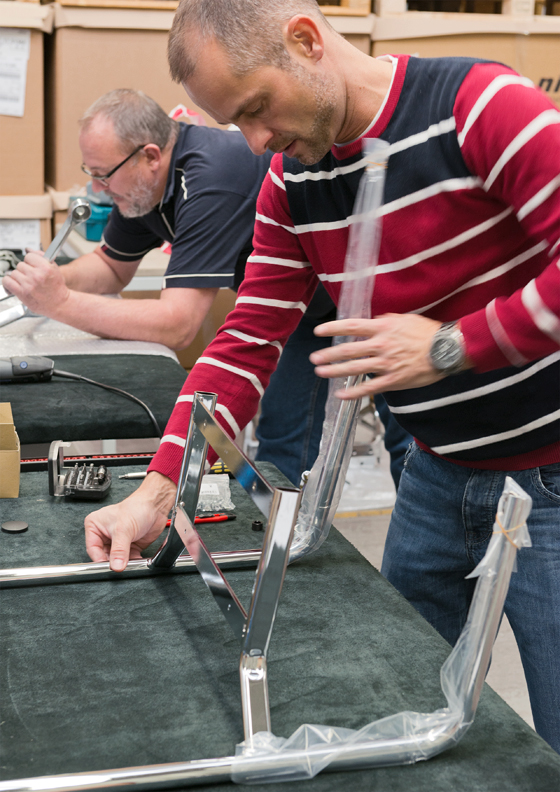 Factory workers mount the backrest support of the Diagon chair
×
A Family Affair
1889 Johann Heinrich Girsberger sets up a woodworking shop in Zürich
1907 Girsberger produces a height-adjustable piano stool
1919 Wilhelm Girsberger takes over the company after his father's death
1943 Model 486 is the first office swivel chair made of solid beech
1947 New factory building opens with machinery for series production
1953 Three heirs of Wilhelm Girsberger take over the company
1953 Eero Saarinen designs Model 72
1954 The business moves from Zürich to Bützberg
1963 A new production site opens in Germany
1979 Girsberger Industries is established in the USA
1985 Fritz Makiol designs Trilax
1992 A fourth production location opens in Turkey
1995 Michael Girsberger becomes CEO
1997 Girsberger launches its Home and Office Divisions
2005 Girsberger opens its Customized Solution Division
2006 Service & Remanufacturing becomes the firm's fourth division
2007 Dieter Stierli designs Reflex
2009 Thierry Aubert designs AL3
2011 Burkhard Vogtherr designs Sway
2012 Girsberger Industries (USA) closes its doors
2012 Burkhard Vogtherr designs Diagon
Girsberger
Website girsberger.com
Location Bernstrasse 78, Bützberg, Switzerland
Production locations Bützberg (Switzerland), Endingen (Germany) and Silivri (Turkey)
Established 1889, in Zürich
Market sectors Office, dining and customized furniture; service and remanufacturing
Areas of distribution Switzerland, Germany, Austria, France, the Netherlands, Belgium, Luxembourg, Spain, Great Britain and Turkey
Most important markets Switzerland and Germany; the latter has the highest growth potential
Bestselling products Reflex, Yanos (swivel-chair programmes) and Connexion (cantilever chair)
Best-known products Trilax (Fritz Makiol, 1985) and Reflex (Dieter Stierli, 2007)
Collaborating designers Paul Brooks, Dieter Stierli, Stefan Westmeyer, Burkhard Vogtherr, Carlos Tíscar, Mathias Seiler, Daniel Leist, Kurt Müller, Andreas Pfister with Lars Villiger, Thierry Aubert, Fritz Makiol, and Philippe Isler
Manufacturing partners Girsberger made a conscious decision not to outsource production or purchasing activities to Asia. What the company doesn't produce itself comes mainly (93%) from suppliers whose production sites are within a circumference of 600 km of Girsberger's facilities in Switzerland and Germany
Text: Femke de Wild
Photos: Courtesy of Girsberger