In the second of our three-part intermission, we meet long-time Sottsass Associati principal designer Chris Redfern
"Should I refer to you as Christopher or Chris?"
"Chris. My friends tell me that makes me sound younger."
Chris Redfern shouldn't worry himself about youth. The British-born designer is only 36. For one-third of his life he has worked with Ettore Sottsass. And since Sottsass' death in December 2007, Redfern has deftly led the studio in closing one chapter and starting a new one.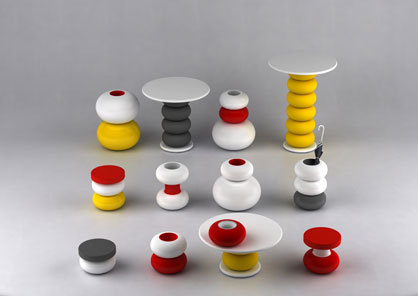 FaiTuttoTu, or YouDoEverything, for Serralunga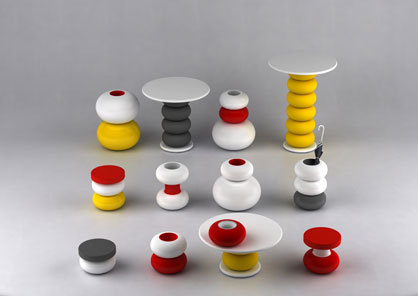 FaiTuttoTu, or YouDoEverything, for Serralunga
×
His rise was quick. After earning a degree in graphic design from Norwich School of Art, he found work designing toys in Hong Kong. "I knew the heart of mainstream industrialization was in China," he says, but he also realized "there's got to be more to design" than launching Bert and Ernie dolls or executing the designs of others. He enrolled in Domus Academy's master's program in industrial design in 1995, shivered through a six-month stint with Thomas Eriksson Arkitekter in Stockholm, and then found his way back to Milan and Sottsass Associati thanks to having made a good impression on James Irvine.
The planets were aligned, because when Irvine decided to leave Sottsass and launch his own studio, Redfern was propelled to right hand. Redfern credits winning the project for a camera design for AGFA for earning Sottsass' favor.
"The adrenaline was pumping," Redfern recalls of his promotion to principal designer. "I was 25, and all of a sudden I had plunged into a cultural phenomenon." And yet Redfern learned to treat Sottsass as a grandfather, and the two "were just friends messing about." Not exactly, he corrects himself. There was Sottsass' huge ego, for one thing, as well as his workaholic ways. The other: "We always competed. If there was a project, I'd do sketches and come up with ideas and he'd do the same and we'd determine whose was best."
Regardless of the victor, "we had to do something new," Redfern remembers. "Try new materials, whatever." He points to a watch for Seiko that was never realized as an example. It was made of the same ceramic used for the tiles cladding the space shuttle, but the designers had manipulated the material to resemble a pebble—humane and approachable. "You don't sleep until you come up with a new idea. I remember Sottsass often suffering from restless sleep."
Sottsass wasn't relentless, though. He did allow Redfern creative freedom as principal designer. When the outdoor furniture manufacturer Serralunga asked Sottsass to design a series of vases, for example, he cited a conflict with his gallery representation and passed the project to Redfern. He wound up creating FaiTuttoTu (YouDoEverything), a system of rotation-molded, squished-spherical modules. As the name suggests, the user decides the system's function: A stack of modules serves as a garden pouf; one module with its top and bottom left open is an umbrella stand or planter; another holds a shallow bowl, turning into a vase. In the spirit of reinvention, too, each mini-totem is lacquered in plastic, a new technique that hides the messy edges and rough texture of rotation-molded plastic and, Redfern says, gives the piece "more presence. It makes you think twice about the object."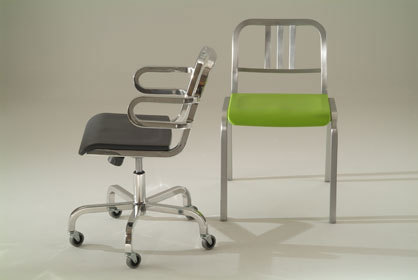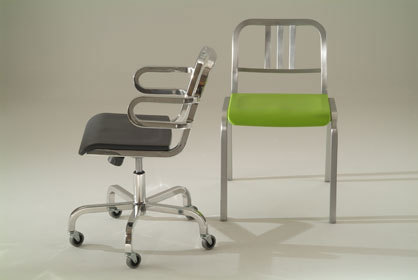 Nine-0 for Emeco
×
Other Redfern projects, like a boutique hotel in Milan that he completed with his architect wife or clothing labels he conceived for Aspesi, were done on the side. Regardless of the project, Redfern says Sottsass supported him. As for his design method? Redfern says, "Like Sottsass, I'm always searching for something new."
Redfern's creative freedom transformed from privilege to necessity in 2005, when Sottsass' back problems kept him confined to his home. "It got to a point that I would call him up and talk about football and women and all kinds of stuff just to see how he was," Redfern notes. "And I was seeing him more to cheer him up because he was stuck at home."
It was during this period, however, that the pair launched Sottsass' final project. Emeco's 1006 Navy chair, in production since 1944, was a personal favorite. And sitting on the Navy chairs surrounding Sottsass' own dining table, the two men began discussing the classic's contemporary shortcomings: "Women wearing mini-skirts complain about the cold surface. Also, it had been designed for very thin Marines, and people in the States are getting bigger," Redfern recalls. Sottsass had clipped textile cushions to his dining chairs, and so this relationship was made official in the new Nine-0 for Emeco, which features an integrated polyurethane cushion. Sottsass did not live to oversee the final design of the armrest or swivel.
Redfern still conducts Sottsass' business, but he knows an end is in sight. "I decided, after Ettore died, that I wanted to finish the projects we had been doing together. I owe it to him to finish them off. He would be the first person to say you can't start a project without finishing it. After that I don't particularly feel right to design objects under Sottsass Associati. It's not correct. It was a period of my life when I learned a great deal, I worked with one of the most important designers of the 20th century, and I'll use that to my advantage and move forward."
There are numerous projects wrapping up under the Sottsass Associati name. Zumtobel, for example, recently released the Aero II, an update of its successful office pendant: The new version includes both LED and T16 fluorescent lamps to produce task-oriented downlight as well as ambient uplight in an ecologically responsible manner, while a new prismatic enclosure optimizes light distribution. Thanks to Bonar Floors' successful collaboration with the design studio in producing the digitally printed NeoFloors collection of antibacterial floor coverings, the company has now asked Redfern to conceive patterns for its more traditional tufted product—for which Redfern is considering DNA test results as a source of pattern. Redfern is adding new colors to the Kayar line of coconut fiber–embedded rubber tiles for Artigo. Also look for a new Lurisia water bottle, with decanter-style cap, on restaurant tables.
Redfern is confident that someday he'll move on from Sottsass Associati. Yet he recognizes an obligation to the past, noting that Sottsass' output still requires an intensively detailed archive. Currently, too, he is wrestling with hypotheticals. "There are a lot of interesting projects that were done by the studio over the years but were never produced or constructed," he says. "It would be nice to see them produced and put to actual use. Many concepts were not taken forward because the technology did not exist at the time—materials and production techniques have improved since then." Indeed, the studio's evolution rests on Redfern's shoulders, as he navigates historic legacy and personal creativity.