Getting technical: an introduction to colour temperature and technical lighting
Text by James Wormald
United Kingdom
16.09.21
Commercial spaces must be enticing enough to pull people in, and comforting enough to keep them there. It's this balance that makes the utilisation of technical lighting so important to master.
It can be hard for spaces such as hospitality venues, offices and retail environments to create comfortable, functional and eye-catching lighting networks. But with venues, companies and brands fighting harder than ever for the attention of shoppers, buyers and workers, ensuring they present the perfect combination of ambience, comfort and aesthetic, all while staying completely on brand, is even harder than it appears.
We need to talk about Kelvin
Most commercial spaces you walk into, you normally don't bother to take in the lighting systems – I do, of course, but I'm not normal. Even in trendy modern bars with oversized industrial pendants, the aspect that hits you before any other is the colour temperature of the room's light. Measured in Kelvin (K), a lighting fixture's colour temperature can be understood on a very simple scale. Here's how, and where, it works:
Hospitality lighting: 2700K – 3000K lights
Starting at the bottom of the scale, the lights with lower numbers, such as the Globe In Alu Pol, from Tobias Grau (2700K), produce a softer, warmer, more yellow tone of light, perfect for lighting a cosy corner of secluded seating. Globe's distinctive optical lens provides a wash of warm, glare-free light.
Intimate lighting: 2700K – 3000K lights
If the space's tables and booths require dim, intimate or confidential lighting, while leaving the rest of the venue shrouded in secrecy, however, then the highly technical Minus series of recessed lights from Apure (2700K – 4000K) creates an incredibly sharp beam of 'invisible' light – named such as the fixture releases no additional ambient light on its way to its subject.
Office lighting: 2700K – 5000K lights
The modern office space must be feeling a little unloved at the moment, but there's nothing like a well-designed, multi-functional office to increase employee creativity and inspiration. With eating, socialising, and bonding space added to the existent meeting, informal meeting, and client meeting space requirements – not to mention old-fashioned space for work – lighting systems employed in office environments must provide a wide range of light temperatures.
The office is the stereotypical home of flickering fluorescent strip lighting. Although a more efficient use of electricity than incandescent light, the mercury-filled tubes are difficult to dispose of safely, and the ultra-violet light they emit is harmful to both physical and mental health. But there is another way.
LED lighting alternative in offices
Moving away from fluorescent light, the office has finally started to shift towards LED. But although it fixes one problem, another remains. Either hanging or recessed, the boring squares of too-bright light don't provide a workplace aesthetic to be proud of. An alternative, the Liquid Line series from Lightnet, for example, is a strip of seemingly bendable LED light that is either hung, mounted or recessed in the ceiling. With a huge temperature range (2200K – 6500K), the personality-filled fixtures can dictate the usability of a space, leading traffic via a certain route.
Retail Lighting: 3000K – 4000K Lights
Retail space must walk carefully along the line of light temperature. Too bright and customers won't wish to stay long, too dim and the products won't stand out. Many retailers opt for a combination of comfortable atmospheric ambience, such as from a minimalist spot like Gypsum from Linea Light Group (3000K – 4000K) – Its paintable chalk frame simply disappears into the background, alongside focused accent lights like the Adjustable Spot by Letroh (2700K – 3000K). The customisable track-based system makes it simple to clip on and off individual spots with various sized beams – creating flexible product lighting possibilities and drawing customers' eyes to changing target items.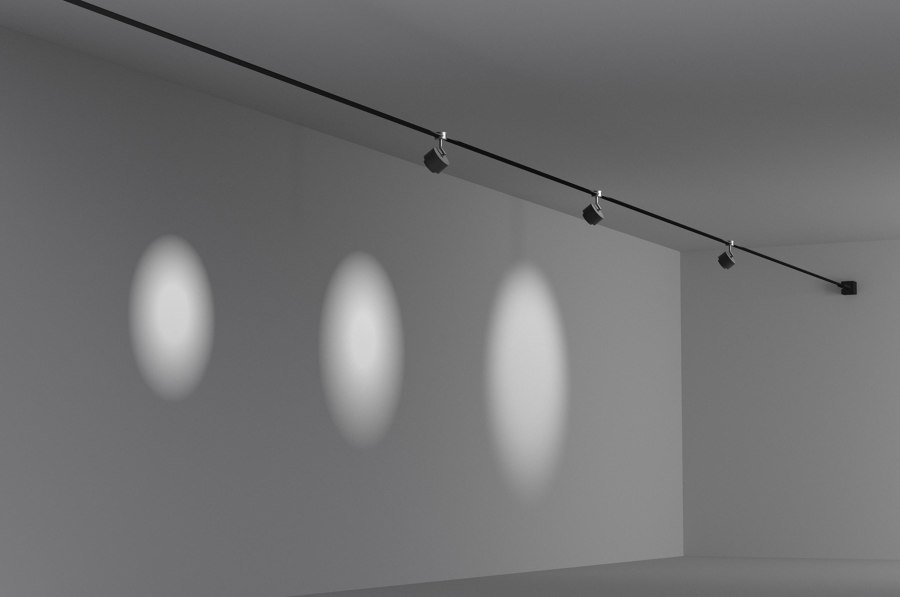 Top: Gypsum by Linea Light Group. Above: Adjustable Spot by Letroh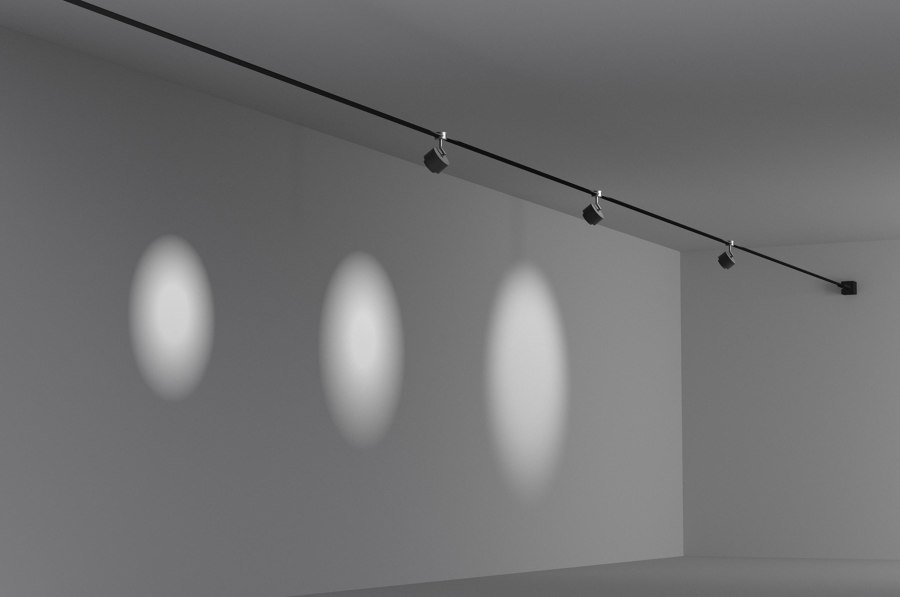 Top: Gypsum by Linea Light Group. Above: Adjustable Spot by Letroh
×
On-brand lighting in retail spaces
The representation of a brand, however, is an important consideration in retail space. Generally, the brighter the store, the cheaper the produce (think of an over-lit supermarket or a Hollister-brand clothes store). A shop that feels like a nightclub may make for destination retail, but fail to adequately light your wares, and customers won't see what they're buying. Pixlip's Lightwall system, however, completely reinvents the whole idea of product lighting. With no ambient lighting necessary, Lightwall successfully enhances the products they stand behind. The overall effect means customers must remain close to the products in order to navigate.
Public space lighting
Along with comfortable light temperatures and warming personalities, the technical lighting systems in public spaces require another important feature. With multiple entrances, exits and exhibits, whether visitors are passing through or simply passing time, they need to know where they're going.
Wayfinding and navigational lighting
Wayfinding and navigational designs can present a headache for public space architects. Directional signs, maps and systems need to be clear enough to read at a passing canter, simple enough to need no language, but subtle enough to be ignored when you don't need them. The Nukav LED from Modular Lighting Instruments is one example that fulfils all these requirements, positioning itself as a small footnote alongside stairways, helpfully and subtly lighting the route.
On another scale entirely, however, Column Disguising light wraps, by Koch Membranen, are backlit fabric wraps that transform the eyesores of concrete support pillars into light features. With the simple customisation of specialist printed fabric or a coloured internal light, the pillars can be transformed further into clear signage – colour-coded or numbered – or even unmissable directional emergency evacuation lights.
Safety and emergency lighting
Often lights need not be large and imposing to be effective, however. Take the simple recessed LEDA LED spot from Daisalux, for example. When given a specific colour, the generic light can become an internationally recognised symbol meaning danger or safety.
Between low-impact recessed lights and the more architectural system of the track, options for technical lighting can, at first, seem somewhat limited. However, there are many eye-catching luminaires across all sectors and formats that provide simple but stunning customisable lighting systems to either stand out, or to blend in.