Site: 0.4 hectare (4000m2) inner-city brown-field site
Program: 19 row houses
32 cliff houses
56 parking places

Planning Constraints:

Physical:
Small site edge, with cliff face at the back
Motorway fly-over is close by. Balance between urban development + urban ecology
Spatial:
Terrace housing on a thin strip site against two boundaries with complex boundary and height constraints.
Expected uses:
New benchmark project illustrating medium density low rise family housing in close proximity to Central Business District and natural assets. Diversify + establish alternatives to current urban housing prototypes.
Transport and Access:
Seeking intensification due to easy walking distance to city centre, access to public transport and main arterial routes at the edge of inner-city and outer lying residential areas.
Parking:
1 car/household ratio + visitor spaces
Pollution:
Light pollutants from former gasworks
Archeology:
Occupies the former harbour front and Maori fishing grounds.
Ecology:
Cliff face is part of a historical necklace of Pohutakawa trees.
Density:
128 dwellings per hectare

Construction:

The construction is predominantly timber frame and stud with Hardyflex skin for inter-tenancy fire separation. This is only modified when set into the ground where bracing walls are of concrete block or over the car park where the saddlebags sit on a semi basement car-park of prefab load-bearing concrete hollow-core planks spanning across concrete beams. Concrete floors are also used for fire and and earthquake resistance. This is seen on the cliff to protect the Leapfrog below from the CliffHanger above.

Materials:

Facades – powder-coated aluminium frames and cladding. Cladding is baby corrugate sheeting. Single clear glazing
Galvanised steel balustrades.
Outdoor terraces and boardwalk are Kwila sustainable hardwood timber decking
Undercrofts and terrace returns are Hardyflex composite panels, flush jointed and painted
Client:
Melview Developments Ltd., Auckland
Design team:
Burton Hamfelt, Chris Moller, Dominic Papa, Jonathan Woodroffe
With Dagobert Bergmans, Elsa Cataneo, Kees Draisma, Stefan Kurath, Omar Al-Omari, Thom McKenzie.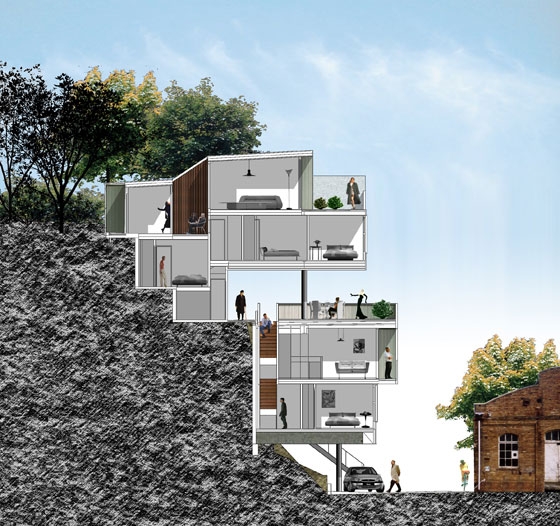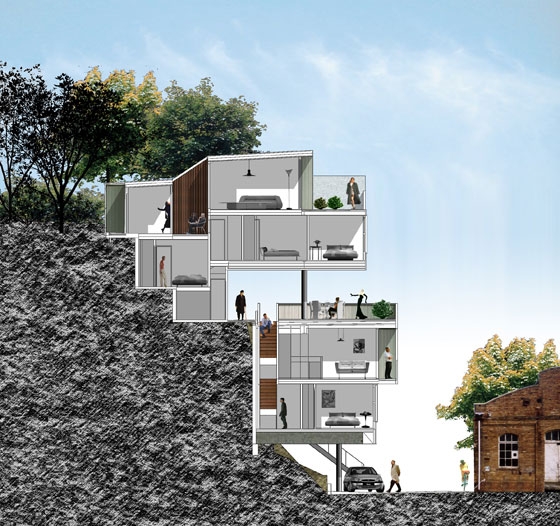 cliff section
×