Special Newsletter MAISON&OBJET 2013
Dear Readers
Ten years after our founding and after several editions as visitors over the past few years, Architonic will have its very first official appearance in Paris this year. We look forward to meeting you at C@fé by Architonic, which we run in collaboration with MAISON&OBJET.
Here's what you'll find in our Special Newsletter:
Architonic Guide MAISON&OBJET 2013
Architonic's Tips at Paris Design Week
Preview of MAISON&OBJET 2013
C@fé by Architonic
Get inspired!
Your Architonic Team
Zurich | Milan | Barcelona | Berlin | Cologne | Copenhagen | Stockholm | London | New York

Advertisement

Architonic Guide MAISON&OBJET 2013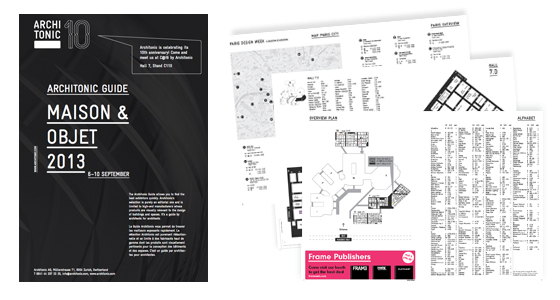 This year we have put together an Architonic Guide to MAISON&OBJET for the very first time.  As always the indispensable trade-fair companion allows you to find the best exhibitors quickly. Architonic's selection is purely an editorial one and is limited to high-end manufacturers whose products are visually relevant to the design of buildings and spaces. It's a guide by architects for architects.
To help you prepare your visit to MAISON&OBJET 2013 in Paris our Architonic guide is now available for you to download as a PDF file using the link below.
Printed copies will be available free of charge at the stands of the selected exhibitors at the fair.


Architonic's Tips at Paris Design Week

Jean Nouvel Design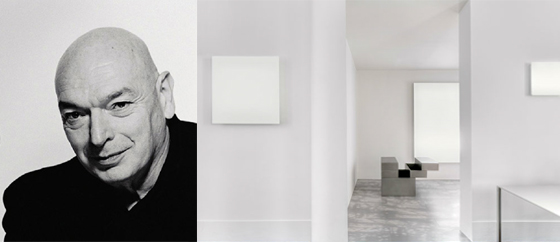 Exhibition
9 - 15 September 2013
12:00 - 19:00 h
Opening with Jean Nouvel
10 September 2013
18:00 - 21:00 h
10 Cité d'Angoulême
75011 Paris
Métro: Parmentier
The Edelkoort Design Collection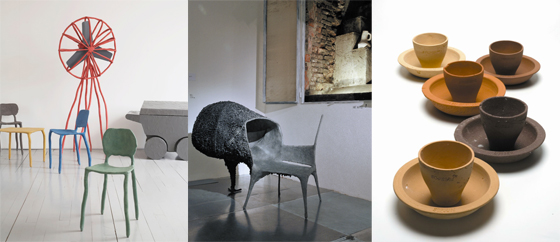 Exhibition
10 - 15 September 2013
13:00 - 19:00 h
Opening and Book Signing
10 September
19:00-22:00 h
121 Rue de Lille
75007 Paris
Métro: Assemblée Nationale
 
Klubben. On Time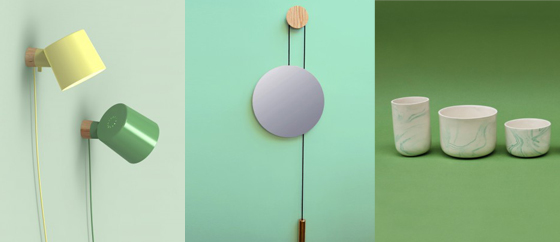 Exhibition
9 - 15 September 2013
Pecha Kucha Night
12 September 2013
18:00 - 20:00 h
34 Quai d'Austerlitz
75013 Paris
Métro: Quai de la Gare


Preview of MAISON&OBJET 2013
The Show for All Creative Energies
- 3,000 exhibitors including 45% international brands
- More than 130,000 m² (net) of stand space
- 85,000 visitors, including 50% from outside France

A leading event in home styles, MAISON&OBJET offers an international, 360° panorama of the market. Decorative items, furniture, accessories, textiles, fragrances, children's world, tableware, etc.
This lifestyle platform merging business and creativity is THE meeting place for buyers and specifiers internationally. A facilitator of encounters, business booster and strategy scout all rolled into one, this must-see trade exhibition draws its inspiration from Paris.
Luxury, know-how, design, avant-garde…
MAISON&OBJET and the City of Lights: a unique DNA!
Business Lounge by Didier&Fabrice Knoll: Hall 5B, Aisle R
The Business Lounge is a friendly and lively area and the starting point for a special ARCHI.DESIGNER pathway that identifies 500 exhibitors focused on the needs of specifiers. Located in the heart of the ACTUEL contemporary furniture area, it aims to be a major meeting place between specifiers, hotel and restaurant owners, ARCHI.DESIGNER labelled exhibitors, the specialist press and specifier institutions.
The area – scenography for September 2013 & January 2014 is by Didier&Fabrice Knoll Architecture Design –  aims to promote the human relations aspect of the Business Lounge so that great meetings lead to great projects.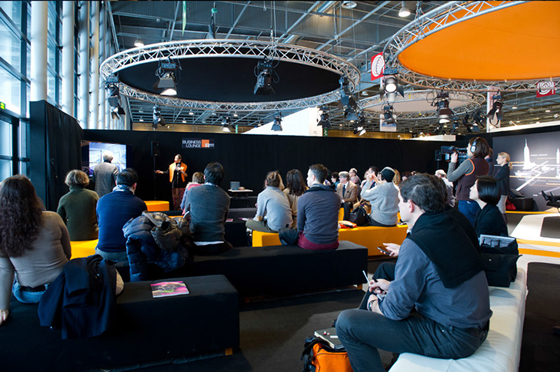 Business Lounge Programme
Based on targeted introductions, MAISON&OBJET organises networking events at the Business Lounge to facilitate contacts, particularly between architects and property developers, but also with hotel and restaurant groups.
A rich source of events and potential meetings, the BUSINESS LOUNGE also offers roundtables organised from Friday to Monday examining subjects ranging from acoustics and sound-insulation of communal spaces to experience-sharing regarding integration of home automation. It also offers cocktails each evening, as well as cookery demonstrations...
One-to-One Business Meetings
MAISON&OBJET offers you a one-to-one business meetings service to meet labelled exhibitors and the speakers of the events at the BUSINESS LOUNGE, experts in interior design, architecture, to give shape to your projects and improve your business.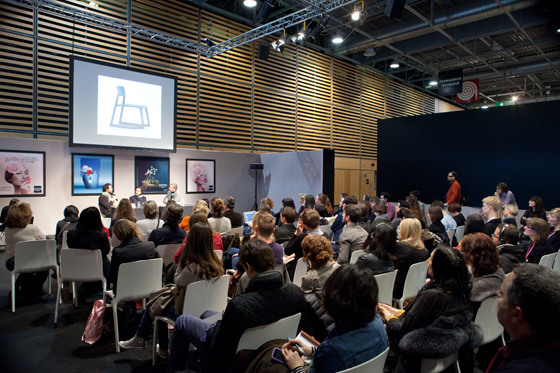 Each session, the hall 5B conference area hosts a series of conferences organised from Friday to Monday, addressing the key issues facing the profession.
These discussions provide an opportunity to hear and debate with decoration and design figures in the centre of the news.
The programme includes Paris-Création, Paris-Connecté, Paris-Méditerranée and Paris-Énergie.
matériO: Projects Area, Hall 7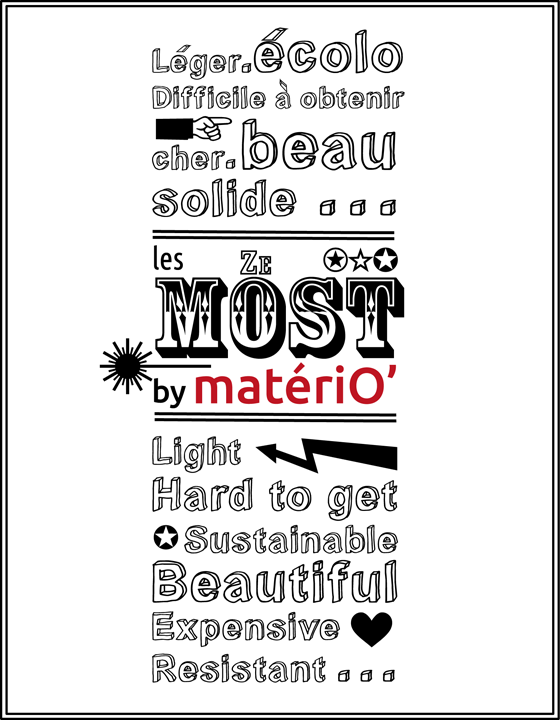 For this new edition of Maison&Objet, matériO, the innovative materials library based in Paris, Brussels, Prague and Bratislava treats us to a selection of materials with sometimes humorous, often technical but always surprising overtones. matériO's team invites us to discover materials with a high performance on a specific criterion such as lightness, resistance, aesthetic, plasticity or the difficulty of obtaining them for instance! The 'Ze MOST' therefore constitute an inspiring collection, a trendy break dedicated to materials and technologies, right at the heart of the brand new Projects area, Hall 7.
Inspirations Itinerary «Energies»: Hall 7
The time has come to recharge our batteries. Where design is concerned, we shouldn't save our energies. Quite the reverse. We are encouraging use when circulating good vibrations. Driving forces are revving up in order to foresee the bubbling changes underway and to stimulate the high-voltage dynamic of desire. Positive, optimism-inducing waves are electrifying the established order. This is a beneficent motion that is freeing our imaginations, reinvigorating unexpected aesthetics and activating alternative currents.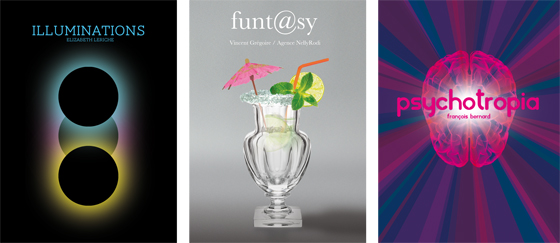 For the first time the three interpretations of the theme of inspiration (Illumination, Funtasy, Psychotropia) are gathered in one place: Hall 7.
Unleash the creative energies!

Paris Design Week offers design enthusiasts a unique opportunity to discover every facet of the world of Parisian design. To help you make the most of this wonderful event, we organize free visits to showrooms in various emblematic districts; each visit will end with a cocktail party.
Left Bank / St-Germain-des-Prés
St-Germain has a rich history of creative enterprise and the district is the favourite location for major design brands.
Bastille / République / Marais 
Design is the primary focus of this district, which comprises highly-selective and ultra-creative galleries, publishers, and museums.
Étoile / Champs-Élysées / Concorde
Many famous brands are located in this prestigious district, which is a showcase for the finest products in the luxury, beauty, and design markets.
Saint-Ouen
This district has a unique atmosphere with its specialist antique dealers and trend-setting avant-garde market traders; here you can browse through unique vintage items and discover the most innovative design products.

Advertisement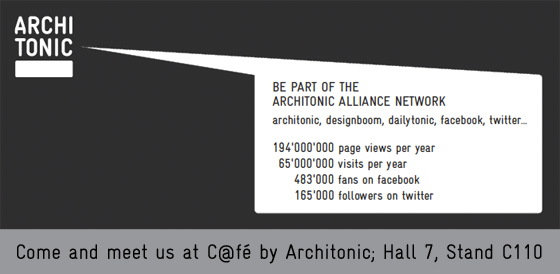 Architonic's new, dynamic partnership with the long-established and highly regarded architecture and design blog designboom represents the first step in its building of a powerful alliance network of leaders in its field. Both companies are managed by their founders and have proved the success of their central concepts for more than ten years now. 
Come to our C@fé and get the latest on the full range of services that this new and impressive alliance network, with its combined 65 million visits annually by architects, designers and planners per year, can offer you.
We look forward to seeing you there – Hall 7, Stand C110.


Copyright © 2013 Architonic AG, All rights reserved.

You are receiving this newsletter because you subscribed on www.architonic.com or granted permission at a fair or by e-mail. Sie erhalten diesen Newsletter, weil Sie ihn auf www.architonic.com abonniert haben, oder uns anderweitig hierzu Genehmigung erteilt haben.