Special Newsletter BAU 2013
If it's January in Munich, it's got to be BAU – the world's leading trade fair for architecture, materials and systems, which has established itself as a must see event for architects and planners, as well as for the construction trade. Although the forthcoming 2013 edition marks BAU's twentieth outing, it's not a show to rest on its laurels. BAU is resolutely forward-facing, showcasing the latest innovations and new developments for residential and commercial construction, and interior fit-out.
Here's a brief overview of the contents of the Special Newsletter BAU 2013:
BAU 2013 – the leading international fair for architecture and construction takes it to another level
The trade fair that keeps on giving – BAU 2013's exciting programme of special shows and talks
Architonic Guide BAU Munich 2013
Architonic Concept Space III: Oskar Zieta's compelling design installed at BAU 2013
Don't forget to visit us at our Architonic Concept Space III (Stand 50, Hall A6).
Be inspired!
Your Architonic Team
Zurich | Milan | Barcelona | Berlin | Cologne | Copenhagen | Stockholm | London

Advertisement

BAU 2013 – the leading international fair for architecture and construction takes it to another level 

Every two years, BAU opens its doors in Munich to almost a quarter of a million visitors, with one in five from architectural practices and planning offices.
As the leading international trade fair for architecture, materials and systems for industrial, commercial and residential construction, BAU attracts not only a diverse audience, but its exhibitors are diverse too: 46 countries are represented over 180,000 square metres of exhibition space.
BAU provides an impressive gathering of all the key trades and materials – from doors, windows, roofs and energy/solar technology to aluminium, glass, wood, stone and plastics – in one place. New for 2013, however, is organisation of the exhibitors not only by product and material type, but also by theme.
Aluminium and ceramic systems' manufacturers, for example, can also be found under the theme of 'façades', while chemical building products suppliers form part of the 'floor coverings' theme.
Symbols representing the various themes are used to show in which halls corresponding products can be found, e.g. the façade symbol tells you where you can find different products that are mainly used in façades.
It's a whole new way of interacting with what BAU has to offer. Good times!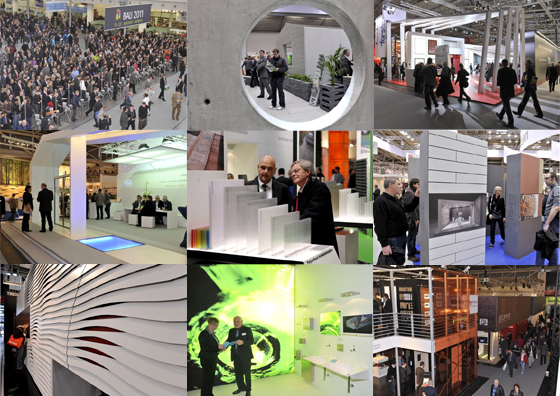 BAU 2013
January 14–19, 2013
Messe München / Munich Trade Fair Center
www.bau-muenchen.com
Opening hours
Monday–Friday: 09:30–18:30
Saturday: 09:30–17:00
Getting there
U-Bahn / Underground: Line U2 (stops: 'Messestadt West' and 'Messestadt Ost')
Organiser
Messe München GmbH
Messegelände
81823 München
Germany
Phone: + 49 89 949-11308 (information line)
Fax: + 49 89 949-11309
info@bau-muenchen.com


The trade fair that keeps on giving – BAU 2013's exciting programme of special shows and talks 
BAU adds value to the wealth of individual exhibitors showing in Munich with an engaging series of talks and carefully curated special shows, which provide visitors with even more inspiration as well as with the opportunity to network with their peers – and, of course, to do business.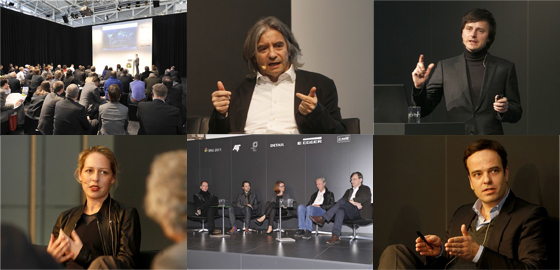 Special Shows at BAU 2013
* TomorrowTown – Intelligent building for the city of the future: Urban expansion and change will have a key influence on social developments in the 21st century. Organised by the Fraunhofer Building Innovation Alliance (Hall C2), Tomorrow Town comprises 30 'intelligent-building' product and system solutions that can make contribution to a sustainable city of the future.
* Sustainable building products. More transparency promotes better decisions: The DGNB (German Sustainable Building Council), in cooperation with leading partners from the building industry and building research, will use examples of completed and certified projects to illustrate the relevance of building products for the construction, operation and certification of sustainable buildings. (Hall C2)
* Universal Design: In cooperation with ift Rosenheim, BAU is organising 'Universal Design', a show that addresses the challenge within the construction sector and in manufacturing to ensure that buildings and products can be accessed by the greatest number of people. (Hall C4)
* Building for life – Cost-effective. Flexible. Barrier-free: Presented by BAU in cooperation with GGT Deutsche Gesellschaft für Gerontotechnik®, 'Building for Life' focuses on the idea and provision of comfort. Hall A4 will host a series of full-scale, multi-functional and flexible rooms, fitted out with products that appeal to young and old alike.
Forums at BAU 2013

Experts from all over the world who are concerned with questions of architecture and city development will be speaking on these subjects, as well as taking questions, at BAU 2013 – right in the middle of the fair.
Forums in Halls C2, A6 and B0 will see, among others, big-name architects such as Patrick Schumacher, Stefan Behnisch and Werner Sobek present their respective points of views, while referencing their own work. This really is a value-added opportunity for every BAU visitor to get up to speed with the latest thinking, so don't miss out.
Long Night of Architecture

Following on from the resounding success of the first 'Long Night of Architecture' (LNDA) two years ago, BAU 2013 will be staging a second edition of the event. On Friday 18 January, around 40 buildings in and around Munich will be opening their doors and inviting the public in to take a closer look.
Supported by Dorma, Saint-Gobain and Velux, the LNDA features eleven routes, with shuttle buses operating between the individual buildings between 19.00 and midnight. The buses are free to hop on and off any time, and run every 15 minutes between the different stops. One of the main starting points is Odeonsplatz, from where six of the tours begin.
On board, architecture students will provide information on the buildings coming up next on the tour, while lectures or guided tours will be offered inside many of the venues.

Advertisement

Architonic Guide BAU München 2013
In the 10 years since the founding of Architonic, the Architonic Guide has established itself as an indispensable trade-fair companion.
Also during the anniversary year, the Architonic Guide allows you to find the best exhibitors quickly. Architonic's selection is purely an editorial one and is limited to high-end manufacturers whose products are visually relevant to the design of buildings and spaces. It's a guide by architects for architects.
To help you prepare your visit to the BAU 2013, our Architonic guide is now available for you to download as a PDF file using the link below.
Printed copies will be available free of charge at the stands of selected exhibitors at the fair and from the Architonic Concept Space (Stand 50, Hall A6).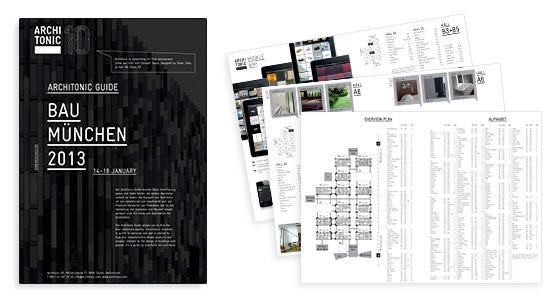 Advertisement

Architonic Concept Space III: Oskar Zieta's compelling design installed at BAU 2013
Zurich architect and process designer Oskar Zieta's striking design for Architonic's Concept Space III will be touching down at BAU in January.
The modular structural system, which consists of a number of identical and stackable geometrical spatial structures, is made up of inflated sections welded together robotically. A well-balanced equilibrium of traction and pressure forces gives the structures maximum stability. By arranging them symmetrically a space is created with a design that features prominent joints and relatively narrow rods, somewhat reminiscent of the structure of a bone, and with a static principle that invites a number of comparisons.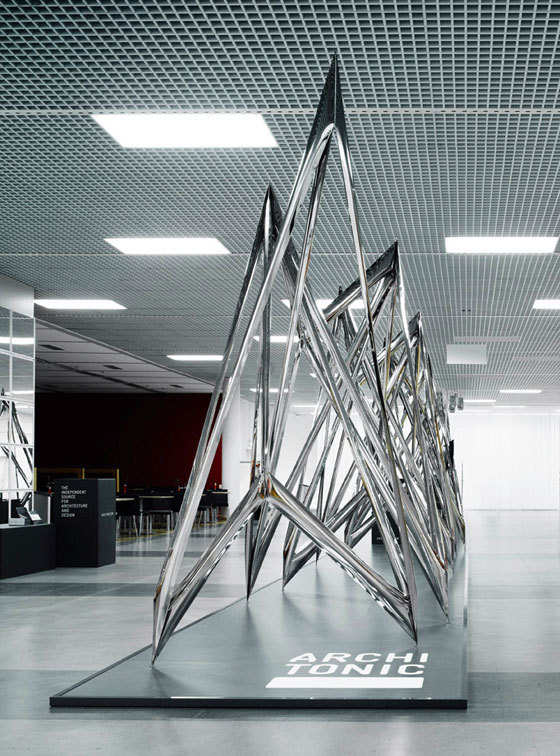 "Naturally we also wanted to design an eye-catcher – the purely functional trade fair stand is well past its sell-by date. But in spite of everything the extrovert appearance is above all the result of careful calculations. A fair stand has to be flexible, light and stable, and these specifications lead you very quickly to the triangle, the basic shape with the greatest static stability", explains Oskar Zieta.
You'll find the Architonic Concept Space III at BAU 2013 at Stand 50, Hall A6

Advertisement

Copyright © 2012 Architonic AG, All rights reserved.

You are receiving this newsletter because you subscribed on www.architonic.com or granted permission at a fair or by e-mail. Sie erhalten diesen Newsletter, weil Sie ihn auf www.architonic.com abonniert haben, oder uns anderweitig hierzu Genehmigung erteilt haben.