Special Newsletter Orgatec 2012
Live from Cologne, it's another Orgatec – the leading biennial trade fair specialising in design for the office and other work environments.
A less-than-rosy economic climate means a number of things. Chief among them perhaps is that we all have to work smarter than before.
This year's Orgatec, with its emphasis on flexible, future-proofed office spaces, responds to this imperative, presenting some of the most innovative furniture, lighting, flooring and room-acoustics designs from over 600 international manufacturers.
In this special issue of your faithful Architonic Newsletter, you'll find:
Architonic teams up with EasternGraphics to offer second-to-none planning support
Architonic Guide Orgatec 2012: the ultimate guide to the Cologne fair
It's off to work we go: Orgatec 2012 opens its doors
Work hard, play hard: Architonic Disco in Cologne during Orgatec 2012
Architonic Concept Space IV: Beat Karrer's compelling design installed at Orgatec
'Best Contract Design Products' App launch at Orgatec 2012
As ever, Architonic will be at Orgatec with its design-led Architonic Concept Space (Hall 9, Booth A70/B71), so hope to see you there, whether you're an Architonic member, a friend or a friend we've yet to meet.
Go get inspired!

Your Architonic Team
Zurich | Milan | Barcelona | Berlin | Cologne | Copenhagen | Stockholm | London

Advertisement

Architonic launches pilot project with EasternGraphics, Vitra and Bene: CAD files you can configure online and then download
Architonic's commitment to making the research and planning process as painless and effective as possible takes a major step forward through its new partnership with number-one visualisation-software developers Eastern Graphics. We're delighted to have secured Bene and Vitra as innovation partners for this exciting development.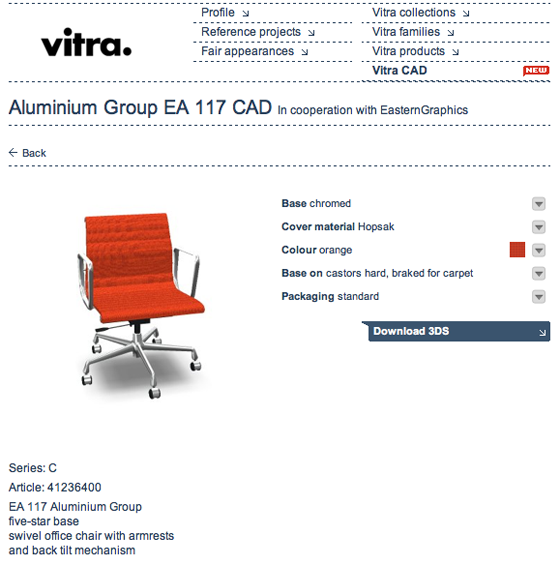 The CAD configurator by EasternGraphics on Architonic
Reflecting our ongoing goal to make the research and planning process as efficient and inspiring as possible, we're piloting an exciting project through our smart, new partnership with pioneering visualisation-software company EasternGraphics, that allows you to configure any product that you find on Architonic (say, an office chair), just how you want it (for example, colour and finish – albeit subject to the permutations available) and to download the tailored visual as a 3ds CAD file.
What's more, we are now able to offer configurations of different products, put together by experts, as dwg files: various conference settings, proven workspace arrangements, etc.
Starting with our two innovation partners for this project – leading design brands Bene and Vitra – Architonic is integrating EasternGraphics' brilliant configuration tool into its extensive product database.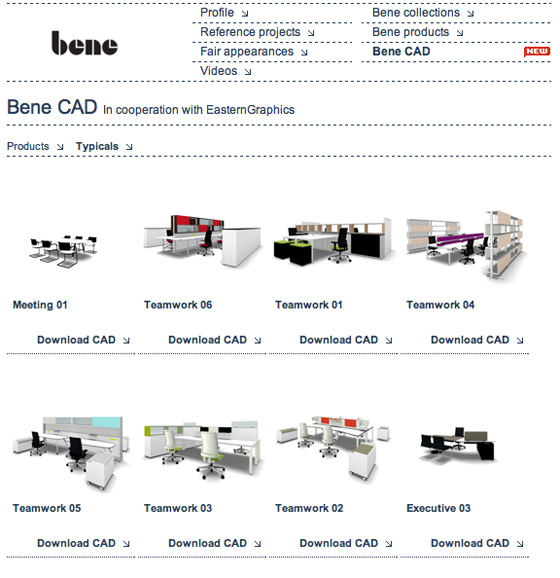 Architonic's new product-configurator tool will be launched at the Orgatec fair in Cologne. Make your way to Architonic (Hall 9, Stand A70) or to EasternGraphics (Hall 8, Stand C48) for a one-to-one demonstration!

Advertisement

Architonic Guide Orgatec 2012: the ultimate guide to the Cologne fair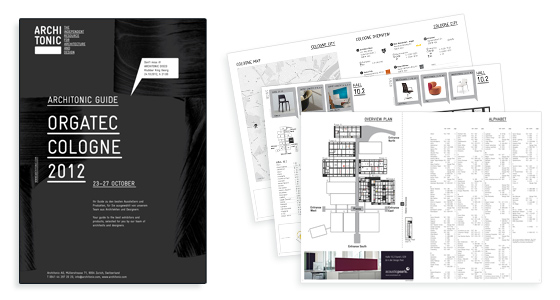 You know what it's like. You always leave a trade fair feeling as if you've missed something.
Fear not. The Architonic Guide Orgatec 2012 will ensure you keep on top of everything that's going on at the Cologne fair, as well as in the city, including who's showing at Design Post and what's happening at our members' city locations. Special events of interest to architects are also featured.
The Architonic Guide Orgatec 2012 is available for you to download as a PDF, or to pick up in printed form at the Architonic Concept Space (Hall 9, Booth A70/B71), so there's no excuse not to be fully armed. 

Advertisement

It's off to work we go: Orgatec 2012 opens its doors 
The world of work. We're all (if we're lucky) participants in it.
The extent to which the design of our work spaces affect the way we work and, indeed, the way we feel about ourselves, is not to be underestimated. From Frederick Winslow Taylor's time-and-motion studies of the late 19th century, with their emphasis on productivity, to the ever-growing body of research in the field of environmental psychology, the link between space, action and emotion is clear.
Orgatec 2012 throws a spotlight on this relationship. With its 100,000 square metres of exhibition space and over 600 exhibitors from the furniture, lighting, flooring and acoustic-design sectors, it is the number-one destination world-wide for innovation and inspiration in contemporary office design.
As every year, it's dynamic rather than static, with an engaging events programme running alongside the main exhibition.
Trendforum is a series of talks where opinion-forming experts from the fields of business, architecture, interior design, planning and consulting, discuss current trends and best-practice examples from the world of modern-office design. If you want the inside track on what the working environment of the future might look like, you know where to head.
Insight Cologne is back for a second time (due to popular demand, as they used to say). Hosted by Koelmesse in conjunction with Orgatec, Insight Cologne takes visitors on an exclusive night-time journey through some of the city's most striking offices in terms of architecture and interiors. Opening their doors are 15 companies that have taken a concept-led approach to the design of their work environments. Divided into three categories – New Office Concepts and Architecture Trends, Sustainably Developed Offices and Buildings, and Expertly Revitalised Buildings – this is event is a must.
Competence Centres. With one for lighting, one for acoustics and one for media technology, here's where you'll discover the latest concepts and meet potential customers and other contacts interested in the same specialist area.
The SIX-TO-NINE Party is an opportunity for all visitors, exhibitors and members of the press to get it together on the first day of the fair. In a purely platonic way, you understand.
….
Orgatec 2012
Tuesday 23 to Sunday 27 October
9am to 6pm daily
Koelnmesse / Cologne Fairgrounds

Advertisement

Work those moves: Architonic Disco at the King Georg during Orgatec 2012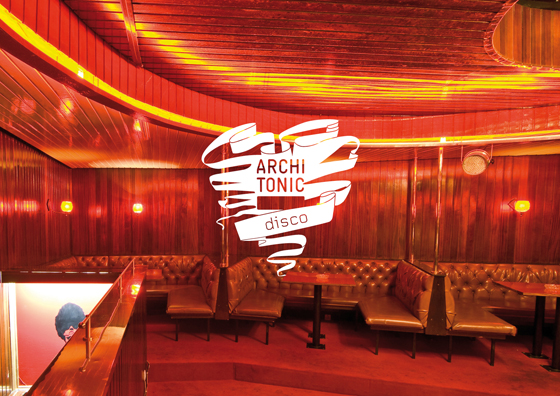 If you haven't been to an Architonic Disco before, then where have you been?
Taking up residence again – this time for one night only – at the unique King Georg bar in Cologne, it's the perfect opportunity to let your hair down after a long day at the Orgatec fair and to make new contacts. (We'll leave it up to you to decide if you'd prefer them to be professional or personal...)
As ever, there'll be cool sounds spun by our Zurich based DJ Animal Trainer, delicious gin and tonic (courtesy of Monkey 47 gin and Thomas Henry tonic water) and the best company Cologne has to offer.
You can pick up an invitation at the Architonic Concept Space at Orgatec (Hall 9, Booth A70).
Don't forget to bring some business cards with you.
….
Architonic Disco
24 October 2012
From 9pm
Klubbar King Georg
Sudermanstrasse 2
50670 Cologne
Entry with invitation

Advertisement

Architonic Concept Space IV presents FluidSolids® - the materials innovation
FluidSolids® is a composite material consisting of renewable natural raw materials. It is made up of fibre, filling materials and a binding agent. All of these materials are generated as industrial waste in the processing of renewable raw materials. As a result no agricultural land is used for the production of FluidSolids®. As a material FluidSolids® is also free from odours and emissions, and is biologically degradable.
Architonic Concept Space IV
An ecological alternative to conventional materials 
FluidSolids® was developed by the Zurich designer and materials expert Beat Karrer. His work has always displayed a fascination for materials and production technology, often creating the starting point for the development of new applications, typologies and forms. In the design of a product the material which is selected plays a decisive role, not just with regard to its appearance but also in terms of the product's construction and production, and consequently also its price. The search for the right innovative and sustainable material, however, has always proved difficult. Now, in the form of FluidSolids®, the designer has been able to develop a substance which represents a real alternative to conventional production materials.
Material properties which can be programmed
In developing the material, Beat Karrer's aim was to create an innovative material that would provide decisive added value. It was to make products and applications more flexible, stable, sustainable and cost efficient. The result was the composite FluidSolids®, which meets all these requirements at the same time.
A significant advantage is the fact that the properties of the material can be programmed. Depending on the individual requirement the material can be adapted with regard to the production technology which is applied, the desired physical properties, the necessary durability and the specific surface finish. FluidSolids® can be cast and extruded, integrated into existing production processes or even processed in a wide diversity of ways as a semi-finished product. As a result, FluidSolids® has a wide and flexible range of applications and can be used in the manufacture of the most diverse product spectrum.


'Best Contract Design Products' App launch at Orgatec 2012 
The Architonic Best Contract Design Products App presents more than 25,000 design products for the contract market, ranging from seating, office systems and lighting right through to flooring and fabrics. The app displays products from premium segment brands only, including, among many others, Artemide, B&B Italia, Carpet Concept, Knoll International, Kvadrat, Poltrona Frau, Tecno, Vitra, Walter Knoll and Wilkhahn.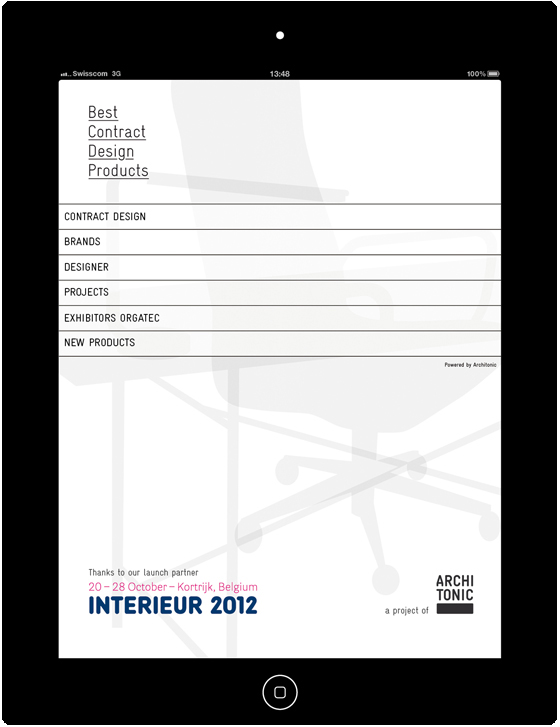 For each product you'll find images of product variants and typical applications, in addition to being able to send direct enquiries about catalogues, prices and stockists. Many products are also presented within the framework of projects by international architects.
The intuitive navigation by product group, manufacturer, designer or free-text search provides you with fast search results anywhere and at any time. As a result you can use the app either as a private design enthusiast, or for business purposes as a planner or architect.
An integrated QR-code scanner enables the products that are exhibited by our retail partners to be linked to the background information in our database.
The app is suitable for iPhone, iPad and iPod Touch.


Copyright © 2012 Architonic AG, All rights reserved.

You are receiving this newsletter because you subscribed on www.architonic.com or granted permission at a fair or by e-mail. Sie erhalten diesen Newsletter, weil Sie ihn auf www.architonic.com abonniert haben, oder uns anderweitig hierzu Genehmigung erteilt haben.