Text by Nora Schmidt
Berlin, Germany
An interview with Marianne Panton and Rina Troxler, Verner Pantons longtime assistant
They worked alongside him for many years: Marianne Panton was not just Verner Panton's wife, she was also his manager and confidante for the major part of his creative phase. Rina Troxler has now worked for the Panton family for over thirty years. She began working for Verner Panton in 1978 and after his death she systematically built up a comprehensive archive of his work together with Marianne Panton. We met Verner Panton's two companions in Basle for this fascinating and revealing interview.

Against all expectations the colour of your furnishings is relatively restrained, even if you do have lots of Panton furniture.
Marianne Panton: After Verner died I very quickly felt the need to leave the home we had shared together. It was much too big for me. In this new apartment I had to adjust for the first time to a future without Verner, and I didn't know what this future would bring. The last thing I wanted to do was to begin painting the apartment, so I've been living here for almost ten years between white walls, but surrounded by Panton furniture and objects.
Rina Troxler: If Verner were to enter the room he would throw up his hands in horror and shout: "Frau Troxler, bring me some red paint!"

You spent a large part of your life living with Verner Panton here in Basle. Why didn't he stay in Denmark? After all, in those days Scandinavian design was all the rage.
MP: That's very simple. In Denmark we didn't find any manufacturers who were prepared in those days to produce Verner's idiosyncratic and visionary designs. It may sound surprising today, but in the early days it was a constant struggle.

After completing his training Verner Panton worked at the studio of Arne Jacobsen. How did the established designers of Danish modernism react to Verner Panton's extravagance?
MP: Naturally some people reacted very negatively, but Arne Jacobsen was enthusiastic. He even travelled specially to Cologne in order to view the Visiona 2 exhibition. And until Verner's death Hans J. Wegner was a very close friend.
Mrs Panton, you weren't just Verner Panton's wife and closest confidante, but to some extent also his manager.
MP: In particular at the beginning I took care of all the correspondence. I also went everywhere with Verner and took part in negotiations and so on. However, I didn't get involved in his creative work in any way. Of course I was able to express my opinion, but he didn't often listen to me.
RT: But that was the same with everybody. He always asked you what you thought about his designs, but when it came down to it he didn't want to hear any objections. So when we thought that something was really going too far, we looked for other ways to talk him out of it.
MP: I remember very well when he worked on Visiona 0 and 2. When I saw his designs and models and the carpet patterns on the walls and floor, I thought to myself: "For heaven's sake, this is going to be a scandal. After all, in those days beige and mustard yellow were the omnipresent colours. Fortunately my conservative objections were ignored, because when I saw the finished exhibition I thought it was fantastic.

It sounds a little as if the two of you were the ones who had your feet on the ground in the whole enterprise.
RT: Verner could be very impatient and short tempered, and then it was my main task to calm him down.
MP: Yes, he could be very undiplomatic. He then sometimes said: "I can't work with people I don't like." I often had to encourage him to overcome his feelings and that could be a real strain. Of course his designs constantly met with resistance. Verner couldn't stand it when people told him that his designs couldn't be realised but then failed to offer him an alternative solution.
RT: Verner spent years looking for a producer for the Panton Chair, and after production of the chair finally began in 1967, he never again accepted the statement that "it can't be done".

Obviously he touched a chord with people. Was Verner Panton aware that the time was right for a change in style?
MP: It hadn't been so long after the shock of the Second World War, and I believe that people were yearning for bright colours, but above all it Verner's personal vision that was right for the era.

Was it then in the last analysis the cooperation with Vitra which brought the two of you to Basle?
MP: Well, it should first be mentioned that even for the Panton Chair we spent years looking for a manufacturer. Thanks to the Fehlbaum family and Vitra we were finally able to carry out this project successfully. In addition for other projects, we still had further contacts in France and Germany. It was therefore geographically very favourable for us to live here.
RT: In Germany companies at the time were much more ready to take risks when it came to design. A lot of energy and money was invested in developments which looked to the future, much more than was the case in Scandinavia.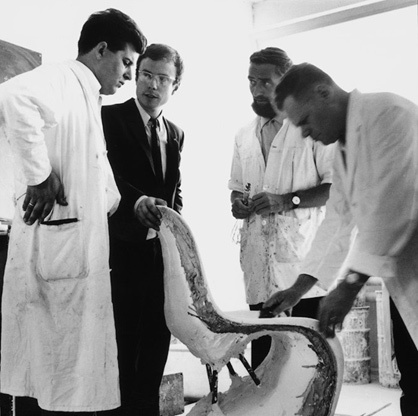 Development of the Panton Chair at Vitra, ca. 1966, Manfred Diebold (head of development), Rolf Fehlbaum and Verner Panton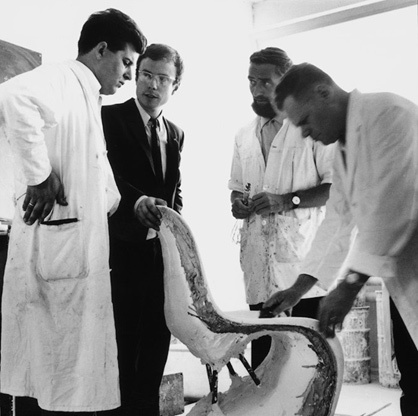 Development of the Panton Chair at Vitra, ca. 1966, Manfred Diebold (head of development), Rolf Fehlbaum and Verner Panton
×
Here in Basle you administer a very extensive archive of all of Verner Panton's work. When did you begin to collect this material?
RT: Mrs Panton tried from the very beginning to collect everything that appeared, newspaper clippings, sketches and so on. Verner himself on the other hand always tended to put finished work behind him, because for him it belonged to the past. It was no longer of any interest, and he was already thinking about the next project. After his death we then began to build up the archive systematically.

When did you have the idea of opening the archive to the public in an online portal?
MP: The idea of publication came in a brainstorming session with 'our' producers on the one hand and Carin and her husband on the other.
RT: However, we started digitalising the archive years ago.
MP: After all, we're familiar with all of Verner's designs and know every sketch and prototype he made. This knowledge will be preserved in the online archive, which will be managed by my daughter Carin. A section of this archive will be open to the public, while a further part will be accessible only to researchers and the press, for example.
Wouldn't it have been strange for a visionary like Verner Panton to see his designs being still produced, and people sitting on furniture which he designed back in the Sixties?
MP: Definitely. Verner may have been everything other than nostalgic, but he would have been very pleased that even in terms of contemporary design, his own creations are still regarded as modern and 'in'.
RT: At the same time it shouldn't be forgotten that thanks to new production technology and advanced materials, some of Verner's designs can only today be produced in the way he originally envisaged. In those days technology often wasn't sophisticated enough to keep up with Verner's imagination. Let's take the VP Globe. It was of course possible to produce the lamp at the time, but this new edition has turned out to be really perfect. Or the Panton Chair - it was never the intention for it to be elitist, but only in the new edition has it been possible to make the chair available at an affordable price.

In the Eighties things quietened down around Verner Panton, but then in the Nineties he was once more very much in demand, shortly before his death.
MP: Yes, when he made a speech at the architectural college in Aarhus his young audience responded with enthusiasm.
RT: Although it can be said that he wasn't a first-class speaker. On the other hand he had a lot of charisma, a good sense of humour and was able to laugh about himself and his designs. This is what people liked about him.
MP: This appearance also resulted in the contact with the Trapholt Museum, where Verner held the last exhibition which he conceived himself. He died only a few days before it opened. Rina and I finally completed the exhibition and it was this task that helped me get over the initial shock of his death.
The opening was a wonderful farewell to Verner. All his friends were there and the atmosphere was a wonderful one.

Mrs Panton and Mrs Troxler, thank you very much for talking to us.

The interview was carried out by Nora Schmidt and Christina Barthelmie