Questions To Ask When Selecting Flooring
Text by James Wormald
United Kingdom
14.09.21
The material underneath your feet is arguably the most crucial part of any interior. Here are the questions specifiers need to consider, when selecting the perfect floor covering for their project.
The style and atmosphere of an interior literally rest on one product more than any other – the floor. When selecting the perfect flooring or carpet to suit your latest project, specifiers need to consider a range of questions for the room. Various colours, patterns and styles are available across all materials, so requirements like coverage, traffic, maintenance and durability – rather than aesthetic – really dictate the answer to that first question:
Which Flooring Type Is Right For You?
The three most common types of flooring for modern interiors are the warm, natural grain of wood flooring; the soft, cosy feel of plush carpet; or the cool, stable performance of ceramic tiles.
Wood Floor
A wood floor provides a popular compromise between durability, maintenance, warmth and style. With so many different options on the market, it's possible to complement any interior with wood flooring, but it's not easy. Here are the considerations wood flooring buyers need to ask: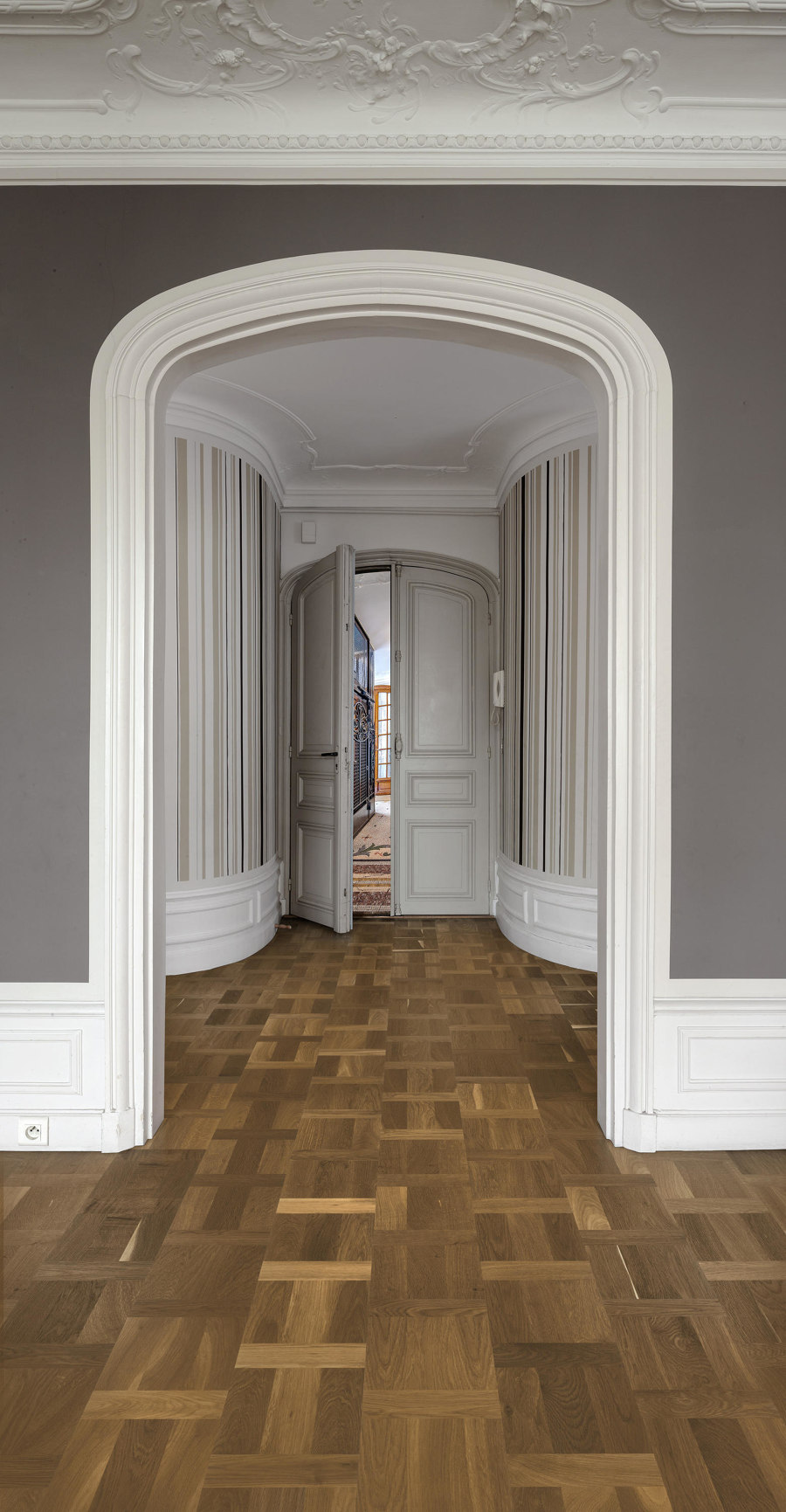 Top: Landhausdiele Edelkastanie by Trapa. Above: European Renaissance by Kährs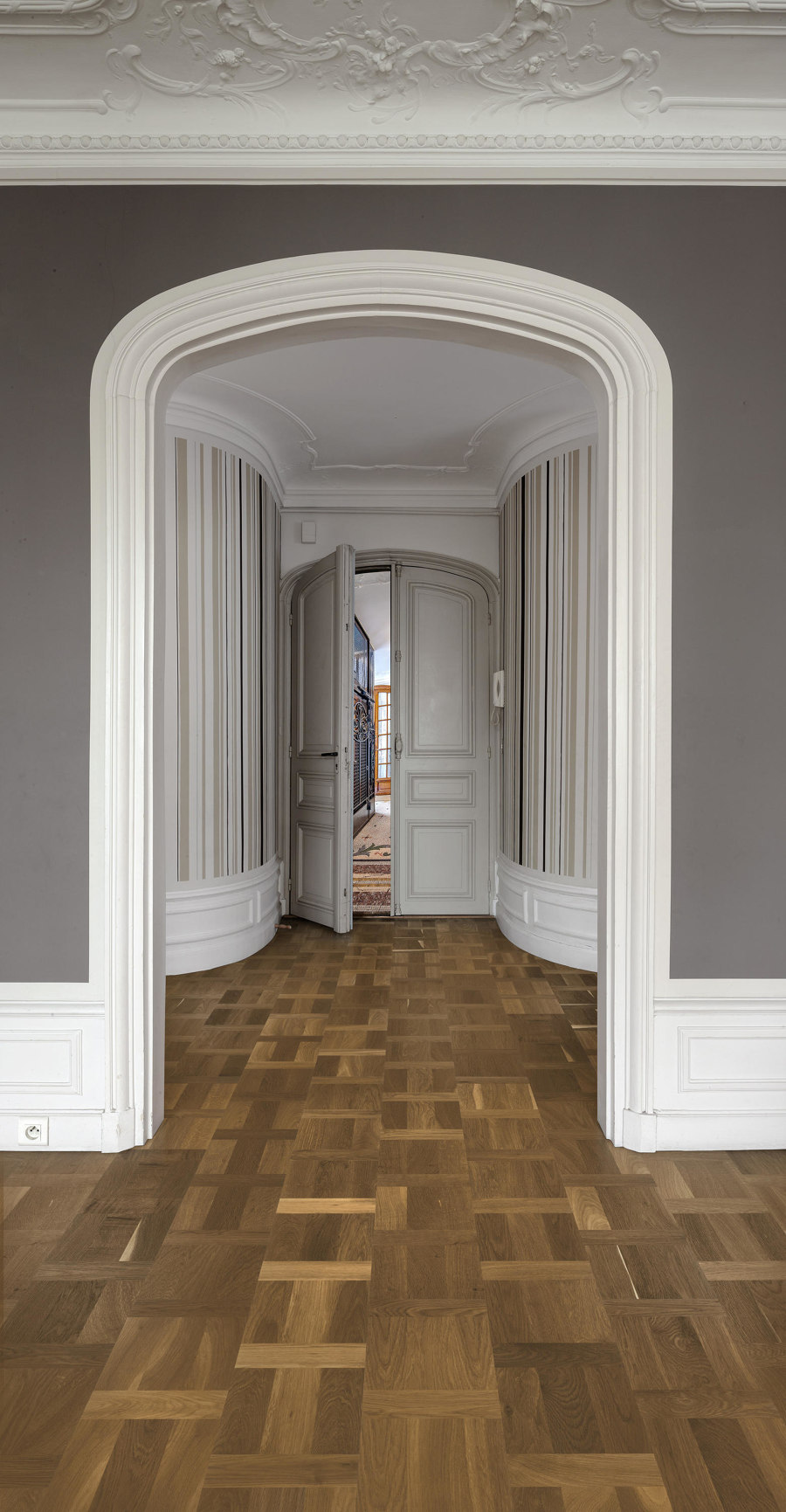 Top: Landhausdiele Edelkastanie by Trapa. Above: European Renaissance by Kährs
×
Which Type of Wood?
Almost every type of wood is grown, cut and made into flooring, with a hugely expressive swatch book of colours, grains and characters available. For example, a light, plain, maple wood floor brings a canvas backdrop to a room's bold features, ash and beech are also light, but with warmth and tone variation, larch wood has a very knotty character, chestnut floors, like the Landhausdiele Edelkastanie range from Trapa, are thick with a prominent grain, walnut is wonderfully dark and rich, but, thanks to its durability and acceptance of various stains, the most popular and varied wood for the floor is oak, like European Renaissance from Kährs.
Solid or Engineered Wood?
Solid wood is one block of hardwood – top to bottom, while engineered wood is a composite of a more stable and moisture-resistant core board with a thin veneer of hardwood on its surface. Engineered wood products like Oak Mocaccino by Itlas enjoy other practical advantages like simple installation and suitability for soundproofing or underfloor heating. But many clients still prefer the assurance of walking on thick, solid-wood flooring like GrandPattern from DINESEN, which can be sanded again and again for a like-new surface.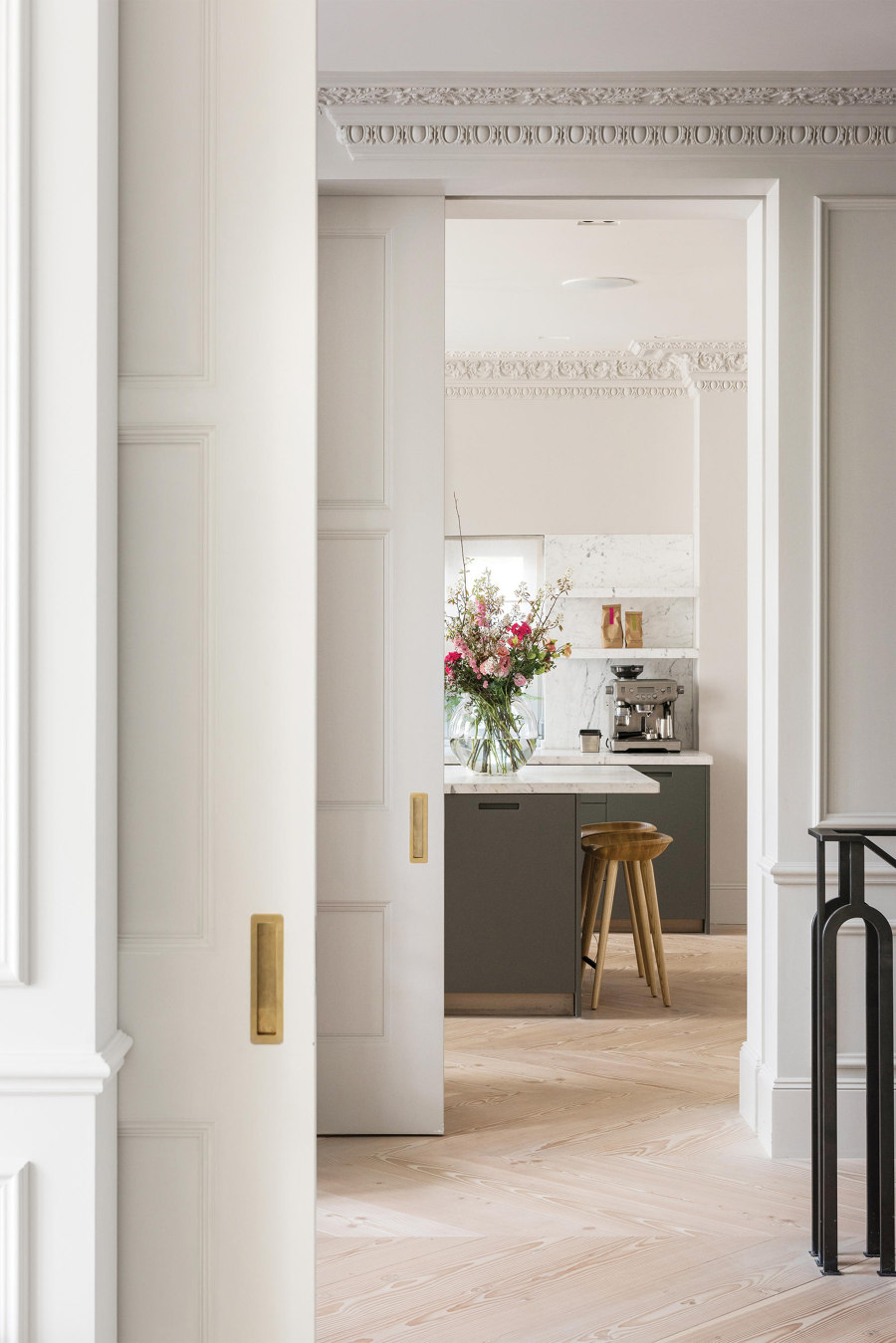 Top: Oak Mocaccino by Itlas. Above: GrandPattern by DINESEN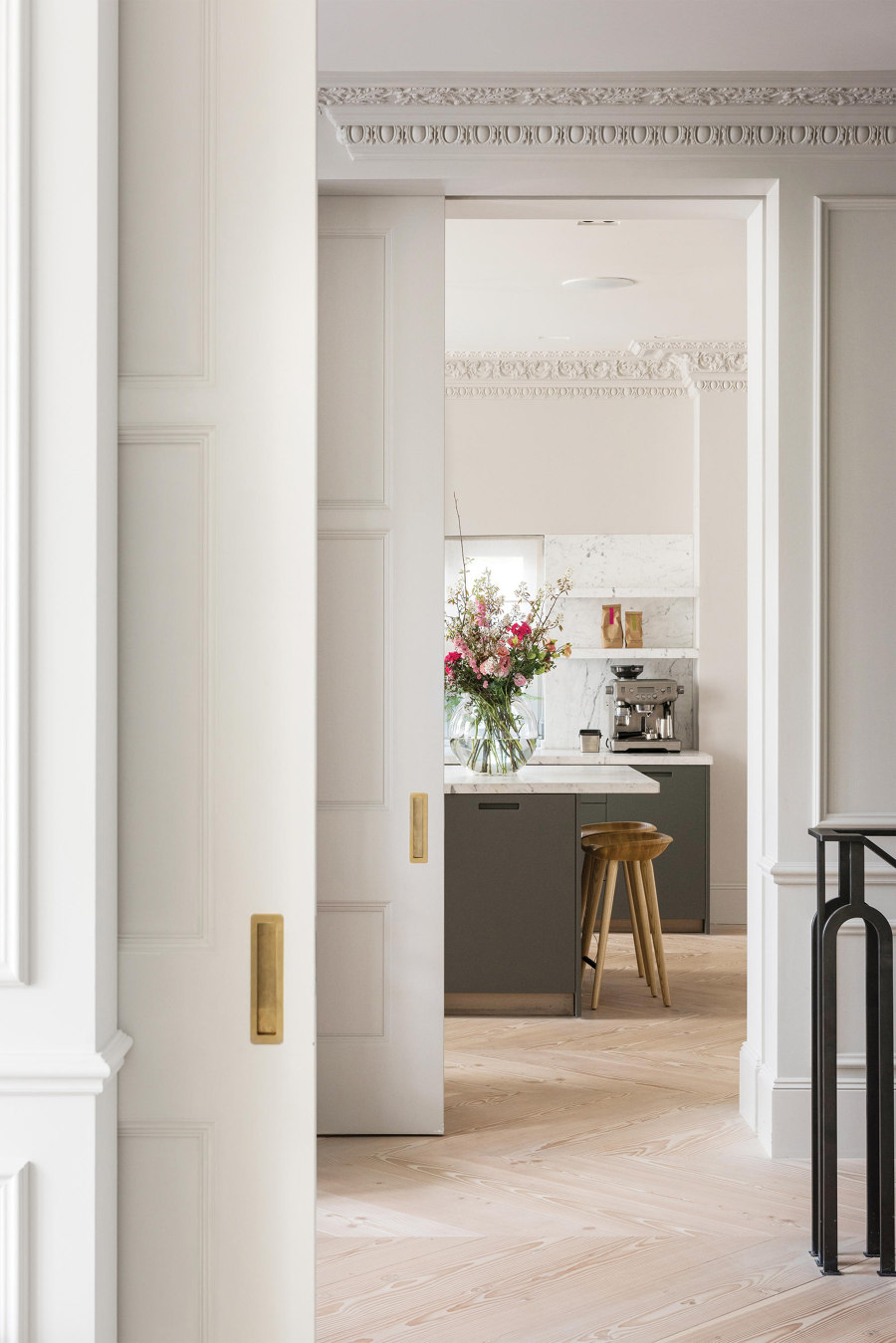 Top: Oak Mocaccino by Itlas. Above: GrandPattern by DINESEN
×
Oil or Lacquer?
Natural oil penetrates the wood and leaves a naturally matte surface, while lacquers – available in gloss, silk or matte – give wood flooring more resilience to damage and staining. With more immediate resilience, wood flooring with lacquered finishes such as Cleverpark by Bauwerk Parkett are best for smaller projects with low traffic and minor damage, such as family homes. Meanwhile, for higher traffic public spaces, natural oil finished products like FLOORs Oak from Admonter Holzindustrie makes the inevitable scratches less noticeable and easier to fix.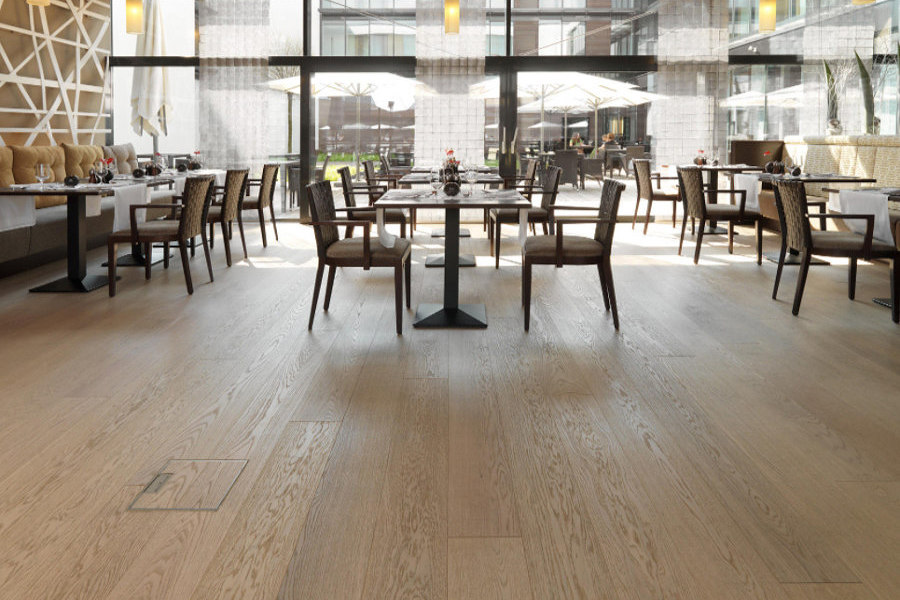 Top: Cleverpark by Bauwerk Parkett. Above: FLOORs Oak by Admonter Holzindustrie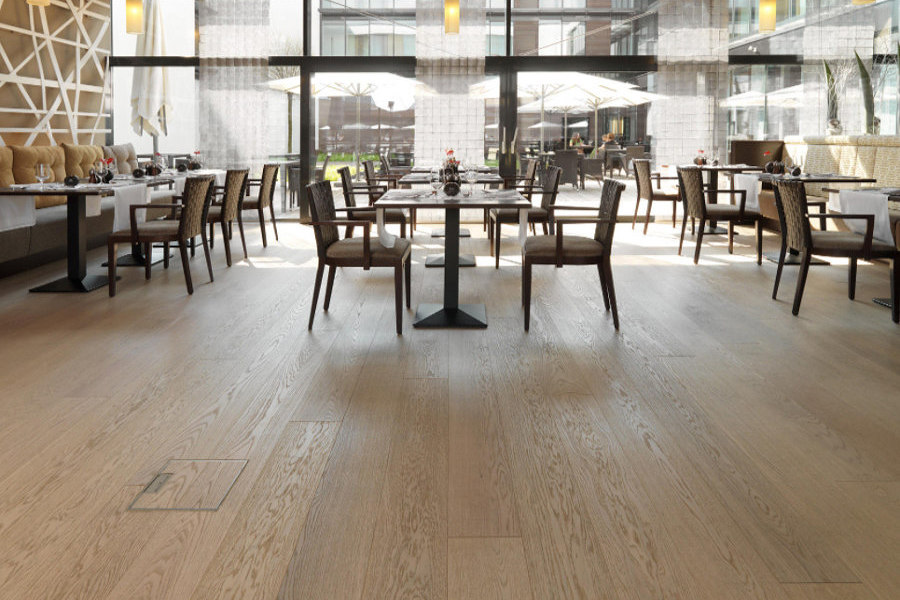 Top: Cleverpark by Bauwerk Parkett. Above: FLOORs Oak by Admonter Holzindustrie
×
Carpet Floor
Nothing quite matches the gentle, luxurious feel of a new carpet. The thicker and softer the material, however, the less durable and unsuitable to high-traffic contract projects. Here are the considerations for specifiers of carpet:
Wall-To-Wall Carpet or Tiles?
As the standard for most smaller residential projects, wall-to-wall carpets come in large rolls that run from one end of the room to the other. With fewer joints, vast and ranging designs can be specified like Superior 1020 by Vorwerk. With less waste, however, projects that utilise carpet tiles also benefit from a reduction in maintenance costs – one spillage means replacing one tile, not the whole room. While instead of a pattern-matching nightmare, the tiles can even become part of the design, as with the Fluid& carpet tiles by modulyss.
Tufted, Knotted or Woven Carpet?
Tufted carpets are made by pulling the thread through its backing before shearing to form exposed tufts, knotted carpets cut the thread after making small knots for a more durable finish, while woven carpets keep their plush appearance for longer, making them more suitable to both high-traffic and high-end luxury projects.
Ceramic Floor
Ceramic tiles offer fantastic natural waterproof and thermal protection. One of the strongest and most durable materials, ceramic tiles come in a huge range of shapes, sizes and patterns. Here are the considerations for specifiers thinking about ceramics floors:
Individual Tile Design - Colours: Plain or Patterned
Bold, maximalist palettes and intricate patterns, like this Antichi Decori series by Ceramica Francesco De Maio, are a hot trend right now, but while a striking accent colour might perfectly complement the bathroom accessories, ceramic tiles are likely to remain for longer than the soap dispenser, so a more neutral design scheme like Ultrawhite from Cotto d'Este could prove more stylishly durable in the long-term.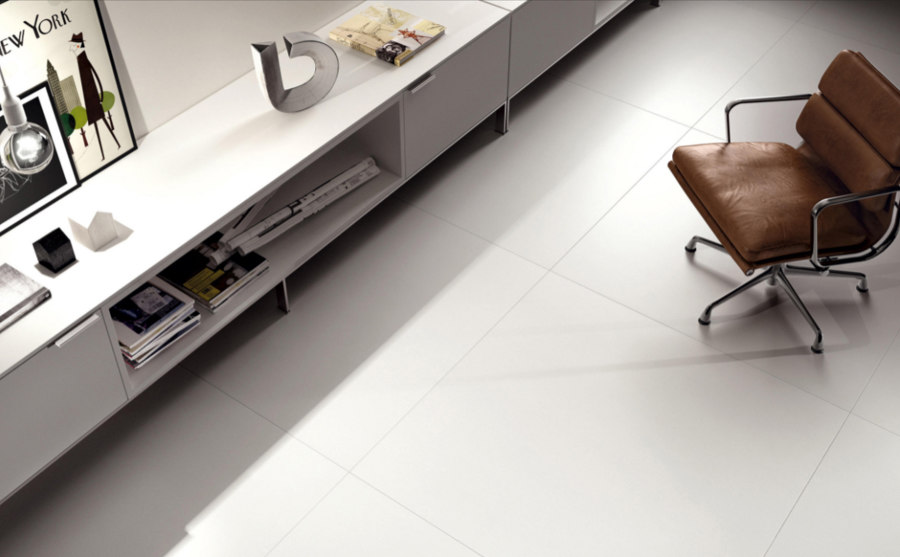 Top: Antichi Decori by Ceramica Francesco De Maio. Above: Ultrawhite by Cotto d'Este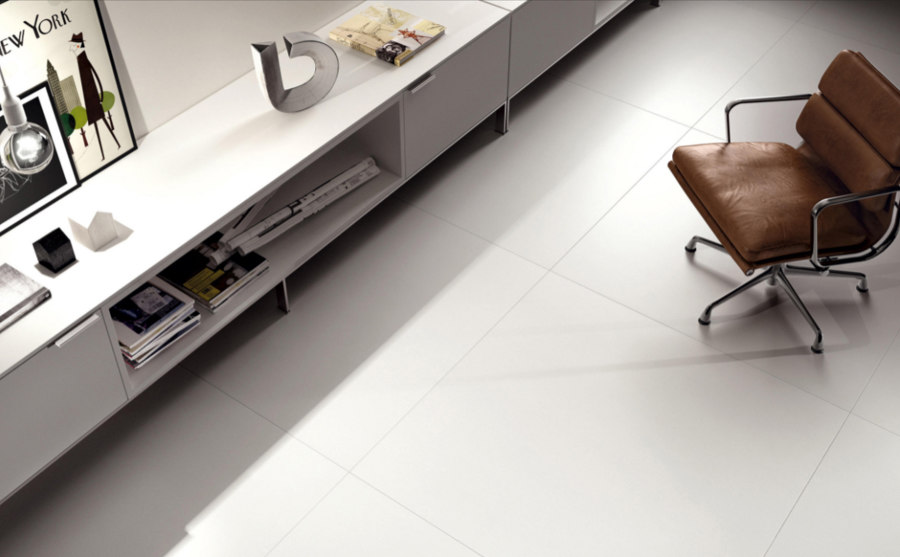 Top: Antichi Decori by Ceramica Francesco De Maio. Above: Ultrawhite by Cotto d'Este
×
Overall Floor Design: Shape, Size and Grout
Larger tiles mean fewer grout lines, which brings the illusion of more space. That's great for small spaces or for highlighting the ceramic texture in large spaces, but a lot of pattern-creating fun can be had with smaller or more geometric tiles like Gone Roman from Ornamenta. Combine them with a matching or contrasting grout colour, and there's no end to the creative possibilities.
Vinyl: Synthetic Imitator
Although stunning, these main flooring options share the drawback of compromising durability for beauty. Vinyl flooring, however, gives the convincing performance of wood, carpet or ceramic, while allowing little wear and remaining completely waterproof – even underneath standing water.
Special-Use Flooring
There are few occasions where no off-the-shelf flooring product will do, and the situation requires a custom solution. For example, contract floors with special requirements, such as presentation stages or showrooms, call for a quality raised floor or a reinforced flooring system. Meanwhile, talking of custom flooring requirements, ASB GlassFloor's LumiFlex product creates a limitless glass floor with audio/visual capability – like walking on a giant TV screen.
Specifiers can tread the boards of Architonic's product database to find these, and more incredible flooring options for inspiration and consideration.