Buy-In: the Top 5 trends in retail design
Text by EHI Retail Institute
Cologne, Germany
Germany's EHI Retail Institute announces the Top 5 trends in retail design internationally.
Based on the entries for the EuroShop RetailDesign Award 2016 EHI has identified the top five trends in international retail design.
Identity
Furnishing details like personal items, pieces of art or everyday objects make it possible to set individual accents. The stores are seen as a stage and feature an iconic architecture. Detailed, creative and exceptional visual merchandising goes into making the stage setting. All of this can be integrated in highly standardised store concepts.
Authenticity
Natural and authentic materials play a central role in store concepts. Wood is a favourite material for constructing ceilings and floorings. It gives the stores a warmer and more genuine atmosphere.
Story-telling / Curated Retailing
Modern stores tell stories – it could be the history of a location or a product and its special heritage. It could be a making-of story, or it could be a story around a curated collection. The heart of successful retailing still lies in creating a coherent and compelling assortment that guides customers. Today the consumer's ability to access goods from a very broad (and global) variety of providers is still growing. Curated retailing offers the customer a pre-selection by grouping together products across existing categories and product lines, creating new lifestyle words.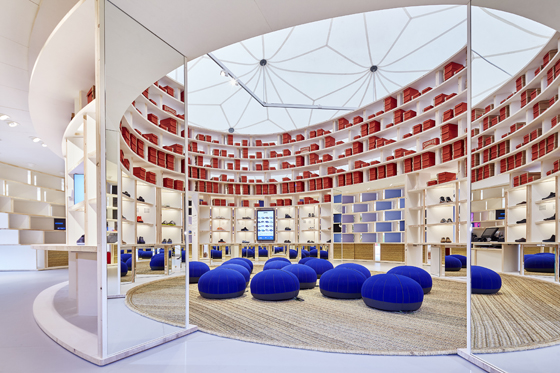 Vitra and Camper Pop-Up, Weil am Rhein, Germany; photos: Eduardo Perez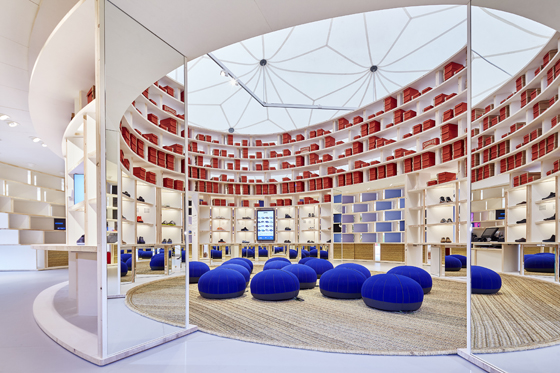 Vitra and Camper Pop-Up, Weil am Rhein, Germany; photos: Eduardo Perez
×
Hybrid Spaces
Various additional services like personal style and beauty services, including hair dressers, running analyses or ticket booths, create an environment that encourages shoppers to linger and gives them reasons to return. Food services, cafés and restaurants also make customers feel like guests. Thus modern stores become hybrid spaces, mixing traditional retail, tasteful catering, personal services, art galleries, literary readings and lots more. Modern shopping is social shopping: retailers interact with their customers to make their shopping experience a personal one which they will never have online.
Digitisation
Digitisation has also become an important part of store design. Among the submissions there are many excellent examples where stage settings and screen feeds have been perfectly synchronised and merge to a creative unit. Online tools are being adopted for in-store use to bring the immediacy of online shopping into the brick and mortar world, including opportunities for customers to create a product that is truly their own. In-store technology provides customers with more choice, more access and more information than ever before.