Architonic continuously checks the pulse of the markets. Our team visited the key trade shows and design events this autumn to meet the top design brands.
We spoke to nearly 100 industry professionals for a few insights into the latest market developments over the past twelve months, seen from the expert's point of view. For this interview marathon, we visited the autumn edition of Maison et Objet - major French trade fair for interior design in Paris, the London Design Festival, and the Cersaie international exhibition of ceramic tile and bathroom furnishings in Bologna. The evaluation shows both clear directions and some surprising results.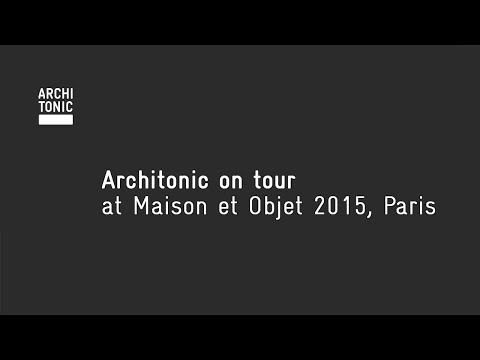 Architonic on tour: M&O 2015 in Paris - Video © Architonic
The regional market with the highest growth development of the last 12 months was clearly Europe, with 40% of all mentions, followed by North America and Asia with 18% being a close second. In relation to these large competitors, Russia, Middle and South America have rather weak market positions this year.
As we can see most manufacturers are very focused on European areas like Germany, UK, France or Scandinavia. In the end these countries and regions are mentioned 96 times. Only the USA are referenced more when it comes to single countries as growth markets with 37 recorded votes. But the Middle East is getting more and more attention on the global market, above all Dubai, Qatar and Turkey, with similar results for East Asia with its strongest area of Hong Kong and Singapore.
When asked about fragile markets most of the manufacturers are not pointing out specific markets or luckily they have not felt any lack in certain markets. For most of the companies, the main focus is less on capturing markets, but presenting their products and themselves in the best way possible anytime.

When it comes to certain fragile markets 12% of our interviewees mentioned Russia. They noticed some decreasing, but believe in future improvement. Although Germany is a very popular market, some foreign companies seem to have difficulties to enter the market. The main reason mentioned is the long tradition of German manufacturers themselves and therefore their own strong brands.
Most of the asked manufacturers, around 25% have their headquarters in Italy, followed by Belgium, Denmark, Germany and France. So all in all 64% of the interviewed industry representatives are located in Central Europe.
The following graphics demonstrate the different industry categories in which the interviewed brands are specialized in, as well as the location of their headquarters. Manufacturers for lighting, objects and accessories are mainly located in Denmark. Furniture producers are primarily based in Belgium, whereas the bulk of tile and mosaic brands come from Italy.
We would like to thank everyone who participated!