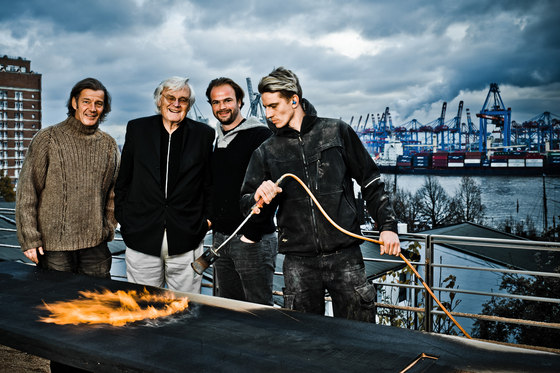 Photographer: Meinhard von Gerkan
Copyright© von Gerkan, Markus Tedeskino
Photographer: Meinhard von Gerkan
Copyright© von Gerkan, Markus Tedeskino
Photographer: Meinhard von Gerkan
Copyright© von Gerkan, Markus Tedeskino
Spectacular live performance on site — The tabletop blank is transformed into a Monolith onthe terrace of the Architektur Pavillon. Meinhard von Gerkan is delighted by the trust Janua and Stefan Knopp have in the power ofnature, harnessing it not just for tables, but for works of art.

"I wanted a table with a character all of its own. I looked – and then found at Janua." Meinhard von Gerkan, Architect

In the Architektur Pavillon, there isn't a single right angle. Instead, all sharp corners are rounded off.

Hamburg's Elbchaussee — one Monday
The stunning location is matched by the sensational architecture — Architect Meinhard von Gerkan has crafteda "building of encounters" in the heart of Hamburg's Elbhang. A building that goesabove and beyond convention. A building as individual as it is unconventional — complete with a table from Janua which couldn't be a better fit!

The tabletop blank of the SK 01 Monolith weighs in at 250 kilos. A job for strong men — no wonder the bosses rolled up their sleeves.

Hamburg's Elbchaussee — Making a Monolith on site
Charburning, brushing andoiling — not in the workshop, but at a customer for the first time. The project was a success, and the Janua team was overjoyed. After all, the Monolith will now be bringing fascinating people together around a table in the "building of encounters".

After the spectacular charburning outside, the final touches are applied inside: The special surface refinement treatment gives the table its extraordinary and unique appearance. A feast for the eyes and fingertips: Meinhard von Gerkan and Janua CEO Christian Seisenberger admire the finished Monolith.
Meinhard von Gerkan, Volkmar Sievers
Photographer: Meinhard von Gerkan
Copyright© von Gerkan, Markus Tedeskino
Photographer: Meinhard von Gerkan
Copyright© von Gerkan, Markus Tedeskino
Photographer: Meinhard von Gerkan
Copyright© von Gerkan, Markus Tedeskino
Photographer: Meinhard von Gerkan
Copyright© von Gerkan, Markus Tedeskino