Special Newsletter imm cologne 2013
Dear Readers,
During the third week of January imm cologne, where Architonic made its first public appearance in 2003, takes place again. Of course we will also be on site to celebrate our 10th anniversary and are looking forward to welcoming you at our Concept Space IV by Beat Karrer in the Passage between halls 10 and 11.
Here's a brief overview of the contents of our imm cologne Special Newsletter:
Coming Up: [D3] Design Talents at imm cologne is 10
imm cologne Events 2013
Architonic Guide imm cologne 2013
Architonic Bar imm cologne
New app: Best German Design Brands
Get inspired!
Your Architonic Team
Zurich | Milan | Barcelona | Berlin | Cologne | Copenhagen | Stockholm | London

Advertisement

Coming Up: [D3] Design Talents at imm cologne is 10
More than 500 young and emerging designers have taken to the [D3] Design Talents stage at the Cologne Furniture Fair over the past ten years, presenting their ideas in prototype form to both an industry and a general audience. Architonic takes a look at the show's success stories and considers why exhibitors and visitors alike keep coming back for more.
From [D3] prototype to manufactured product: 'Wooden Carpet' by Elisa Strozyk (produced by böwer)
Before Milan there was Cologne. The Cologne Furniture Fair, or imm cologne, first opened its doors in 1949, a good ten years before its Italian counterpart. But beyond the high-end, international brand names that set up camp annually at the German big-top design show, Cologne has also lead the way in giving young and emerging designers a platform to show their work under their own auspices.
January 2013 marks the tenth edition of [D3] Design Talents, the show-in-show event for young designers that has seen to date over 500 individuals and universities from across the globe present their materially expressed ideas to a talent-spotting public. Supported by the German Design Council (Rat für Formgebung), the [D3] stage has seen a significant number of now well-established design names take to it, in the hope of forging a professional profile for themselves. Benjamin Hubert, Tomas Alonso and Mathias Hahn are just three of the show's illustrious alumni.
[D3] contest winner Harry Thaler's 'Pressed Chair', now produced by Moormann
The key component of [D3] is the contest itself. Students or working designers who are not more than three years past graduating are invited to apply for inclusion in the show, which is judged by an international jury of the design great and good. Last year saw over 800 creative hopefuls submit their ideas for consideration. 'I heard about it through friends first of all before deciding to apply,' says Italian-born, London-based designer Harry Thaler, whose 2D-to-3D 'Pressed Chair' impressed so much at the 2011 outing of [D3] that it scooped joint first prize with Swedish design studio AKKA. 'To be honest, I had no expectation of it at all because there were so many good designers participating.'
'Prater' chair by Marco Dessi (produced by Richard Lampert)

Advertisement

[D³] Design talents
Since 2006 the young designers event of imm cologne is staging every year again numerous innovations and inspiring products either in design as in materials and presents itself again as an important part of the design section at imm cologne 2013.
Both the [D³] Contest and [D³] Professionals will be presented within the Pure Village in Hall 3.1. The [D³] Schools part will show its projects at the Offenbachsaal in Passage 10/11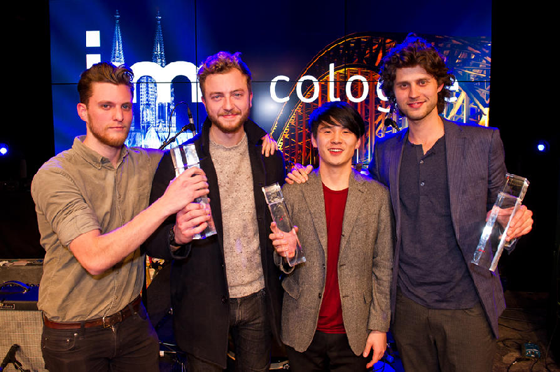 The winners of the 2012 D³ Contest: Marc Bell & Robin Grasby, Lee Sanghyeok, Jolan van der Wiel
Das Haus - Interiors on stage
In Nichetto's "Haus", plants appear as an integral element of the architecture and interior design: in specially created pots, they adorn not just the walls of the façades, the louver-like structure of which is dotted with transparent gaps and spaces for plants; inside too, they take on specific functions that improve the indoor climate. In the form of big plant pools, planted courtyards and integrated terraces, they fill the interior with greenery, allowing its architecture to stage the interplay between indoors and outside.
Luca Nichetto as Guest of Honour presents his personal 'Haus' at imm cologne 2013 as the central installation at the Pure Village in hall 3.1.
Interior Innovation Award
The Interior Innovation Award is one of the most prestigious awards of the furnishing sector world-wide and was launched in 2002 by the imm cologne, which provides the idea behind the competition. The organiser is the German Design Council.
Through this competition the imm cologne and the German Design Council have succeeded in creating an effective tool for corporate positioning and product differentiation for the interior furnishing market. The Interior Innovation Award appraises top innovations in all product areas of this industry sector.
All winners of this year's Interior Innovation Award will be presented in the exhibition Boulevard of Innovations in Hall 3.1 and passage 3/11.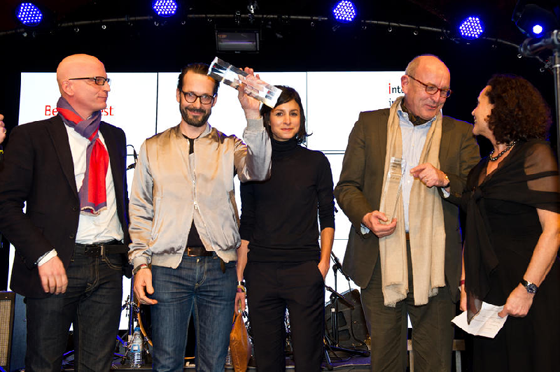 Award Ceremony of the Imm Interior Innovation Award 2012: Frederik Flötotto, Konstantin Grcic, Olivia Herms, Elmar Flötotto, Barbara Friedrich
Cologne Design Night
In January Cologne will again become Germany's design stronghold. At the start of imm cologne/LivingKitchen and the 'Passagen' Interior Design Week the Cologne Design Night will be celebrated at the Rautnestrauch Joest Musuem on 13 January 2013. Together with the partners Architektur& Wohnen, Design Post and the Passage we are expacting the who is who of the international design community to attend this event.
For the first time the winners of the 'Best of Best' Interior Innovation Award, of the [D³] Contest, of the A&W Designer of the Year Award and the Audi Mentor Prize by A&W - will be honoured jointly at one gala.
Architectural tours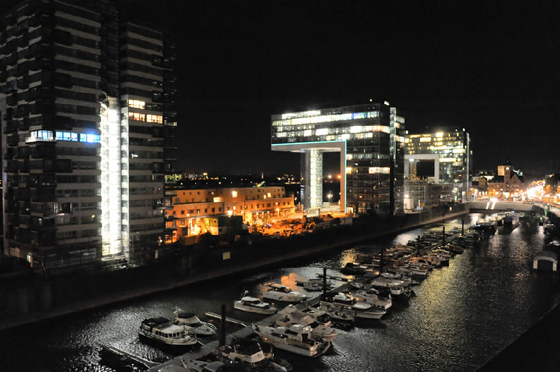 'Kranhäuser' at the Rheinauhafen
Monday, January 14
3 to 5 p.m.
Bus tour: 2000 years of architecture
5:45 to 7 p.m.
Kolumba Art Museum
Tuesday, January 15
2 to 6 p.m.
Zumthor Chapel / Eifel
4 to 6 p.m.
Walking Tour Highlights
Wednesday, January 16
1 to 3 p.m.
Bus tour: 2000 years of architecture
3 to 5 p.m.
Mosque
Thursday, January 17
3 to 5 p.m.
Rheinauhafen
5:30 to 7 p.m.
Kolumba Art Museum
Friday, January 18
4 to 6 p.m.
Walking Tour Highlights
Saturday, January 19
2 to 4 p.m.
Rheinauhafen
3 to 5 p.m.
Mosque

Advertisement

Architonic Guide imm cologne 2013
In the 10 years since the founding of Architonic, the Architonic Guide has established itself as an indispensable trade-fair companion.
Also during the anniversary year, the Architonic Guide allows you to find the best exhibitors quickly. Architonic's selection is purely an editorial one and is limited to high-end manufacturers whose products are visually relevant to the design of buildings and spaces. It's a guide by architects for architects.
To help you prepare your visit to the imm cologne 2013, our Architonic guide is now available for you to download as a PDF file using the link below.
Printed copies will be available free of charge at the stands of selected exhibitors at the fair and from the Architonic Concept Space (Passage between Halls 10/11).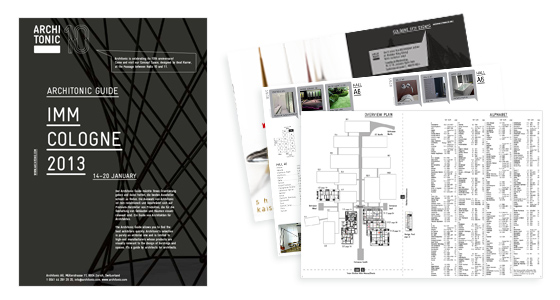 Advertisement

Architonic Bar imm cologne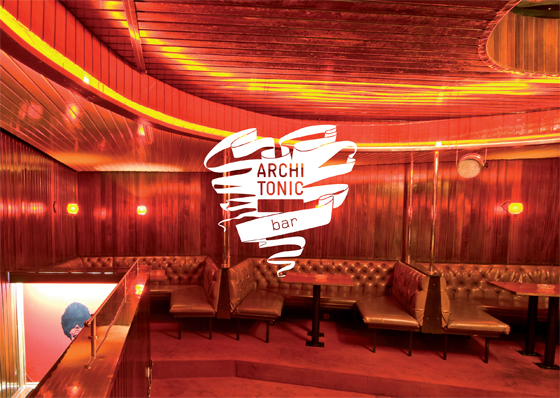 Taking up residence again at the unique King Georg bar in Cologne on  Tuesday and Wednesday 15 and 16 January, Architonic celebrates it's 10th birthday.
As ever, there'll be cool sounds spun by DJ Animal Trainer (Hive Audio, Zurich), delicious gin and tonic (courtesy of Monkey 47 gin and Gents Swiss Roots Tonic Water) and the best company Cologne has to offer.
You can pick up an invitation at the Architonic Concept Space at imm cologne (Passage between Halls 10/11).
….
Architonic Bar
15 & 16 January
From 9pm
Klubbar King Georg
Sudermanstrasse 2
50670 Cologne
Entry with invitation only

Advertisement

New app: Best German Design Brands
As Architonic made its first public appearance at the 2003 edition of imm and Germany ever since remained an important market for Architonic, we will launch the Best German Design Brands app at imm cologne 2013 as part of our anniversary.
The new app presents more than 40'000 design products made in Germany, from furnishings via lamps, flooring and fabrics across to office furniture and contract furnishing. The app only displays products from premium segment brands.
For each product you will find images of product variants and typical applications, as well as the possibility of sending direct enquiries about catalogues, prices and stockists. Many products are also presented within the framework of projects by international architects. The intuitive navigation by product group, manufacturer, designer or free text search provides you with fast search results anywhere and at any time. As a result you can use the app either as a private design enthusiast, or for business purposes as a planner or architect.
The app is suitable for the iPhone, iPad and iPod Touch.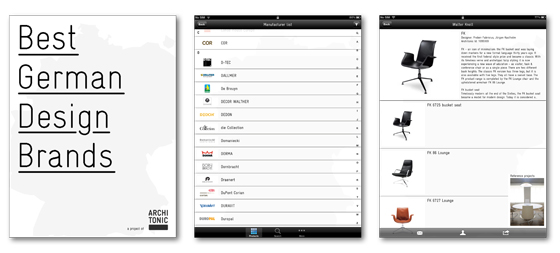 Copyright © 2013 Architonic AG, All rights reserved.

You are receiving this newsletter because you subscribed on www.architonic.com or granted permission at a fair or by e-mail. Sie erhalten diesen Newsletter, weil Sie ihn auf www.architonic.com abonniert haben, oder uns anderweitig hierzu Genehmigung erteilt haben.