Special Newsletter ISH Frankfurt 2013
Dear Readers,
Next Tuesday, ISH – international trade fair for news and innovations in the areas of bathroom design, energy-efficient heating and air-conditioning technology, and renewable energies – throws open its doors once again in Frankfurt am Main. On Thursday evening, the Architonic Bar at ISH opens its doors to mark our 10th anniversary. See below for more information.
Here's a brief overview of the contents of our Special Newsletter ISH Frankfurt 2013:
Taking the Waters: born-again spa and wellness architecture
Preview of ISH 2013 in Frankfurt
Architonic Guide ISH Frankfurt 2013
Architonic Bar ISH Frankfurt 2013
Topical App: Best Bathroom Design Products

Get inspired!
Your Architonic Team
Zurich | Milan | Barcelona | Berlin | Cologne | Copenhagen | Stockholm | London
Saucier + Perrotte Architectes's Scandinave Les Bains Vieux-Montreal; photo Marc Cramer

Advertisement

Taking the Waters: born-again spa and wellness architecture
The spring of architectural creativity is in full flow, with a number of offices internationally adding value to the age-old practice of therapeutic bathing. Here's our selection of the best of the latest spa and wellness architecture. Go ahead. The water's warm.
Both the layout and the material specification of Pascal Arquitectos's Mikve Rajel bathhouse in Mexico City is determined by Jewish religious tradition. Here, the 'mikve' or sunken pool; photo Víctor Benítez
Informed, in equal measure, by the discourses of health and of leisure, the wellness destination or spa has become the non plus ultra of sacred spaces in our modern, adrenaline-filled, stress-addled world.
We're not the first to understand the curative, therapeutic benefits of water, of course. The 18th century saw towns such as Bath (the clue is in the name) in England and Baden-Baden (the clue is doubly in the name) in Germany become popular with the middle classes for their natural spas – one of legacies of such health-meets-socialising tourism being some rather fine architecture. Both places had, in turn, already been known to the Romans for their putative healing waters. Taking the waters is nothing new.
Giant, mullioned picture windows and 7.5-metre-high, curved columns at Smolenicky & Partner's Tamina Therme in Bad Ragaz, Switzerland, make for a counterpoint to the trend in modernist, concrete spa architecture; photos Roland Bernath
What is new, however, is a refocusing on the role that architecture can play in adding experiential value to spa-going, be it in the context of the hotel or as a stand-alone destination. Swiss über-architect Peter Zumthor's quartzite temple to hydrotherapy, the Therme in Vals, Switzerland, has over the past decade become the benchmark for such projects. Putting aside the relative mineral make-up of different natural sources, water is, well, water; what differentiates the experience of spending time in it, and amplifies its restorative effects, are the spaces that are cast around it.

Advertisement

Preview of ISH 2013 in Frankfurt
ISH 2013 – the launching pad for new products for environmentally friendly buildings
ISH from 12 to 16 March offers an overview of the latest products and trends for environmentally-friendly buildings from all over the world. At the world's leading trade fair for the sector in Frankfurt am Main, over 2,300 exhibitors present an unparalleled spectrum from efficient heating and air-conditioning technology combined with renewable energies to sustainable sanitation solutions and innovative bathroom design. The pivotal point of ISH 2013 and, therefore, the focus of all product groups is resource conservation.
ISH tours with experts
During the fair, join experts from the sector for tours to selected exhibition stands. During these free guided tours, product managers will be on hand to explain new products and trends from the architect's point of view. Take advantage of this opportunity and enter into a dialogue with the industry. The meeting place for the tours is the Outlook Lounge in Hall 4.2, where you are also invited to partake of some refreshments.
Complementary programme with new highlights
In line with the pivotal theme of resource conservation, special shows, expert forums and competitions at ISH 2013 will focus on questions relating to the economical use of water and energy in buildings. And, with the 'wall+floor' special show, the 'Pop up my Bathroom Atelier' and 'BTGA – Forum for Property, Energy and Technology', you can look forward to no less than three new highlights. Moreover, outstanding products are to be seen at the exhibitions of the winning products of three competitions – the 'Design Plus powered by ISH' Award, the 'Innovation Award for Architecture and Technology' and the 'Bathroom Comfort for Generations'.
 
New at ISH 2013: the 'ISH Navigator'
There will be a special innovation at ISH in Frankfurt am Main from 12 to 16 March 2013: for the first time, Messe Frankfurt, the organiser of The World's Leading Trade Fair for The Bathroom Experience, Building, Energy, Air Conditioning Technology and Renewable Energies, is offering a special app for smartphones, which enables users to access concise, topical, event-relevant information quickly and easily wherever they are. The 'ISH-Navigator' is the official ISH app and can now be downloaded free of charge from the Apple App Store and Google Play.
Cheaper tickets online
Go to the ISH Online Ticket Shop and purchase your admission ticket at the lower advance booking price. If you have a voucher, you can also exchange it there quickly and easily. By the way, ISH admission tickets booked in advance also entitle the holder to travel to the fair using local public-transport services operated by the RMV public-transport authority.

Advertisement

Architonic Guide ISH Frankfurt 2013
In the 10 years since the founding of Architonic, the Architonic Guide has established itself as an indispensable trade-fair companion.
Also during the anniversary year, the Architonic Guide allows you to find the best exhibitors quickly. Architonic's selection is purely an editorial one and is limited to high-end manufacturers whose products are visually relevant to the design of buildings and spaces. It's a guide by architects for architects.
To help you prepare your visit to ISH 2013 in Frankfurt, our Architonic guide is now available for you to download as a PDF file using the link below.
Printed copies will be available free of charge at the stands of the selected exhibitors at the fair.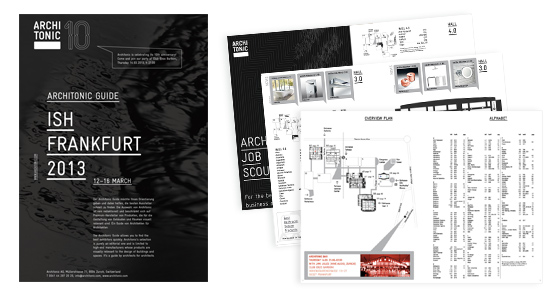 XETIS – visionary aesthetics, invisible technology
Kaldewei once again sets new standards in modern bathroom design. The enamelled shower surface effortlessly merges with the bathroom floor allowing the high-quality Kaldewei steel enamel 3.5 mm to integrate seamlessly. The outlet is beautifully concealed in the wall. XETIS provides bathroom designers with new aesthetic design options for flush-floor shower areas.

Advertorial


Architonic Bar ISH Frankfurt 2013
2013 sees the tenth anniversary of Architonic!
This will be celebrated on Thursday 14 March at the Architonic Bar in Frankfurt's Club Enzo Barboni from 9pm onwards. Come and raise a glass on our birthday!
It's the perfect opportunity for exhibitors, architects, planners and specialist retailers to have interesting conversations and to make new contacts also after the long day at the fair.
Jimi Jules (Hive Audio, Zurich) will be spinning some cool tracks and the best gin and tonics will be available at the bar (thanks to our friends Monkey 47 Black Forest Gin and Gents Swiss Roots Tonic Water) – all of this in the best company that Frankfurt has to offer.
Your business card is your entrance ticket.
See you in Frankfurt!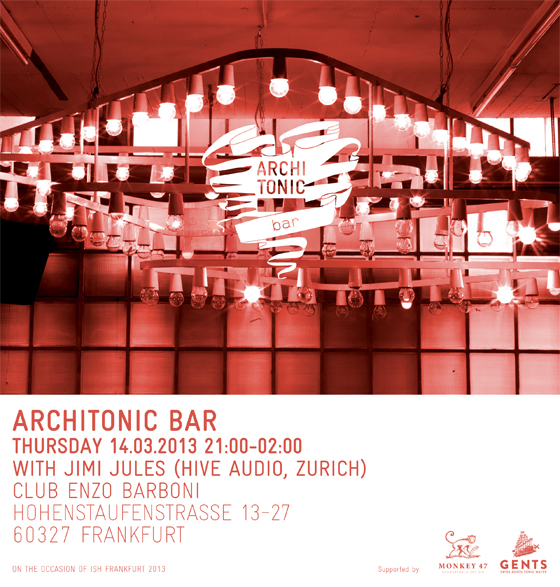 Advertisement

Topical App: Best Bathroom Design Products
The Architonic Best Bathroom Design Products app presents more than 10'000 bathroom design products, ranging from wash-basin fittings, bathroom furniture and lighting right down to shower curtains and plumbing systems. The app only displays products from premium segment brands.
For each product you will find images of product variants and typical applications, as well as the possibility of sending direct enquiries about catalogues, prices and stockists. Many products are also presented within the framework of projects by international architects. The intuitive navigation by product group, manufacturer, designer or free text search provides you with fast search results anywhere and at any time. As a result you can use the app either as a private design enthusiast, or for business purposes as a planner or architect.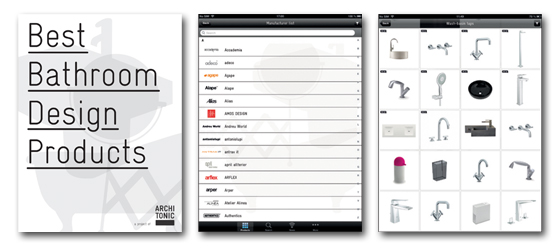 Copyright © 2013 Architonic AG, All rights reserved.

You are receiving this newsletter because you subscribed on www.architonic.com or granted permission at a fair or by e-mail. Sie erhalten diesen Newsletter, weil Sie ihn auf www.architonic.com abonniert haben, oder uns anderweitig hierzu Genehmigung erteilt haben.