Reinvented Architecture: The New City Studio (Part I)
Text von TLmag
Brussels, Belgien
06.09.17
Frequently accused of opportunism and single-mindedness, many New York-based architects and designers are nonetheless demonstrating expansive modes of working within the field.
Drawing upon rich traditions of architectural representation, these featured studios strike at the heart of architectural production while broadening the boundaries of professional identity. They resist the contemporary values of specialization, efficiency and compartmentalization and champion depth over shallowness; they represent the architect as skilled at defying the classic anxiety over the slowness of building. How does architecture communicate with the public? What is the essence of architectural training and contribution? TLmag's investigation into today's design studios in New York City reveals that the work of these new establishments reflects their values: it is inventive and resourceful, thorough and exacting, dreamy and lofty yet grounded and stable. These qualities evoke Vitruvius's ideal architecture—today's iterations of firmness, commodity and delight.
Young & Ayata is an architectural and design partnership working through objects, buildings and drawings to explore boundaries in architectural representation. Exquisite Corpse Cone draws upon the classic parlor game, creating an object out of combination and collaboration. The cone object references the tradition of ornamentation in human culture as a starting point for new kinds of relief, utilizing distinct elements assembled together. The cone was created in collaboration with Harmen Brethouwer and the different sections stitched together abstractly. Symmetry Series explores a visual and formal tradition by accumulating drawn lines and creating depth through overlay. With help from their titles, the drawings deceive the viewer at first glance—no element in the work is purely symmetrical. Young & Ayata's Lima Roof proposal, a submission to the 2016 competition for the contemporary art wing extension at the Museum of Art Lima, features a maze of low walls that suggest an architectural work yet to be built or one already being worn away by erosion.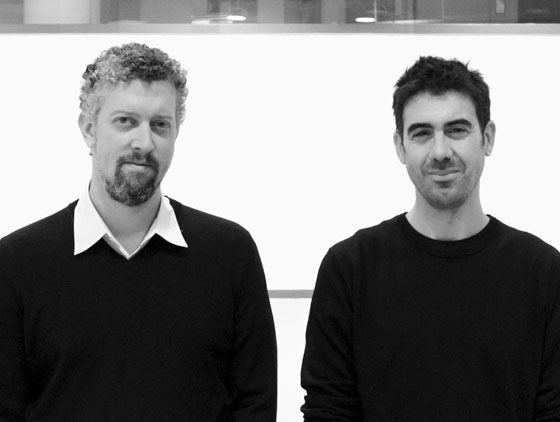 Top: Exquisite Corpse Cone. Bottom: Young & Ayata. Courtesy of Young & Ayata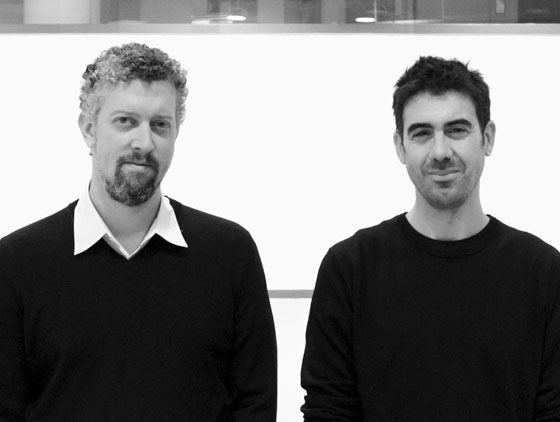 Top: Exquisite Corpse Cone. Bottom: Young & Ayata. Courtesy of Young & Ayata
×
Based in Dumbo, Brooklyn, StudioKCA produces work that responds to site-specific environmental conditions and explores materials and form. A frequent collaborator with NASA on its research endeavors, the studio has created pavilions on different scales throughout New York City, educating the public about the cosmos. The Orbit Pavilion is designed as a nautilus shell that visitors can enter to hear the sounds of 19 NASA satellites in real time as they orbit the Earth. Commissioned by NASA, the traveling installation debuted at World Science Festival in New York City this past summer. A Comet Lands in Brooklyn, StudioKCA's earlier pavilion installed in Brooklyn Bridge Park, references the landing of the European Space Agency's Rosetta spacecraft on Comet 67P. The structure is a human-scale conceptualization of the comet, created with folded steel plates, copper tubing, 600 LEDs and a reflecting pool. Head in the Clouds, designed for the 2013 FIGMENT public art installation on Governors Island, was constructed from nearly 53,780 recycled bottles and jugs of varying sizes, a concrete representation of all the bottles thrown away in NYC in a single hour. The pavilion, assembled with the help of over 200 volunteers, provides a shell for the public to enter and explore.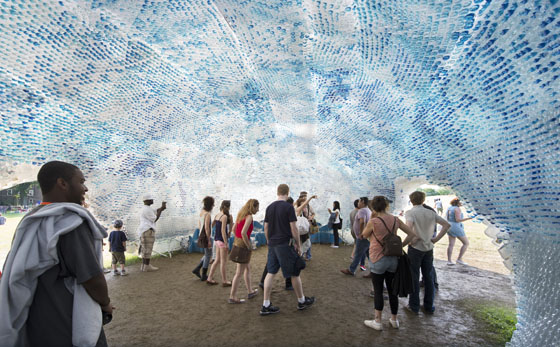 Top: Jason Klimoski (left), Lesley Chang (right). ©Marko Prelic. Bottom: Head in the Clouds, interior view. ©Chuck Choi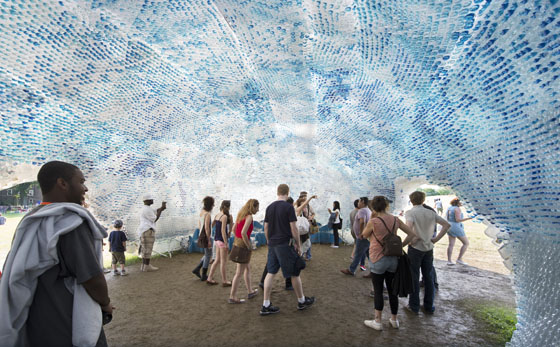 Top: Jason Klimoski (left), Lesley Chang (right). ©Marko Prelic. Bottom: Head in the Clouds, interior view. ©Chuck Choi
×
Working in varied media and through design collaborations, architectural designer Leigha Dennis produces work focused on contemporary culture and technology. The 2014 piece Clouds documents our practice of consumption and simultaneous displacement through a photographic essay on storage sheds—designs created to hide what we have acquired. Her 2014 installation Pleasure Box furthers the design language of storage, compartmentalization, and secrecy by inviting people to deposit and isolate media devices within timed lock boxes. The separation enables users to reflect on our mediated realities and suggests a private interior for the devices themselves, drawing upon the tradition of scalar shifts in architectural representation. In collaboration with Farzin Lotfi-Jam, Dennis's work enters the world of the psychic, built interior through YourCribs, a television series produced for Storefront for Art and Architecture. In the series, prominent fixtures from the design world interact with objects as the camera moves through domestic scenes so that our obsession with objects mirrors our obsession with the private, illustrating our consumption of media, space and environments and the resulting attachment.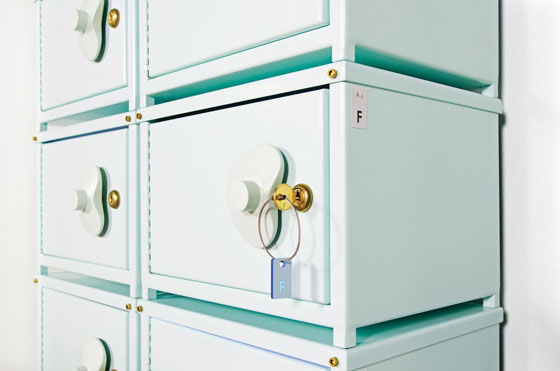 Top: Leigha Dennis. ©Lydia White. Bottom: Pleasure Box. Courtesy of Leigha Dennis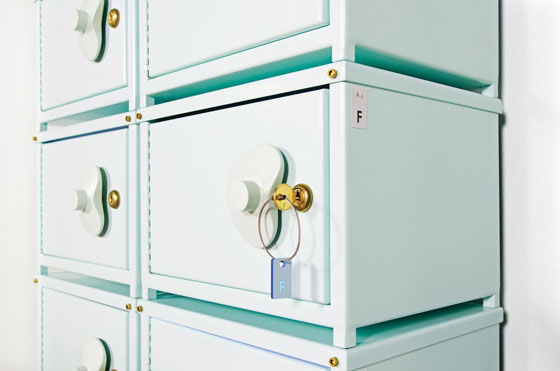 Top: Leigha Dennis. ©Lydia White. Bottom: Pleasure Box. Courtesy of Leigha Dennis
×
A selection by Laura Tucker