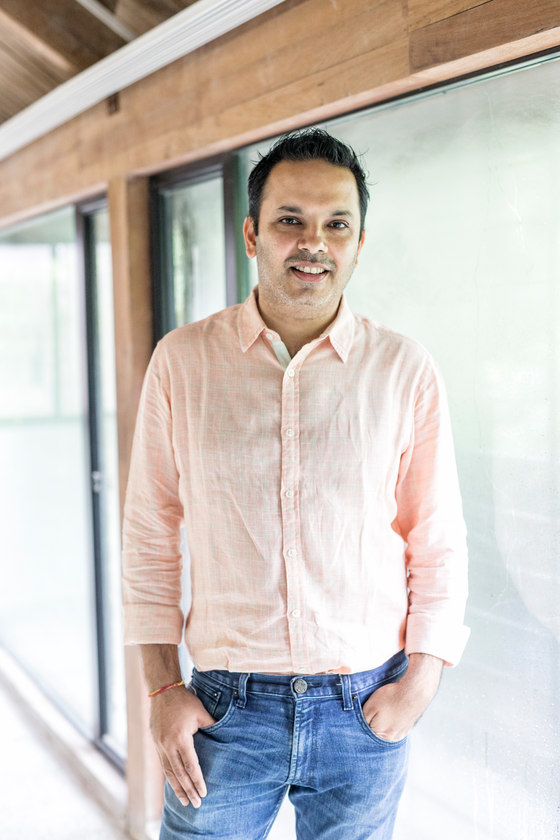 Founder: Rajiv Saini; Photographer: Neville Sukhia
Profile

Founded in 1995 by Rajiv Saini, the award winning practice of Rajiv Saini and Associates (RSA) has over the years established itself as one of the leading design studios in the country. Blending contemporary design with exquisitely crafted details, the practice specialises in residential and hospitality design. Spatial purity, a restrained luxurious material palette combined with subtle textural tactility, and impeccable quality, have become the hallmark of the practices work.

Guided by the context and specificity of each project, RSA focuses on refining design ideas to synthesise a unique solution that is  architecturally coherent and socially relevant. With a successful nation wide presence, RSA has over the last few years established itself as a global practice with a slew of projects in Singapore, Dubai, Thailand and the U.K.

Biography

Rajiv Saini, Dipl. Architect

Rajiv Saini studied computer sciences engineering but went on to set up his design studio in 1995 which has successfully completed a wide spectrum of projects, such as Devigarh Hotel,Udaipur (Which won several international design awards, such as the Conde-Nast 'Best Design Hotel'), The Marriot Hotel (Goa), Resto-bars like Senso (New Delhi), Rain And Velvet (Mumbai),Fashion Store 'Carma' (New Delhi) and several high-end homes spread across the country and overseas, in places like Thailand, Dubai, U.S. and Europe.

His Current portfolio encompasses an array of architectural and interior design projects such as hotels, resorts, high-end homes, office buildings, a school, spread across the country and in the U.K. Picked by Wallpaper Magazine in 2002 as one of the Top Five International Design Talents, he has been the recipient of several design awards, like the Inside-Outside Designer of the Year, and has also received the Elle Décor International Design Award on three occasions.

He was invited to represent India at the exhibition 'Global Edit' by Wall Paper magazine and Giorgio Armani in 2006 in Milan. In 2007 his design and architectural work was shown at the IFA in Berlin and Stuttgart.

In 2008 he had his first solo show of limited edition design objects at 'Nature Morte' gallery in New Delhi, which travelled to Milan during Salone Del Mobile, and was also shown in Mumbai at gallery 'Project 88'.His limited edition design objects have been exhibited at 'Art Basel Miami' in December'06 and the 'Pierre Berge Foundation' in Brussels and are currently available through 'Nilufar' gallery in Milan and 'Nature Morte' gallery, New Delhi.

In 2009, his product design was put into production by the cutting edge Italian design company 'Moroso'.

His work has been extensively published in national and international books and magazines of repute, such as Wallpaper, Architectural Digest, Interior Design, Financial Times, Elle Décor, Casa Amica, Vogue, Casa Brutus, Form, IDFX and Cubes.